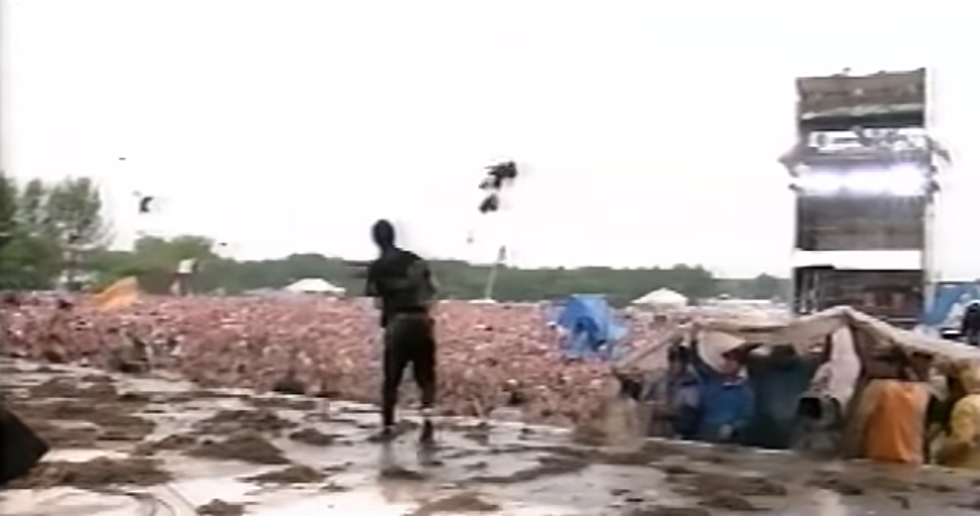 Green Day selling tons of gear, including mud-stained Woodstock '94 speakers
Green Day are selling a bunch of gear from over the past 25 years of their career in an online Reverb Shop, which opens February 7. It includes speaker cabinets from Woodstock '94 that are still marked from the mud fight, drums from the Pop Disaster Tour that Tre Cool set on fire, a guitar used on Dookie, and much more. Here's what to expect:
Next month, Dookie will turn 25 years old, and Armstrong will part with a special Harmony Stella Parlor acoustic—the first guitar he ever owned and the one he used to record the album track "F.O.D." A few more of the 44 guitars available will be a 1960 and 1961 Gibson Les Paul Junior, a '57 and '58 Les Paul Special, as well as two BJA Signature Les Paul Juniors, a BJA Signature Les Paul Special, and a BJA Signature Gibson ES-137 modeled after others in his collection.

As mentioned above, Armstrong is also selling the Marshall 4x12 cabinets used on the tours to support Dookie and Insomniac, which still have the marks of Woodstock '94 atop numerous coats of spray paint.

In the video above, Tre Cool explains why he's letting go of kits like the Gretsch USA Custom he used on the Uno!, Dos!, Tré! trilogy of albums and a Leedy White Marine Pearl Kit with matching snare he used on the band's 21st Century Breakdown tour.

"If you hoard the right shit long enough, they call you a collector. So I'm selling off just a wee bit of the collection. I'm not doing it any justice sitting around when someone could be using this stuff. I haven't really sold anything ever—this is the first time," he says. "I"m probably just going to buy all this stuff back at like three in the morning, because I'm going to have a hard time parting with it."

On the band's Pop Disaster tour, Cool set fire to a silver sparkle OCDP kit, which still retains soot and ash from the show. Over the years he says he also burned a bunch of Slingerland Spitfire Tre Cool Signature models, except from the NOS model on sale in the Reverb shop.

"It's probably the only one left in existence. It's brand new. New old stock, in the box," he tells us. "I burned all the rest of them, in case you're wondering."

Bassist Mike Dirnt will be selling more than 20 pieces of studio gear and nearly a dozen amps, including a Mesa/Boogie Basis M-2000 he used from 1997 to 2003, primarily on the tours to support Nimrod and Warning. He's also selling a vintage Ampeg SVT, SVTII Pros, and SVT Vacuum Tube DIs, as well as more gear from his personal studio.
The video reference in the above quote gives you even more insight and more of a sneak peek into the gear Green Day are parting with, and you can watch that below. You can see more pics of the gear here.
Meanwhile, Asian Man Records has a Dookie tribute album on the way, and there will probably/hopefully be more celebrations of the album's 25th anniversary happening this year too. Stay tuned to find out.
And revisit the Woodstock '94 performance here: