Green Man fest 2015 pics/review Pt. 2: Sexwitch, St. Vincent, SFA, Father John Misty, Goat, Songhoy Blues & more
photos and words by Rachel Juarez-Carr & Christopher Jesse Juarez
Sexwitch / Songhoy Blues / St. Vincent / SFA / GOAT @ Green Man 2015

The Green Man Festival has been taking place in Wales' beautiful Brecon Beacons for the past few years, drawing an increasingly impressive line-up of worldwide and Welsh musicians to the sprawling Glanusk Estate. The 2015 edition happened August 20 - 23 and added enough extras (Hot tubs! A cinema! A beer festival! A science garden!) that you didn't really even need to see any bands at all. But that would be silly, because the bands are great. Read on for some of the best bits from the last two days.
Most anticipated set: Sexwitch - the act billed only as "Special Guest" turned out to be the debut performance of a new project from Bat for Lashes' Natasha Khan, TOY and Dan Carey - dark, droney and insistent.
Best set by someone we hadn't heard of before: Hannah Lou Clark and her band, equal parts angsty and dreamy.
Best place to hide out to during the sudden three-hour heatwave on Saturday: The Cinedrome tent with Gulp, because angel-voiced dream pop makes everything better, even when you're simultaneously horribly sweaty and covered in mud (somehow singer Lindsey Leven was immaculate in head-to-toe white, which reinforces our theory that Gulp are slightly magic.)
Most fun to shoot portraits of: Girl Ray, three London ladies who were finalists in the Green Man Rising competition and are very fun to hide between tents with.
Song we still have stuck in our heads: "Moons in My Mirror" by H Hawkline, whose pleasingly intriguing songs and deadpan demeanour were so appealing that the tentful of watchers were quite happy to comply with his request that they whistle the theme from the Great Escape while he tune his guitars, twice.
Most talked-about performance we failed to see: Northumbrian balladeer Richard Dawson [and not the late Family Feud host - Ed] in the Walled Garden, who we are assured was brilliant and unusual.
Youth enterprise award: The three children at the festival entrance with an acoustic guitar busking Super Furry Animals songs: Charlotte, Amelia and James. "Fire in My Heart" was a delight:
Most packed tent: Songhoy Blues from Mali, because they manage to combine deeply cool rock-star stage presence with an overwhelming sense of glee. Plus singer Aliou Touré does really good dancing, and everything they played was brilliant.
Most unfortunate scheduling: Stealing Sheep, who are great but played at the same time as (and right next to) Songhoy Blues.
Most committed crowd: Super Furry Animals. Fans stood ankle-deep in mud and didn't seem to mind the torrential rain, and in return received a predictably first-class set. There can't be any better setting to hear "Mountain People" than the Mountain Stage at Green Man. (Extra points to the gentleman who crowd-surfed all the way to the front sitting in an eight-foot inflatable dinghy.)
Best between-songs chat: Welsh folk legend Meic Stevens, who at one point delightedly exclaimed, "I've had cancer for three years, you know, and I've had 150 hours of radiotherapy on my throat - they said 'I wouldn't have thought you'd be able to talk after that, let alone sing!' but you've got to sing, don't you?! Because it makes people happy!"
Most appropriate name: Towel, who played just after the 21-hour rain storm (complete with 6am wake-everybody-up thunder) stopped.
Best impromptu special guests: Deep Throat Choir who, 24 hours after Matthew E White apparently asked them to join him, appeared en masse at the end of his set and started making up dance routines while singing the outrageously catchy backing vocals to "Rock & Roll is Cold."
Most rapt audience: Father John Misty, who was throwing himself on the floor by the first chorus of the first song and had row after row of grown adults grinning with glee like kids on Christmas morning.
Most apt headliner: Goat, whose vaguely pagan masked glory closed the final night of the Far Out stage and were followed by the ceremonial burning of the giant Green Man. Plus, "Run to Your Mama" might've been the best performance of the entire festival.
Pictures from the first two days of Green Man 2015 are HERE. Lots more pics from the final two days, below...

---
Hannah Lou Clark
Girl Ray
Gulp
H Hawkline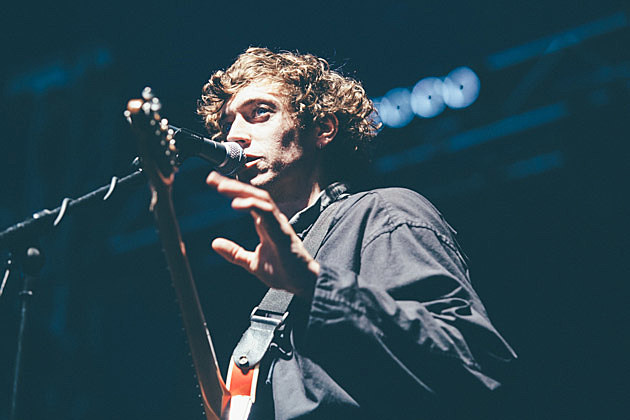 Loyle Carner
Songhoy Blues
Stealing Sheep
Sexwitch
White Fence
Television
Super Furry Animals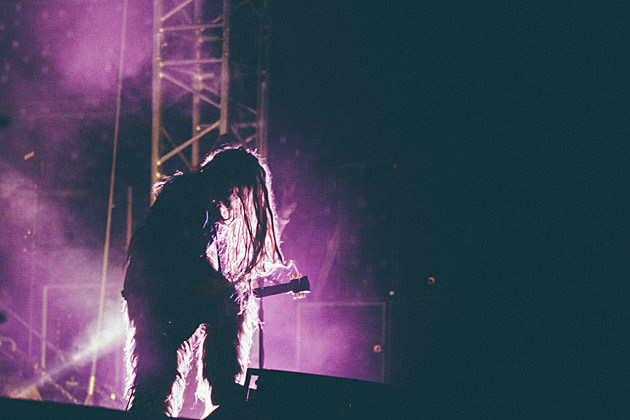 Boxed In
Meic Stevens
Steve Gunn
Waxahatchee
Ryley Walker
Matthew E White
Deep Throat Choir
The Antlers
All We Are
Sylvan Esso
The Staves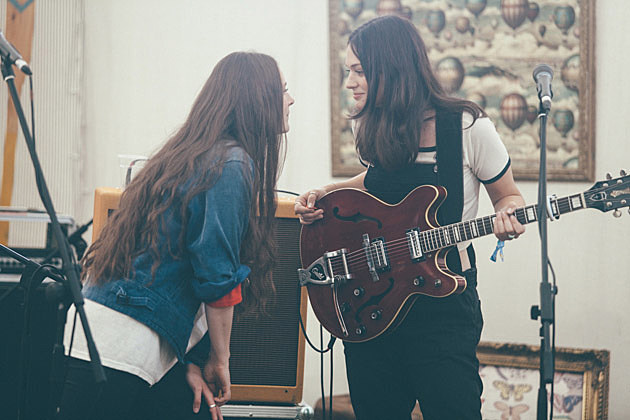 Public Service Broadcasting
Father John Misty
Courtney Barnett
St Vincent
Goat