Greil Marcus, Chuck Klosterman, & members of the Hold Steady – various NYC events & tour dates
The Hold Steady @ Rothbury Festival in July (more by Graeme Flegenheimer)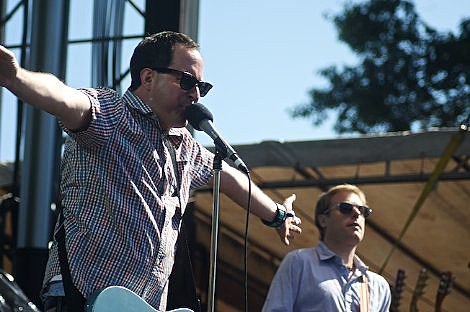 Craig Finn and Tad Kubler of The Hold Steady, along with author Chuck Klosterman, will be the featured guests at this month's Radio Happy Hour at (Le) Poisson Rouge on Saturday, November 14th (2pm). In past months, the live variety show's hosts have included Andrew W.K., Norah Jones and TVotR's Tunde Adebimpe. Clips of those past shows are below. Tickets are on sale.
Interestingly, Finn is in the process of co-adapting Chuck Klosterman's 2001 memoir Fargo Rock City with writer Tom Ruprecht (of the David Letterman show). It should also be noted that Finn & Kubler's pre-Hold Steady gig Lifter Puller will get its entire catalog of CDs re-released online on December 1st, along with a new book titled Lifter Puller Vs. the End Of and a single/rarities collection.
After Radio Happy Hour, you can catch their Hold Steady bandmate Franz Nicolay at Southpaw for "HARTZVEYTIK! A Heartbreak Survival Society Social." Also on the bill are The Low & the Lonesome, Ariel Schrag, Royal Pink, Soft Power (feat. Mary Timony) and The Shondes. There will be vegan cupcakes. Tickets are on sale.
Then, on Thursday, November 19th, see rock cultural criticism godfather Greil Marcus when he appears uptown at Columbia University's Altschul Auditorium (417 International Affairs Building, 420 West 118th St) at 6pm. The event is a "lecture-performance" for the 20th-anniversary re-release of his book Lipstick Traces: A Secret History of the 20th Century, out this month. The book deals with "the cross-currents, tangles, and whirlpools that made such vastly different movements as dada, lettrism, the Situationist International, and punk part of a single current." The event is free and open to the public. A video of Marcus discussing his 2006 book In The Shape of Things to Come is posted below. Greil Marcus wrote the book on Bob Dylan (actually a few of them) - the same night Dylan plays the last show of three shows even further uptown at United Palace Theatre.
Franz Nicolay has more upcoming tour dates, including a show at Mercury Lounge on November 16th (tix). Those and "Lipstick Traces" videos, and the flyer for that event, below...


Authors@Google: Greil Marcus

Radio Happy Hour With Andrew W.K.

Radio Happy Hour w/ Tunde Adebimpe and Kumail Nanjiani: Act I @ Le Poisson Rouge

THE O'JAYS- lipstick traces

UFO-Lipstick Traces (Studio Version)

MSG [ LIPSTICK TRACES/JAM/BIJOU PLEASURETTE ] LIVE, '84.

Franz Nicolay - 2009 Tour Dates
Nov 14 - Southpaw, Brooklyn NY
Nov 16 - Mercury Lounge, NYC w/ Demander, Hoots & Hellmouth
Nov 21 - THE HOLD STEADY @ Butterball, Graves Hotel, Mpls
Dec 01 - Dresden, Germany; Beatpol #
Dec 02 - Essen, Germany; Zeche Carl #
Dec 03 - Bielefeld, Germany; Kamp #
Dec 05 - Berlin, Germany; Postbahnhof #
Dec 06 - Hamburg, Germany; Grunspan #
Dec 07 - Koln, Germany; Stollwerck #
Dec 08 - Munchen, Germany; Backstagehall #
Dec 10 - Karlsruhe, Germany; Substage #
Dec 11 - Innsbruck, Austria; Weekender #
Dec 12 - Ebensee, Austria; Kino #
Dec 13 - Wien, Austria; Wuk #
Dec 16 - AS220 Providence, RI $
Dec 17 - Shea Stadium, Bushwick, Brooklyn $
Dec 18 - Ottobar Baltimore, MD $
Dec 19 - Strange Matter Richmond, VA $
Dec 20 - The Barbary Philadelphia, PA $
# FRANZ NICOLAY supporting Moneybrother
$ GUIGNOL & MISCHIEF BREW "FIGHT DIRTY" TOUR (playing as a 5-piece)