Grizzly Bear played Radio City w/ Unknown Mortal Orchestra (pics, review, setlist & video of the full set)
Grizzly Bear at Radio City Music Hall, 9/24/2012

"This is surreal," said Grizzly Bear's Ed Droste upon taking the stage the historic Radio City Music Hall last night (9/24) -- the band's largest headlining hometown gig to date -- "It makes me think back to our first show at Zebulon in 2004." It is pretty crazy to think that in eight years this "Brooklyn indie band" went from playing local clubs to one of the city's most famed and renowned concert halls, but needless to say, they've paid their dues. When the applause died down, Grizzly Bear went into "Speak in Rounds," one of the most tremendous tracks off the recently released Shields, their fourth in a line of brilliant studio albums and grandest statement yet. The song's explosive, speedy chorus lent to a technicolor light show with hues as layered as Grizzly Bear's sound. Though once "Speak in Rounds" fizzled out into psychedelic ambience, the stage went black, and dim lanterns slowly drifted to the ceiling behind the band. When they'd all risen, Daniel Rossen took over with the spiraling guitar riff of prog fantasy, "Sleeping Ute."
Throughout the set, those lanterns would crawl up and down the backdrop of the stage, creating a hallucinatory light show with the illusion that the stage itself was rising and falling. Mixed with the dreamlike scope of the band's songs, the audio/visual experience transported you out of Radio City, or any other fathomable place, to a world of Grizzly Bear's own. Song after song, the crowd was captivated and the setlist was arranged in such a way that it didn't ever matter what song came next. Of course there were standout moments (the booming "ahhs" and spectacular light show of "While You Wait for the Others" being a huge one), but overall each song contributed equally to the trip that is Grizzly Bear's live show. The minimalist "Shift" provided a moment of tranquility against the ferocious noise breakdown at the end of "Yet Again." "Sun In Your Eyes" (for which the band actually shined bright yellow lights at the audience) acted as a moment of awakening before the comedown of the pre-encore break, which ended with the "moment you've all been waiting for" feeling of "Knife." (That song saw some technical difficulties in the beginning but they were fixed about 45 seconds in.)
Grizzly Bear at Radio City Music Hall, 9/24/2012

It's been mentioned a thousand times that Grizzly Bear plays in a row on stage, and that it helps to show the equality of the band members. So there's no real use repeating this for the sake of repeating it -- but it really is such a crucial part of their set. Especially on the songs off of the ultra-collaborative Shields, Christopher Bear's drums add as much to the melody as Daniel's guitar and piano, and Chris Taylor's backup vocals are as vital to the band's sound as Ed and Daniel's lead, and that's not even in reference to their four-part harmonies. For this tour, they've added a fifth member, Aaron Arntz (previously a member of Zappa Plays Zappa). Aaron is the one member who stays at the back of the stage, and though he's the most hidden, his contributions were noticeable and really fleshed out the complex studio arrangements that couldn't otherwise be replicated live by a four-piece band.
The show opened with a set from Unknown Mortal Orchestra, who played mainly off their 2011 self titled LP, but also included a new song and a well-executed cover of Pink Floyd's "Lucifer Sam." UMO's album is very indebted to Beatles' Revolver, but live frontman Ruban Nielson rips fuzzed out guitar solos and feedback that are way more San Francisco than Liverpool (which was especially great on the distortion-drenched extended version of "Boy Witch"). Admittedly, Ruban is a bit more talented and fun to watch than his bandmates, but in their defense, Radio City is a pretty big stage for a relatively new band with a sound better suited for smaller clubs.
Grizzly Bear's tour with UMO continues in Toronto on Wednesday (9/26) and then at the end of the month, they'll kick off their final leg of the North American portion which Lower Dens supports. If you missed last night's show, did you stream it online? If you missed that too, you can watch an archive of the entire show (via the Fuse YouTube channel), along with more pictures and the setlist from the show, below.

---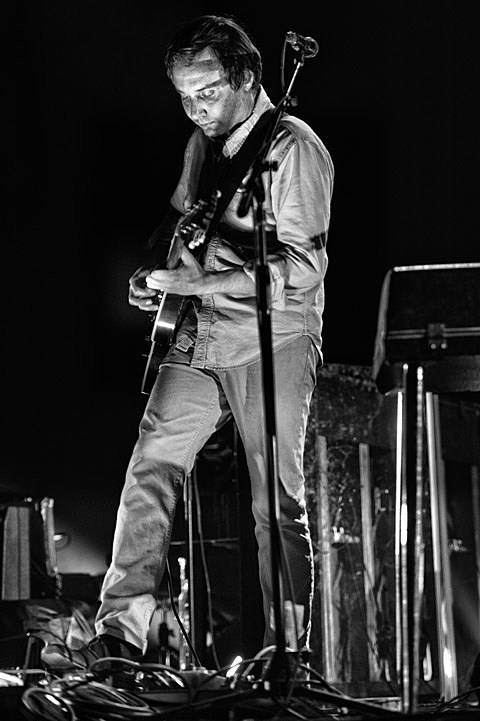 Grizzly Bear at Radio City - 9/24/12 (Full Set)

Grizzly Bear at Radio City - 9/24/12 Setlist:
Speak in Rounds
Adelma
Sleeping Ute
Cheerleader
Lullabye
Yet Again
Shift
Gun-Shy
Ready, Able
A Simple Answer
Foreground
While You Wait For The Others
What's Wrong
Two Weeks
Half Gate
Sun In Your Eyes
Encore:
Knife
On A Neck, On A Spit
All We Ask