Gucci Mane, Doug E Fresh, Dominique Young Unique & the Cool Kids played the final Pool Party too (pics)
"Jelly pool party was historic/epic. DMC + Andrew WK + Les Savy Fav+Doug E Fresh : unforgettable. Gucci mane is the gertrude stein of hip hop" -erikhinton
Gucci Mane @ Williamsburg Waterfront Sunday

When they said "surprise" they meant it, though as rumored (and here), Gucci Mane was on the lineup of the final Jelly Pool Party on Sunday, August 29th, at Williamsburg Waterfront. Andrew WK hinted at his participation the night before, but for the most part, the lineup remained a rumor until the artists hit the stage. Featuring DJ sets by The Rub and Smalltown DJs, Sunday's Pool Party-that-almost-didn't-happen featured performances from DMC (of Run DMC), Andrew WK (and Cherie Lilly), Doug E Fresh, Doug's son's group, Big Freedia (and dancer), The Cool Kids, Tim Harrington (of Les Savy Fav), and Atlanta MC Gucci Mane in addition to the previously announced Dominique Young Unique and Delorean.
Dominique Young Unique

But Dominique's outfit was nothing compared to the stage show of New Orleans's Big Freedia who brought "Ass Everywhere" to a NYC crowd for the third time in two days (Freedia also performed at PS1 on Saturday and at Coco66 later that night) (Dominique also played again later Sunday night at Brooklyn Bowl).
So was it the final pool party ever?
...Series' co-founder, Sarah Hooper, has said that she "hates" what the beloved Pool Parties have become: lame concerts with muted speakers, too many security guards and too much oversight from the state and its patron, Open Space Alliance. She even hinted that Jelly's current side-project, a six-show free series called "Rock Yard" on Wythe Avenue, could replace the Pool Parties (so named because they began at the McCarren Park pool).

Hooper didn't fork over any of the juicy details when she took the stage on Sunday to give a crammed park its final farewell.

"Thank you so much, we love being in Brooklyn," she said to a roaring crowd. "Don't ever let anybody tell you that you can't be yourself." -[Brooklyn Paper]
By the way, Chuck Schumer was there again too. Until next year?
More pictures and some videos from the whole day, below...

--
Dominique Young Unique...
Doug E Fresh and his kid...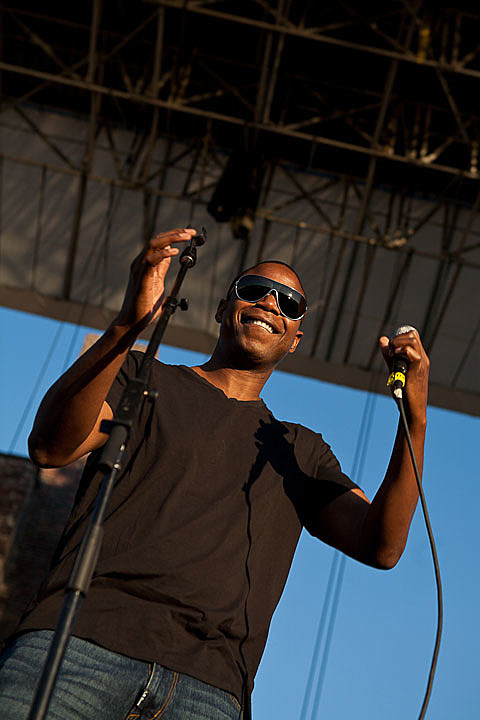 DMC with Tim Harrington, Snakes Say Hiss, Andrew WK, Cherie Lily, and DJ Cosmo Baker...
Shaking ass with Big Freedia

DMC and Andrew WK and Tim H - It's Tricky

Gucci Mane - Lemonade (Live at the Pool Parties)