Guided By Voices played McCarren Park w/ Wavves, Surfer Blood & the Babies (pics & setlist)
If you live in NYC (and don't live under a rock) you are very well aware that the 4-day music/film/art extravaganza that is The Northside Festival swept through the ultra-tough, filthy, gang ridden, and decrepit streets of North Williamsburg. Sadly, because of my rigid and limited musical preferences, the list of acts playing read like a foreign phone book to me and only one band (of the, what, 250? 300? bands) was enough for me to venture out and risk life and limb in the land of bad tattoos, cut-offs, deep Vs, and big sunglasses. That band? Guided By Voices.
This is my third time seeing the Classic Line-Up (anyone else sick of hearing them referred to as The Classic Line-Up?) and, whooooo boy, did they bring the stank! Besides the music and the license to drink excessively and pump one's fist high into the air, the best part of a GBV show (ANY GBV show, including non-Classic Line-Up shows) is the camaraderie. It never fails; whenever I am at a GBV show I run into friends who I never see otherwise, but who feel closer than most of the people I know on Facebook. And it's not hard to make new friends when you and several hundred other people are double-fisting over-priced beer and singing along to the music.
The fun started for me at 6pm on the dot as I arrived moments before Wavves hit the stage. It was 80 degrees, partly cloudy, nice breeze... perfect for an outdoor show. I have never seen Wavves, but being an avid BV reader they have a reputation in tow that certainly piqued my interest. And I liked them a lot. They were just straight up rock. Nothing flashy, nothing hard to digest... just good old fashioned rock. I mean, if you want rocket science, by all means, go listen to Yes or Dream Theater. They were definitely the perfect lead in to GBV. By the time they finished, the crowd was DEFINITELY ready for GBV's scheduled 7pm appearance.
The whole GBV atmosphere was a dream. 40 songs, 3 encores, a 99% crowd-rocking-out-and-singing-along percentage, beautiful weather, cold beers (come on people, you know that at this point in the evening price was hardly a concern)... perfection! GBV played everything from deep tracks to crowd favorites (set list below). Bob Pollard led the crowd as deftly as he led the band. Greg Demos, bedecked in a ruffled shirt and vest reminiscent of a 70s prom get up, often wielded his bass as though it was a sword. Tobin Sprout played the role of the quiet one, masterfully traversing his axe without showing too much dramatic flair or movement. And Mitch Mitchell. Jesus, between the tats, the ever present cigarette, his mighty Les Paul, and a facial expression that rarely deviates from a look of "I will fuck you up, so help me God," Mitch definitely gets the Badass of the Evening Award. Everything about the evening was perfect, and I have a feeling that this show will be the highlight of my summer. It's certainly going to take a lot to top it.
All snarkiness aside, the Northside Festival is a pretty phenomenal opportunity for people to catch a huge number of great bands, art, film, food, panels, and more for what amounts to a $60-or-so pittance. For the price, the variety of programming one can catch in a 4-day time span is rather remarkable. This year's fest boasted a much larger scope than last year and if this trend continues we can expect next year to be sensational as well. North Williamsburg, on the other hand, will no doubt be a much more grotesque and tedious neighborhood to find yourself in. But ain't that progress?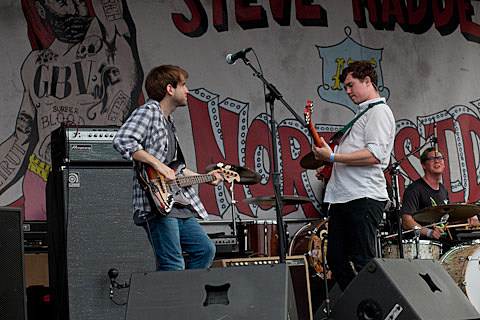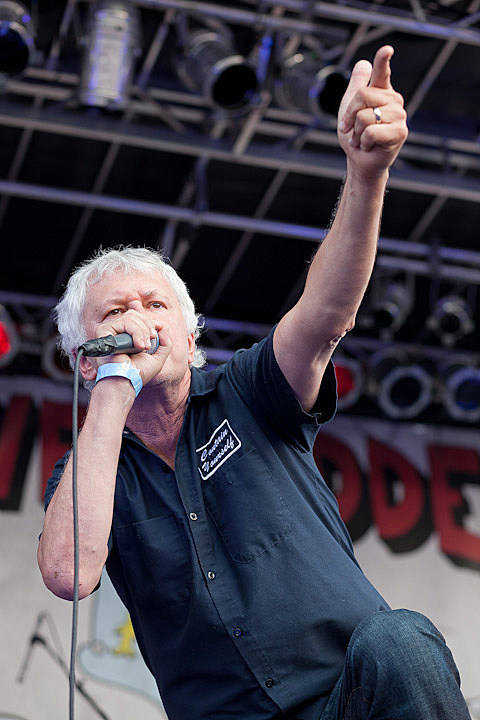 Guided by Voices Concert at McCarren Park, Brooklyn, NY, USA
Setlist on June 18, 2011
Pimple Zoo
Expecting Brainchild
#2 in the Model Home Series
Watch Me Jumpstart
Melted Pat
Shocker in Gloomtown
Kicker of Elves
Buzzards and Dreadful Crows
Always Crush Me
Gleemer
Tractor Rape Chain
Hot Freaks
Striped White Jets
Squirmish Frontal Room
14 Cheerleader Coldfront
Dodging Invisible Rays
Gold Star for Robot Boy
Goldheart Mountaintop Queen Directory
Cut-Out Witch
Sad If I Lost It
Matter Eater Lad
A Good Flying Bird
Awful Bliss
Quality of Armor
Jane of the Waking Universe
Unleashed! The Large Hearted Boy
Exit Flagger
I am a Scientist
Game of Pricks
Encore:
Echos Myron
Bright Paper Werewolves
Motor Away
Don't Stop Now
Smothered in Hugs
Encore 2:
A Salty Salute
My Valuable Hunting Knife
Over the Neptune / Mesh Gear Fox
Encore 3:
My Impression Now
Some Drilling Implied
Weed King