Guided by Voices & Doug Gillard played Bowery Ballroom (pics, setlist); Jay Carney introduced GBV in DC
Guided by Voices @ Bowery Ballroom 5/23/2014

On Friday (5/23), garage rock legends and future liver transplant recipients Guided By Voices waltzed into the Bowery Ballroom for a sloppy and extremely sold out show with support from Doug Gillard and Atomic Forces. Pictures from the whole night are in this post.
I missed Atomic Forces but according to friends who were there since doors opened at 8 PM, AF's 9 PM set lasted about as long as an average bathroom break, if said bathroom break was spent making a brisk #2. Apparently their set barely clocked in at 20 minutes, but the consensus was that they were actually pretty good. Sad I missed them.
Doug Gillard and full band were scheduled to hit the stage at 10, but I think the awkwardly long intermission Atomic Force's mini-set created compelled them to hit the stage a little before . Which was fine with me because seeing Doug was just as important to me than seeing GBV. For the uninitiated, Doug Gillard is a guitar God and possesses the finest rock chops in the business. As a guitar player myself, Doug is a personal hero of mine. He's not the type of player who can whip out a shredding Nuno Bettencourt-esque rendition of Flight of the Wounded Bumblebee or anything. Rather, he is the master of the fundamentals who can navigate a fret-board better than anyone in the biz. His CV as a guitar player is staggering, having played in Death Of Samantha (who just reformed and are playing shows), Gem, Cobra Verde, Guided by Voices, Nada Surf, Bambi Kino, Richard Buckner's band, Children's Crusade, Starvation Army, Yuji Oniki, My Dad is Dead, The Mice, Bill Fox, Fence Lions, Zest Of Yore, Stewart Pack, The Oranges Band, and more. Doug's set consisted of a very thoughtful array of tunes old and new, all of which the crowd was going bonkers over. Doug ended his set with probably his most famous anthem, "I Am a Tree," which appeared on GBV's 1997 release Mag Earwhig! but is 100% the brainchild of Gillard and served as the perfect segue into the short intermission that would lead to GBV's set. Video of Gillard's "I Am a Tree" Bowery performance -- plus pics from his is below.
I've been seeing GBV live for over 15 years now and I can tell you that a GBV show is one of the most consistently satisfying show-going experiences out there. The crowd at Bowery was what a GBV crowd has always been because, well, over the years, the crowd make-up of a GBV show has remained largely unchanged. You've got your older indie dudes, tons of drunk bros, tons of older couples from out of town making a night of it, newbies who discovered GBV late in their career looking to enjoy the shows while GBV is still able to put them on for us... most everyone's drunk. Most everyone's singing along at the top of their lungs. Friday's GBV show was as boilerplate as it gets, and, goddamn, was it ever fun.
I am not going to lie; I did a great job of drinking my memories into oblivion Friday night. But several things stand out in what's left of my mind. First off, GBV front man Robert Pollard polished off his bottle of tequila before hitting the stage. Normally, he's got that bad boy with him for about the first half the set (or for as long as it lasts). I've seen Bob take the stage in various stages of inebriation over the years, but Friday he was well in the bag before they played a single note of their massive set list. Which brings me to memory number two of the evening; the setlist was massive. I mean, a GBV setlist is always a sight to behold, but Friday they played nearly 50 songs and the evening concluded with a whopping three encores. I guess a 50-song, three-encore set is sort of par for the course with GBV, but it blew my mind regardless. Let's face it; they ain't no spring chickens.
GBV w/ Doug Gillard

As kick-ass as GBV was on Friday, one of the more bummer memories that has been plaguing me is that the "original line-up" thing is really losing it's luster for me. I find myself pining for the days of guys like Nate Farley, Chris Slusarenko, Doug Gillard (who joined them for "Fair Touching" & "Teenage FBI" at Bowery) and Tim Tobias. After firing "original" drummer Kevin Fennell in 2013 GBV re-hired powerhouse drummer Kevin March which was a genius move because these days they really need someone as solid as him in their back-line. Tobin Sprout is a genius guitar player whose skills are irreproachable. Mitch Mitchell can hang still as well. But Greg Demos seems to get sloppier as the years go on. He spends so much time playing the roll of rock star, looking a lot like a cross between Davey Jones and Top Gear's Richard Hammond, that he was clamming left and right. Missing notes, playing the wrong notes, completely missing plucking an intended string. I became fixated on it. Distracted. If he would only stop swirling around, licking his lips, and falling on his knees and pay a little more attention to the 4-stringed apparatus in his hands everything would feel so much more cohesive. But what do I know.
Technical gaffes aside, it was as classic a GBV experience as it gets and I had a flipping' ball. Sure, my liver fell out somewhere on the J train at around 3am following the show, but it was so worth it. And if anyone has a recording of Bob's stage banter that night, press it and release it. It was pure comedic gold.
In other GBV related news, don't forget that they have an upcoming summer tour that lands at Toad's Place in CT on July 10, Irving Plaza on July 11, then The Paramount in Long Island on August 22 and finally Asbury Park, NJ's The Stone Pony on August 23. Tickets to Irving, The Paramount and Stone Pony are still available, as well as Toad's Place, are still available.
In other Doug Gillard News, his old band, Death of Samantha, will be playing their first NYC show in over 23 years THIS THURSDAY (MAY 29, 2014) at Baby's All Right. Tickets are still available and cost a measly 10 bucks. Also head over to Doug Gillard's website for details on his upcoming West Coast Tour.
Setlist and more pictures of GBV's Bowery Ballroom set, plus pics Atomic Forces and Doug Gillard's opening sets, below...

---

Doug Gillard - "I am a Tree"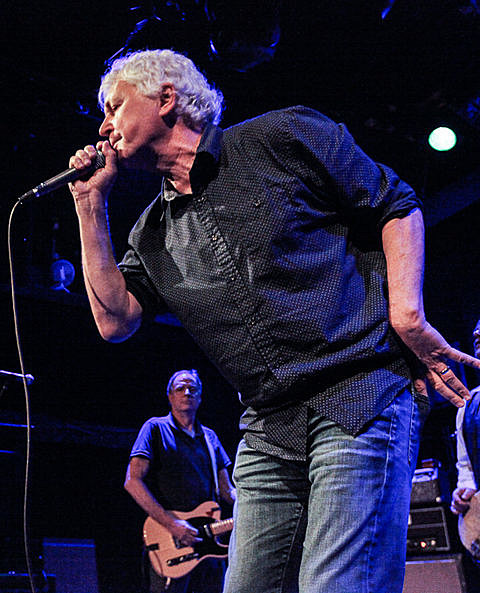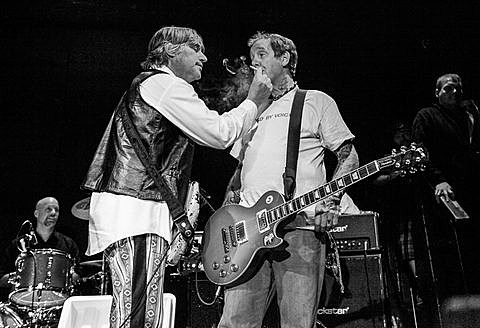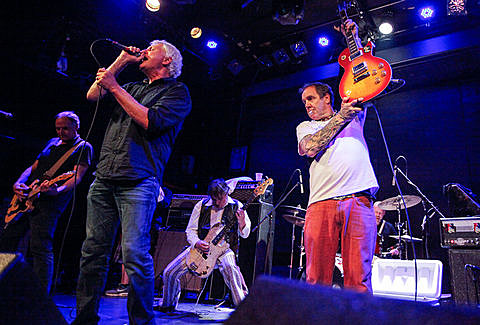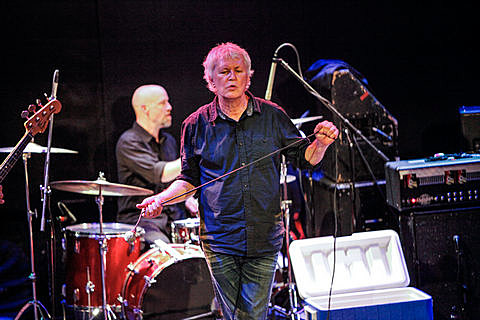 SETLIST: Guided by Voices @ Bowery Ballroom 5/23/2014
These Dooms
Table at Fool's Tooth
A Good Flying Bird
A Bird with No Name
Alex and the Omegas
Authoritarian Zoo
Vote for Me Dummy
You Get Every Game
Game of Pricks
Xeno Pariah
Pan Swimmer
The Head
Buzzards and Dreadful Crows
Psychotic Crush
Wished I Was a Giant
Planet Score
Males of Wormwood Mars
How I Met My Mother
Record Level Love
Echos Myron
Zero Elasticity
Fast Crawl
Tractor Rape Chain
Ester's Day
Fair Touching
Teenage FBI
Hat of Flames
All American Boy
Gold Star For Robot Boy
Littlest League Possible
The Goldheart Mountaintop Queen Directory
No Transmission
Spiderfighter
Cool Planet
I Am A Scientist
ENCORE 1:
The Challenge Is Much More
Unleashed! The Large-Hearted Boy
14 Cheerleader Coldfront
Smothered in Hugs
ENCORE 2:
He Rises! Our Union Bellboy
Shocker in Gloomtown
Awful Bliss
Pimple Zoo
Motor Away
ENCORE 3:
Cut-Out Witch
Exit Flagger
Quality of Armor
A Salty Salute