Guns N' Roses playing Brooklyn Bowl before Governors Ball
Guns N' Roses at Webster Hall in 2012 (more by Ryan Muir)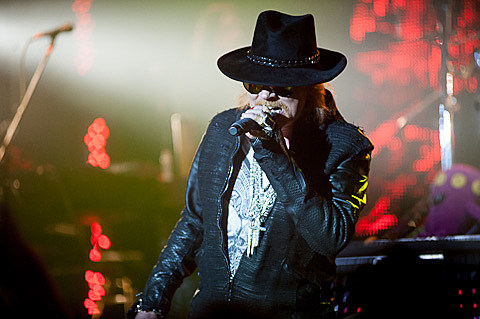 Axl Rose's current incarnation of Guns N' Roses will be in NYC to play Governors Ball this weekend, but right before that, they'll play a much more intimate NYC show at Brooklyn Bowl on Thursday (6/6). They go on at 11 PM (hopefully) and Questlove, whose weekly Bowl Train is now cancelled that night, will be DJing before their set. According to Jambands.com, Tickets (priced at $150) for that show go on sale today (6/4) at 5 PM 7PM.
UPDATE: It's 5 PM and tickets are still not on sale, and Jambands.com updated their site and removed the part about when tickets go on sale.
Nicki Bluhm and the Gramblers were supposed to play Brooklyn Bowl that night, but they have instead been moved to The Capitol Theatre in Port Chester, where they will open the previously discussed B-52s show. Tickets for that show are still available and all tickets purchased for the Nicki Bluhm show will be honored as well. The B-52s also play another NYC-area show at Roseland Ballroom on June 19 with The Go-Gos (tickets).
For something even more intimate, all-girl Guns N' Roses tribute band Guns N Hoses play a Brooklyn show at The Rock Shop on June 28, one week after they play Pianos in Manhattan. Tickets for the Brooklyn show are on sale now.
Guns N Roses tribute band Mr. Brownstone played Brooklyn Bowl on May 18.
Classic GNR video below...

---
Guns N' Roses - "Welcome to the Jungle"