GWAR announces Crack-A-Thon guests, played MWTX (pics)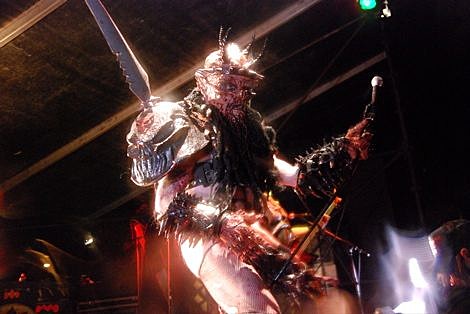 Preparations for GWAR's CRACK-A-THON continue as another round of celebrity-esque guests have been announced. Sources revealed that host Oderus Urungus will be joined by legendary weirdo, filmmaker, and founder of Troma Films, Lloyd Kaufman, who will of course be accompanied by mutant mop-wielder and star of stage and screen, The Toxic Avenger. Also fresh on the block of unwitting victims/guests is New York artist Joe Simko and cyber-warlord Mecronos of the band Dethrace. These guests will be joining the first confirmed guest Andrew W.K. and the many other yet-to-be-confirmed sort of stars that are rapidly turning the CRACK-A-THON into the most fudge-packed event since the Buddy Ebsen roast!

All the fun starts on April 10th, when the MF Gallery in Brooklyn, N.Y. hosts the CRACK-A-THON kickoff party, which will feature an exhibit of prints of both classic GWAR art and other hideous visions created by some of the artists of Slave Pit Inc, the company responsible for bringing the world GWAR, the X-Cops, and numerous other side projects to ridiculous to mention in this press release. This print series is being created exclusively for MF Gallery and will also be available for purchase online at MFGallery.net. The evening shall be capped off with the music of Mecronos' band, Dethrace, and homeless animal rights activist and avowed organ-grinder Chippy the Chippopotamus!

All of this is just a lead-up to the actual First Annual (even though that is impossible) GWAR CRACK-A-THON, Oderus Urungus' desperate attempt to raise funds to pay off the heaping crack-debt he owes to underground mogul Sleazy P. Martini. Starting at 7:00 pm on April 16th, anyone with internet access will be able to witness all of the shenanigans, via a live broadcast from the MF Gallery in Brooklyn, New York. For those of you in the area, reserve your seats NOW to be in the live studio audience with a ten-dollar pledge!
One of Gwar's announced Crack-a-thon guests, Andrew WK, actually played right before them at MWTX on Saturday, March 20th. For Andrew, that performance was just an hour or two after he played before Voivod at the BrooklynVegan party. Stay tuned for more Crack-a-thon announcements. More pictures from Gwar's Austin show, below...