Gwar played Irving Plaza (NYC) & the Electric Factory (Philly) – pics from both shows
Gwar @ Irving Plaza in NYC Sunday

At most metal shows, the dress code is "none more black." At GWAR shows, however, if your shirt isn't covered in blue blood and green bile, you weren't really at a GWAR show, were you? The group of intergalactic badasses, led by vocalist and Fox News' Red Eye's interplanetary correspondent Oderus Urungus, always bring a hellishly good show with them, where no human goes unsacrificed. GWAR brought their freak show to the Gothic Theatre on November 11 in support of Lust in Space, and global destruction almost materialized.

...Most GWAR concerts and albums are based around a story, and this time, GWAR are forced to once again combat Cardinal Syn, from the Ragnarock album. Cardinal Syn is an evil Catholic robot on a quest to homogenize the universe and turn GWAR into a Christian rock band. Complicating matters was that Oderus Urungus has lost the Cuttlefish of Cthulhu, either because he left it in the ass of a transvestite or a clerical error in Tulsa, Oklahoma (crack affects your memory, you know.) As a result, he was forced to use a human penis to perform such daily tasks as raping babies and forcing members of the audience to give fellate him. In the end, however, Cardinal Syn went down and GWAR scored themselves a boulder of crack. Overall, the story wasn't as tight-knit as the stories from the Beyond Hell and election tours ("Hilary Clinton" getting her tits ripped off is still one of my favorite GWAR moments), but it was still entertaining to see a Catholic robot get his ass kicked. -[Crustcake]
The spaceship has left for parts unknown. Gwar finished up a month long tour (which included Gothic Theatre in Denver, discussed above) with a string of east coast dates which concluded at Irving Plaza in NYC on Sunday (12/13), with a show in Philly at the Electric Factory one night before that. Pictures from both shows adorn this post. Support for the dates included Job For A Cowboy and The Red Chord, who recently dropped their highly celebrated LP Fed Through the Teeth Machine.
Tons more pics and some video from the band when they hit Fuel TV are below...

---
Gwar, Job For A Cowboy and The Red Chord at Irving Plaza on 12/13....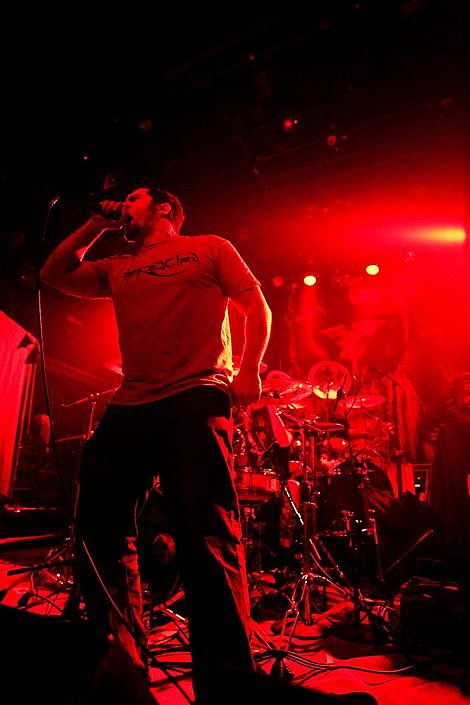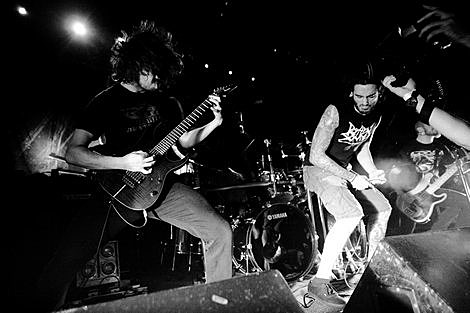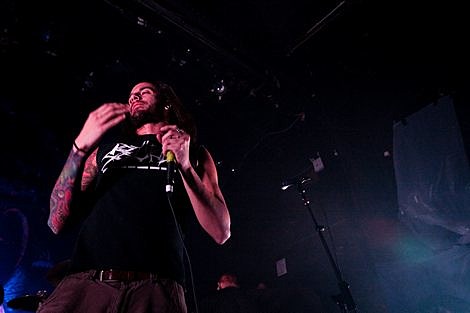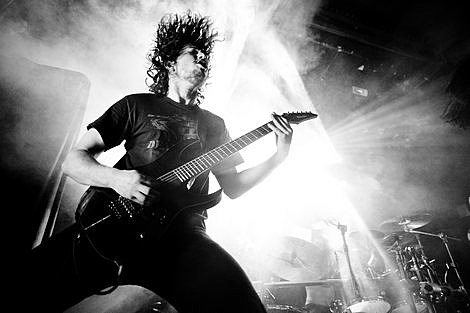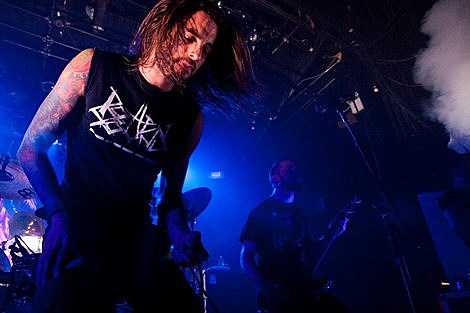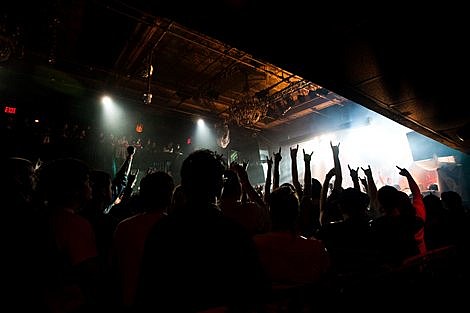 Gwar at The Electric Factory in Philadelphia, PA, 12/12....