H2O & guests played Knitting Factory & Gramercy (pics)
Trapped Under Ice would like to share a song with you...

You know the NYC hardcore scene ain't what used to be when it has to be emphasized as a main bullet point on the H2O show flier that the event will feature no barricades! When it comes to hardcore, I thought that went without saying. At least, it should. But I guess since our ever-wussified show-going culture evolves, lots of people expect to see barricades at a hardcore, metal, or just plain aggro-music show. But enough of my griping. H2O played two NYC proper 15 year anniversary shows. Night one was February 20th at Gramercy (pics adorn this post) and night (or should we say day) two took place at the Knitting Factory (on 2/21). The show at the Knit was a 3pm doors, all ages, sold out event. That is the one I attended.,
When I got there at 6pm sharp, H2O was literally walking on stage to perform what would end up being a 54 minute set. The set was packed with the classics and the crowd (which was hardly all ages) (unless 20 - 30 is considered all ages), was physically into the band from song one. A steady stream of stage diving and not-nearly-as-violent-as-the-old-days moshing stayed at a pretty consistent pitch throughout. The Gramercy crowd was lucky enough to get guests Lou Koller of Sick of it All as well as Anthony Civarelli (Civ), but sadly this was not the case at the Knit. Over all the show was a lot of fun, but now I have my sights set on the sold out Agnostic Front original line-up reunion happening at the Bell House on Friday 2/26.
More pics from the Gramercy are below...

--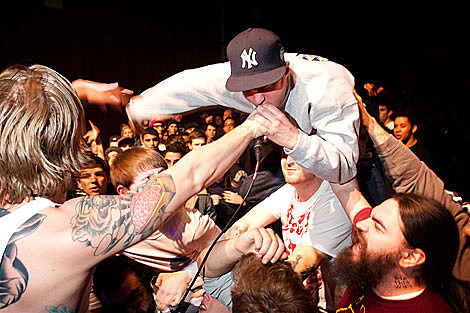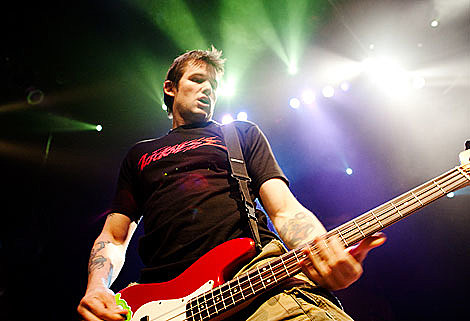 Civ of Gorilla Biscuits

Sam of Trapped Under Ice

Lou Koller of Sick Of It All