Haim played Webster Hall with IO Echo (pics, setlist)
photos by Amanda Hatfield
Haim - Webster Hall, NYC - September 3rd, 2013

As musicians, there's no doubting Haim's pedigree but, more than anything, it's their pop sensibility that has connected with fans during the past year. Unsurprisingly, the infectious melodies of singles "Don't Save Me" and "Forever" proved to be the tipping point of their set, turning what had been a mostly appreciative Webster Hall crowd into a mass of singing and dancing partygoers. If Este and her sisters like the look of "fresh meat" as much as they say they do, they would do well to write a few more songs as catchy as these.
Buoyed by the response to their best songs, the sisters returned for an encore and closed out the night with a sparse and sinister rendition of "Let Me Go," which saw them unite to create the mother of all drum circles. As each one of the sisters pounded away in the strobe lights with hair billowing, arms flailing and blood racing, it was almost like watching three demonic specters performing a creepy rock 'n' roll rite. - [NY Post]
Sibling trio Haim are pretty much full-on sensations at this point, with rabid fans packing Webster Hall last night (9/3) to the gills following an appearance at Philly's Made in America Festival over Labor Day Weekend... and the band's debut album is still a month away. Where will they play next in NYC once the album is out? IO Echo, who also played over the weekend at Warm Up and will tour with Haim this fall, opened the show and pictures from their sets -- including one of Haim's setlist -- are in this post.
More below...

---
IO Echo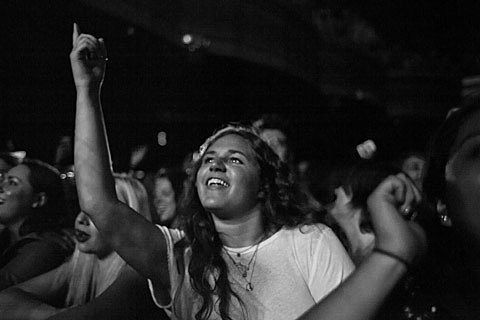 Haim