Happy Jawbone Family Band share new video ++ belated pics from Mexican Summer Five
Happy Jawbone Family Band @ Mexican Summer Five, October 2013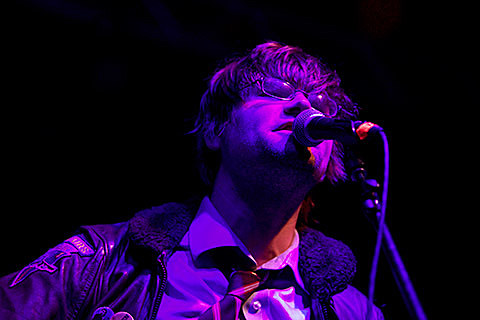 Happy Jawbone Family Band's Tastes the Broom was a great introduction to the prolific Brattleboro, VT collective and then followed it up with their proper Mexican Summer debut album in October. The group have just made a video for "D-R-E-A-M-I-N'" -- directed by Joey Pizza Slice -- and that makes it's premiere in this post.
Also in this post is a belated set of pics from Happy Jawbone Family Band's performance at the Mexican Summer Five fest that happened in Red Hook back in October. No US tour dates as of right now, but they are about to head to Europe and those dates are listed below. One more thing below as well -- the band's Top 10 list for 2013. It is a little unusual, just like the band themselves.
Video, more Mexican Summer Five pics and their Top 10 list below...

---
Happy Jawbone Family Band - D-R-E-A-M-I-N'

Happy Jawbone Family Band @ Mexican Summer Five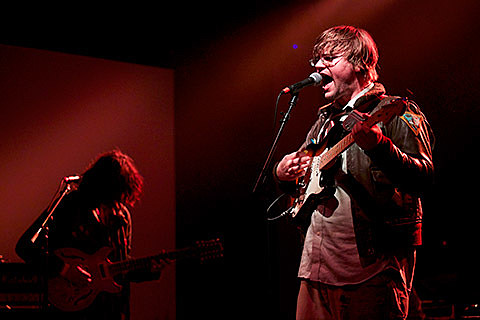 Happy Jawbone Family Band's "Top 10 Lion Pictures of Lions I Found on the Web"
After listening to our song "Everybody Knows about Daddy," many people wonder if I have ever actually looked at many pictures of lions on the web, or if I was just "posing" for some "symbolic interpretation." Let me put these rumors to rest. I often look at pictures of lions on the web, and I have made a top 10 of my favorite pictures of lions I've found on the web. Let me share it with you now.
There's lots of great pictures of lions on the web. How do you choose which ones are really the finest examples? The violent ones or the ones that show off the phisique of the lion are nice and everything, but I get tired of them easily. The worst are the ones where the lions are supposed to embody some sense of nobility or some other bold Germanic element. My favorite are the ones where the lions are showing a side that you don't normally see.
1. Like this one where the lion is being so friendly with this lady who anybody else would want to kill.
2. I love the intimacy in this shot. They look a little guilty. Imagine that! Feeling guilty around a lion!
3. This is a picture of Togar who is Anton LaVey's lion cause he used to be a lion tamer. I love to see a lion in a bed. It seems so natural. It's not a sexy thing. Although, there are some interesting pictures you can find if you search "sexy lion!"
4. When the lions are being cute with other species, it's even better. Especially if they're lion cubs.
5. This one is so weird! Imagine breast-feeding a lion!
6. Then there's pictures of lion mating which are usually pretty gross, but I think this one's hilarious!
7. And then there's a bunch of great old pictures of lions, like this one from ancient Assyria. But the lion's are so life-like. I prefer misinterpreted lions. In my own life I always try to misinterpret lions...
8. Like this Tibetan lion. In the Buddha's time, lions roamed the forests of India. He talked about lions a lot. That's just one thing we have in common. If he were around these days, he would definitely be checking out lions on the web. But when Buddhism came to Tibet, they inherited this idea of a lion without knowing what it really looked like. This is what they came up with. Those crafty Tibetans!
9. A similar thing happened with Christianity in Europe. I love all those odd misshapen lions from medieval times. They really don't know what's going on! This picture is from the bizarre Belgian tradition of depicting their country as a lion, which I think is a little bold, cause it doesn't really look that much like a lion. But maybe to them it did because they didn't really know lions the way that we do in our modern times, where we are so lucky to be able to look at thousands of pictures of lions every day.
10. This one has got to be my most favorite picture of a lion. I don't know why. It's not that special really but after you look at it for a while it really gets you. In all of my searching for pictures of lions I have not been able to find one that so closely renders the essence of what it means to be a lion. I think about it all the time. When I'm waking up, sometimes I'll see it in front of me like it's really there.
Happy Jawbone Family Band - 2014 Tour Dates
1-15 Vienna, Austria @ Arena
1-16 Winterthur, Switzerland @ Albani
1-17 St. Gallen, Switzerland @ Palace
1-18 Brussels, Belgium @ Apaule Jete
1-19 Erfurt, Germany @ Museumskeller
1-20 Leipzig, Germany @ Black Label
1-21 Halle, Germany @ Hühnermanhattan
1-23 Aarhus @ Northern Winter Beat Festival
1-24 Paris, France @ Mo'Fo Festival
1-27 London, UK @ Shackwell Arms
1-28 Bristol, UK @ Start The Bus
1-30 Tours, France @ Le Temps Machine
1-31 Madrid, Spain @ El Perro De La Parte De Atras Del Coche
2-1 Manresa, Spain @ El Vermell
2-2 Vic, Spain @ Jazz Cava
2-5 La Spezia, Italy @ Btomic
2-6 Faenza, Italy @ Clandestino
2-7 Bologna, Italy @ Freakout Club
2-8 Padova, Italy @ Mame
2-9 Zagreb, Croatia @ Mochvara
2-10 Prague, Czech Republic @ Cafe Vlese
2-12 Berlin, Germany @ West Germany
2-14 Cologne, Germany @ King Georg
2-15 Freiburg, Germany @ Swamp