Hard Fest coming to LA (in August w/ Underworld) & NYC (in October @ Terminal 5 w/ Crookers, Major Lazer and more)
"Hard Fest" will bring a special summer electro-lineup to L.A. on August 8th. Tickets for that night, which features Underworld, Chromeo, Crystal Castles, Crookers and many others, are on sale now.
Some of that lineup (but not much of it) will be coming for Hard Fest NYC when the party visits Terminal 5 on Saturday, October 10th. The bill for that includes Crookers, Major Lazer (Soundsystem), Rusko, Jack Beats and Destructo. Tickets are on sale.
Major Lazer (Diplo + Switch) were just in NYC in June for a show at SOB's, which was accompanied by an in-store (to promote their debut) and a video shoot at Studio B.
A video clip from their SOB's gig, with a Hard Fest NYC flyer and the full L.A. lineup, below...

MAJOR LAZER (SOB's NYC) - Benga & Coki 'Night' vs lil Wayne 'A Milli'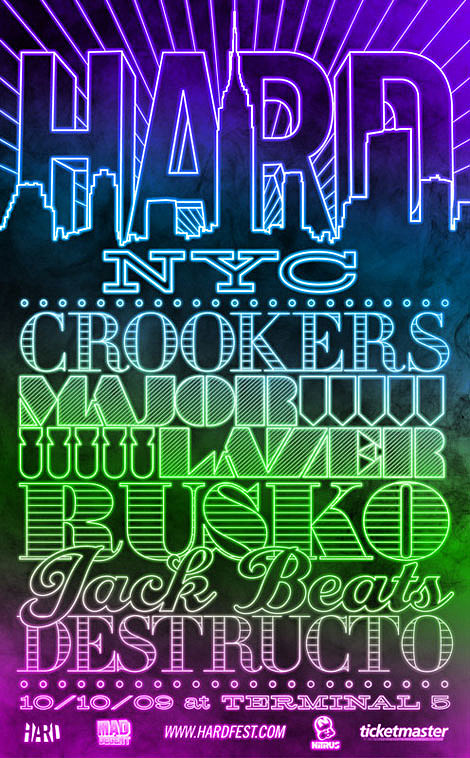 Hard Fest L.A. lineup
* UNDERWORLD (LIVE)
* CHROMEO
* CROOKERS
* CRYSTAL CASTLES
* A-TRAK
* TIGA
* THE BLOODY BEETROOTS
* SEBASTIAN
* BUSY P
* AMANDA BLANK
* STEVE AOKI
* SINDEN
* JACK BEATS
* RYE RYE
* DESTRUCTO
* SKEET SKEET
* DAN OH
* 12TH PLANET