Harlem Shakes – 2 small NYC shows, 1 free, 1 big one & other 2009 Tour Dates (w/ Passion Pit & Cale Parks)
Harlem Shakes @ Highline Ballroom (more by Ryan Muir)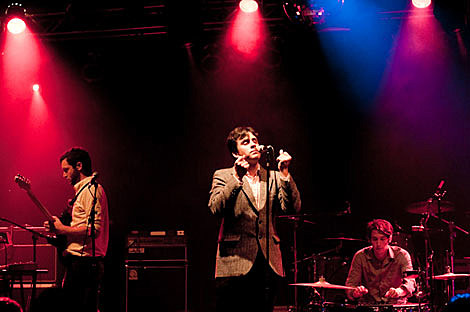 The band has upcoming May/June tour dates with Passion Pit and Cale Parks, though none in New York. But that doesn't mean there aren't any Harlem Shakes shows to be had.
First the band plays a "Big Ups to Jules De B." show at Bushwick's Starr Space on Thursday, April 23rd with LD Beghtol (Magnetic Fields, Flare), Hospitality, and Mr. Dream. That show is a party for Jules De Balincourt, who did the artwork for the band's newest record. (More details and artwork below.)
Then the band has a free early show at Pianos on Wednesday, May 6th with The Cringe and Sean Bones. (That's before the Japandroids, The Octagon, Heavenly States show the same night.) Poster for the Shakes gig below.
Then, after a May 16th Sarah Lawrence show (in Westchester County) and the Passion Pit/Cale Parks tour, Harlem Shakes return for a July 1st show at the Bowery Ballroom. Tickets go on sale Friday, April 24th at noon. Openers aren't announced yet.
Before embarking on that tour, Cale Parks (you may know him as one of the guys who plays percussion/piano/vibes in Aloha) is performing at Santos Party House on Saturday, May 9th with Cymbals Eat Guitars, So So Glos, Real Estate and Luke Temple (Here We Go Magic). The show, hosted by Andrew WK, is a benefit for DKMS, which is the world's largest bone marrow donor center. Tickets for that show are on sale.
Video from the Harlem Shakes' March 26th MHOW gig, details on the band's Bushwick show, and all upcoming tour dates below...

Harlem Shakes - Strictly Game - Live from the MHOW March 26th 2009

The (Semi-Secret) Details:

HARLEM SHAKES @ STARR SPACE
"Big Ups to Jules De B."

Thursday, April 23rd
Doors at 8pm
$8

WITH:
LD Beghtol (Magnetic Fields, Flair)
Hospitality
Mr. Dream

Starr Space (108-110 Starr St, Brooklyn)
MAP

Have you seen the cover of our album Technicolor Health? It's a spectacularly cool painting by a very talented Brooklyn artist named Jules De Balincourt. We came across his painting, "Blind Faith and Tunnel Vision," and were like "That. Is. Our. Album cover." We asked, and - against all odds - Jules kindly let us use his image as the cover of Technicolor Health. We couldn't be happier. What a guy.

In honor of Jules' awesomeness, we're throwing a semi-secret party next THURSDAY, APRIL 23rd at STARR SPACE Jules art space out in Bushwick, Brooklyn. We've got some great friend-bands playing beforehand (including a member of one of our favorites of all time, Magnetic Fields), and there will be all the usual drinks, noise, hats, pants, and artsy merry-making one associates with art-space parties in Bushwick. [Harlem Shakes]
Harlem Shakes - 2009 Tour Dates
4/23 - Starr Space - Brooklyn, NY
5/6 - Piano's - New York, NY
5/16 - Sarah Lawrence College - Bronxville, NY
5/18 - Empty Bottle - Chicago, IL
5/19 - Fine Line - Minneapolis, MN
5/23 - The Biltmore - Vancouver, BC
5/24 - Wonder Ballroom - Seattle WA #
5/26 - Bombo's 365 Club - San Francisco CA #
5/28 - Troubadour - Los Angeles CA #
5/29 - The Echoplex - Los Angeles #
5/30 - The Glass House - Anaheim CA #
6/2 - Granada Theater - Dallas TX #
6/3 - Emo's - Austin TX #
6/4 - Warehouse Live - Houston TX #
6/5 - Spanish Moon - Baton Rouge LA #
6/6 - Drunken Unicorn - Atlanta GA #
6/8 - The National - Norfolk VA #
6/9 - Black Cat - Washington DC #
6/13 - The Mad Hatter - Covington KY #
6/14 - Empty Bottle - Chicago IL #
6/16 - TBD - Toronto, ON
6/18 - Paradise - Cambridge MA #
7/1 - Bowery Ballroom - New York, NY
# w/Passion Pit & Cale Parks
Cale Parks - 2009 Tour Dates
5/9 - Santos Party House - New York, NY *
* w/ Cymbals Eat Guitars, So So Glos, Real Estate, Luke Temple