Harvey Milk adds Joe Preston, pics from EARTH's Knitting Factory show, Deadbird & a whole bunch of TOUR DATES
words by Black Bubblegum, photos by Zach Dilgard
DOWNLOAD: Earth - The Driver (MP3)
DOWNLOAD: Deadbird - "Death Of Self" (MP3)
DOWNLOAD: Harvey Milk's whole SXSW WFMU show (MP3)
Earth holy shit so gooooood............. Everything they did was simple and repetitive but they all locked in the groove and just played it to the fucking bone. [In Memory Of Thom]
Earth played the Knitting Factory with the avant garde band Kayo Dot earlier this month (Did you get your free tix?). Photos Zach took at that show are decorating this post.
Meanwhile, ex-Earth legend Señor Joe Preston is still keeping keeping busy (natch), tackling on ANOTHER great band to his resume which already includes Thrones, High On Fire, Melvins, sometimes sunn 0))) and about a trillion other bands. He is now in the ridiculously under-appreciated band Harvey Milk! Now an official member on guitar (NOT bass), Preston joined the band on stage during their SXSW gig for WFMU (download the whole show above), and next he will join them on their upcoming tour of the Northeast and Europe including at TWO shows in NYC that are already on sale (Knitting Factory on June 20th and Europa on June 23rd). Harvey Milk have a new LP due June 3rd on Hydra Head, Life... The Best Game In Town, and are streaming the new tune "Decades" on their myspace. All tour dates below.
One band also on the Knitting Factory bill, Deadbird, is a side project of current and ex-members of Arkansas sludgers Rwake. Check out "Death Of Self" (downloadable above) from their forthcoming At A Loss LP, Twilight Ritual, due June 24th, and also scoot on over to their myspace for "Rule Discordia" streaming now! Full Deadbird tour dates (including shows with the newly reunited Only Living Witness, Black Tusk, Wooly Mammoth, Sourvein, Zoroaster, and Hail! Hornet) below.
Thrones are on tour now, and will hit Death By Audio on May 22nd with Ocrilim.
All tour dates & more Earth photos below....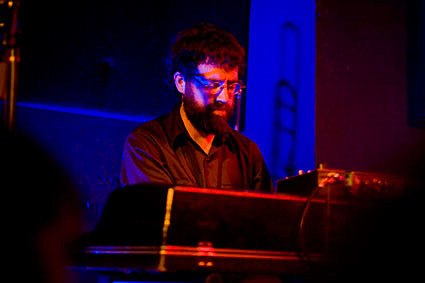 HARVEY MILK - 2008 TOUR DATES
Jun 17 - The Earl Atlanta, Georgia*
Jun 18 - The Milestone Charlotte, North Carolina*
Jun 19 - Canal Club Richmond, Virginia**
Jun 20 - Knitting Factory NYC, New York***
Jun 21 - Great Scott Boston, Massachusetts%
Jun 22 - The Elevens Northampton, Massachusetts
Jun 23 - Europa Brooklyn, New York%%
Jun 24 - Johnny Brenda's Philadelphia, Pennsylvania**
Jun 25 - Otto Bar Baltimore, Maryland%%%
Jun 26 - Soapbox Wilmington, North Carolina
Jun 27 - 40 Watt Athens, Georgia @
Jun 28 - Bottle Tree Birmingham, Alabama @
Jul 6 - Feierwerk Munich#
Jul 7 - Club Schocken Stuttgart#
Jul 8 - Festaal Kreuzberg Berlin##
Jul 9 - Hafenklang Hamburg#
Jul 10 - Worm Rotterdam#
Jul 11 - Recyclart Brussels#
Jul 12 - Supersonic Festival Birmingham#
Jul 13 - Glasgow Stereo / ABC 2#
Jul 14 - The Ruby Lounge Manchester#
Jul 15 - Underworld London##
Jul 16 - La Maroquinerie Paris##
Jul 17 - FZW Dortmund#
Jul 18 - Dour Festival Dour#
* w/ Pride Parade and Major Stars
** w/ Clouds
*** w/ Growing, Bloody Panda, Dead Bird
% w/ Clouds and 27
%% w/ Growing and Clouds
%%% w/ Dianogah and Clouds
@ w/ Pride Parade
# with Oxbow
## with Oxbow, Parts & Labor
### with Oxbow, Red Sparowes
DEADBIRD - 2008 TOUR DATES
June 14 - THE BUCCANEER Memphis, Tennessee
June 15 - SPRINGWATER, Nashville, Tennessee
June 16 - THE NOTE, Chicago, Illinois
June 17 - MELODY INN, Indianapolis, Indiana early show
June 18 - CLUB KHAMELEON Kent, Ohio
June 19 - 31 STREET PUB Pittsburgh, Pennsylvania
June 20 - KNITTING FACTORY NYC, New York*
June 21 - MIDDLE EAST Cambridge, Massachusetts**
June 22 - MILLCREEK Philadelphia, Pennsylvania
June 23 - TALKING HEAD Baltimore, Maryland***
June 24 - WONDERLAND Richmond, Virginia^
June 25 - REGGIES Wilmington, North Carolina^^
June 26 - DRUNKEN UNICORN Atlanta, Georgia^^^
June 27 - THE HAVEN Orlando, Florida%
June 28 - TRANSITIONS SKATE Tampa, Florida%
June 29 - TBD
June 30 - TBA, NOLA, Louisiana
July 1 - RUDYARDS, Houston, Texas
July 2 - ROCK BOTTOM TATTOO BAR, San Antonio, Texas
July 3 - RED 7 Austin, Texas
July 4 - RED BLOOD CLUB Dallas, Texas
July 5 - DOWNTOWN METAL little Rock, Arkansas
* w/ Harvey Milk, Bloody Panda & Growing
** w/ Only Living Witness, Hackman & Bury the Needle
*** w/ Wooly Mammoth
^ w/ Hail!Hornet
^^ w/ Sourvein & Black Tusk
^^^ w/ Zoroaster & Black Tusk
% w/ Black Tusk