Harvey Milk, Coalesce & The Atlas Moth @ Le Poisson Rouge in NYC – pics & video
words by BBG, photos by Meghan McInnis
Jes of Coalesce forgets there is a stage for a brief moment

I loved Mr. Spiers's guitar sound: big and oily and slightly overdriven. I loved his stage presence: he is very, very calm, but not sullen. He played a powerful, warped, original blues called "Lay My Head Down." "I've been tired every day, every day of my life so far," he seethed. "But when that sun comes back around, that guillotine will lay my head down."
As a guitar player, he's learned from Jimmy Page, just as Mr. Spence has learned from John Bonham, laying way back in the groove and going hard on the bass drum. Both "Lay My Head Down" and the stop-time stomp "Shame" used the greatest parts of Led Zeppelin: not just the riffs and grooves, but also the sense of space. The bassist Stephen Tanner, making big, resonant notes like paving stones, enlarged that space.
And they burrowed into 17 years of music: new stuff, old stuff; thrashers, howlers, tender songs; short songs at a crawling tempo; long songs that needed their length; the Southern-boogie "Misery," mixing dumb riffs and strange ones, taking what you already know and melting it into something else; "Motown," like a Weezer hit with an unexpected cosmic chorus; a new dirge, "I Just Want to Go Home," heartfelt and miserable. -[New York Times]
While the Times nailed the guts of Harvey Milk's Monday night headlining set, it neglects to discuss both The Atlas Moth and the beautiful disaster that was Coalesce.
And Coalesce was a mess, but in the best possible way. I've heard that the band refers to itself as a "bass and drums band", and live it is definitely adheres to that. Guitarist Jes barely plays his instrument, opting for noise/feedback and spastic dance moves instead (to great effect) while the rest of the band lays down the brutality. Jes spent at least 3/4 of one song laying on the floor of venue and feedingback the guitars like Thurston Moore circa Dirty. Wild to say the least.
The Atlas Moth impressed yet again, drawing heavily from one of my favorite LPs of 2009 for their bluesy and epic set. Those of you heading to SXSW will have plenty of chances to check them out, including at TWO BrooklynVegan shows: 3/17 at Emos and 3/18 at Hoeks Death Metal Pizza.
More pictures (including one of HM's setlist) and some video from the show, below...


The Atlas Moth
Coalesce
Harvey Milk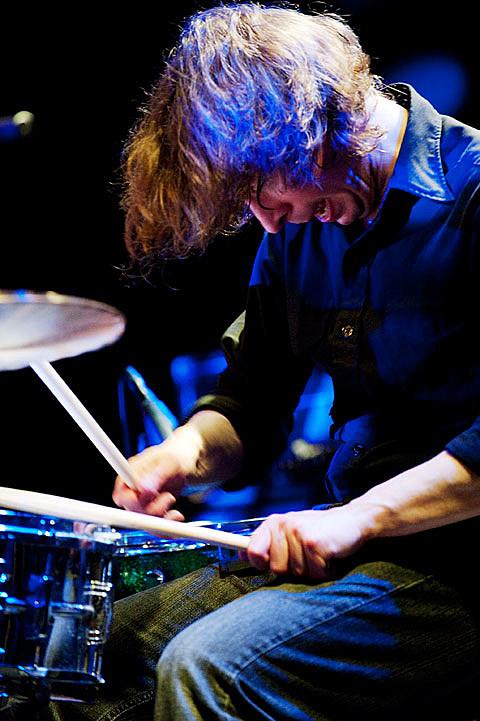 Harvey Milk - "Motown" @ Le Poisson Rouge, 3/8/10

Coalesce - "You Can't Kill Us All" @ Le Poisson Rouge, 3/8/10

The Atlas Moth - "Extraordinary Claims Require Extraordinary Evidence" @ Le Poisson Rouge, 3/8/10


Atlas Moth @ BV shows this SXSW.....