have an MP3 from Wild Beasts' new record, see them live (now w/ Marques Toliver opening)
Wild Beasts at Highline Ballroom (more by Amanda Hatfield)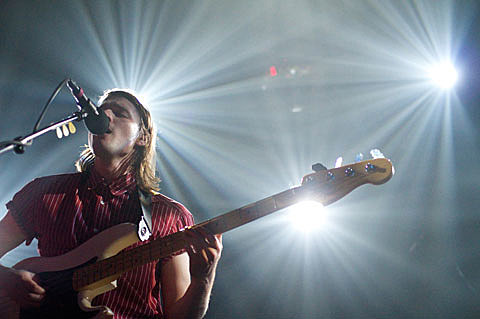 Lucky east coasters (and attendees at Austin City Limits) have Wild Beasts dates to look forward to. As previously announced, the band will tag four shows in three cities along the Mid-Atlantic in July. NYC is the city with two shows and they happen at Le Poisson Rouge on July 13th and 14th. Tickets are still available for both (7/13 and 7/14), and both shows now feature the soulful sounds of Marques Toliver, who will also open for them on the previous night in Philadelphia. All dates are listed below.
Wild Beast's new long-player Smother is out NOW via Domino. The record features the serene "Loop the Loop", which makes its legal, free MP3 premiere in this post. Download it above/stream it below, alongside all tour dates....

--
Wild Beasts - "Loop the Loop"

WILD BEASTS - 2011 TOUR DATES
11.6.11 - Isle of Wight Festival SOLD OUT
25.6.11 - Glastonbury Festival SOLD OUT
16.6.11 - Madrid - Dia de la Musica Festival
12.7.11 - Philadelphia - World Cafe Live
13.7.11 - New York, NY - Le Poisson Rouge
14.7.11 - New York, NY - Le Poisson Rouge
16.7.11 - Washington DC - 9:30 Club
27.7.11 - Sydney - Oxford Art Factory
28.7.11 - Melbourne - Corner Hotel
29-31.7.11 - Woodford QL - Splendour In The Grass
05.8.11 - Herefordshire - The Big Chill Festival
06.8.11 - London - Victoria Park Field Day Festival
07.8.11 - France - Nuits Secretes
10.8.11 - Luxembourg - EXIT07
11.8.11 - Basel - Im Fluss Festival
12.8.11 - Germany - Haldern Pop Festival
13.8.11 - Germany - Dockville Festival
15.8.11 - Prague - Prague Lucerna Music Bar
16.8.11 - Vienna - Flex
17.8.11 - Portugal - Paredes de Coura Festival
18.8.11 - Switzerland - For Noise Festival
20.8.11 - Belgium - Pukkelpop Festival
16.9.11 - Texas - Austin City Limits
02.9.11 - Dorset - End of the Road Festival
15.10.11 - Mexico City - Corona Capital Festival
10.11.11 - Birmingham - HMV Library
11.11.11 - Oxford - O2 Academy
12.11.11 - Leeds - Constellations
14.11.11 - Edinburgh - Liquid Rooms
15.11.11 - Aberdeen - Lemon Tree
16.11.11 - Manchester - Cathedral SOLD OUT
17.11.11 - Manchester - Cathedral
19.11.11 - Bristol - Anson Rooms
20.11.11 - Nottingham - Rescue Rooms
21.11.11 - Southampton - University
23.11.11 - London - O2 Shepherds Bush Empire
25.11.11 - Cambridge - Junction
26.11.11 - Brighton - Concorde II
-
MARQUES TOLIVER - 2011 TOUR DATES
Jun 16 Fritz Club, Postbahnhof Berlin, ., GERMANY
Jun 17 Botanique Brussels, Brussels-C, be
Jun 18 Naked Song Festival Eindhoven, Eindhoven, NETHERLANDS
Jun 19 Paradiso Amsterdam, Netherlands
Jun 25 Civic Theatre Bedford, Bedfordshi, UNITED KINGDOM
Jun 28 Komedia Brighton, UNITED KINGDOM
Jun 29 XOYO London, UNITED KINGDOM
Jun 30 South Street Reading, GB
Jul 1 Blissfields Festival Winchester, Winchester, UNITED KINGDOM
Jul 3 Brudenell Social Club Leeds, yorkshire, UNITED KINGDOM
Jul 5 Band on the Wall Manchester, Greater Ma, gb
Jul 5 Band on the Wall Manchester, Greater Ma, gb
Jul 6 Glee Club Nottingham, Nottingham, UNITED KINGDOM
Jul 7 Fleche d'or Paris, France, FRANCE
Jul 10 Lounge on the farm festival Canterbury, London and, GB
Jul 12 World Cafe Live Philadelphia, PA
Jul 13 Le Poisson Rogue New York City, NY , US
Jul 14 Le Poisson Rouge New York, New York, UNITED KINGDOM
Jul 17 Latitude Festival Southwold, Suffolk, East, UK - 12:00 PM
Jul 22 Truck Festival Oxford, Oxfordshir, UNITED KINGDOM - 12:00 AM
Jul 29 Splendour in the Grass Woodford, Queensland, AUSTRALIA
Aug 19 Ventnor Fringe Festival Ventnor, Isle of Wi, UNITED KINGDOM
Sep 3 In The Woods Fest (Secret Woodlands Location) Secret, Secret, UNITED KINGDOM
Sep 13 The Tabernacle London, London and, GB