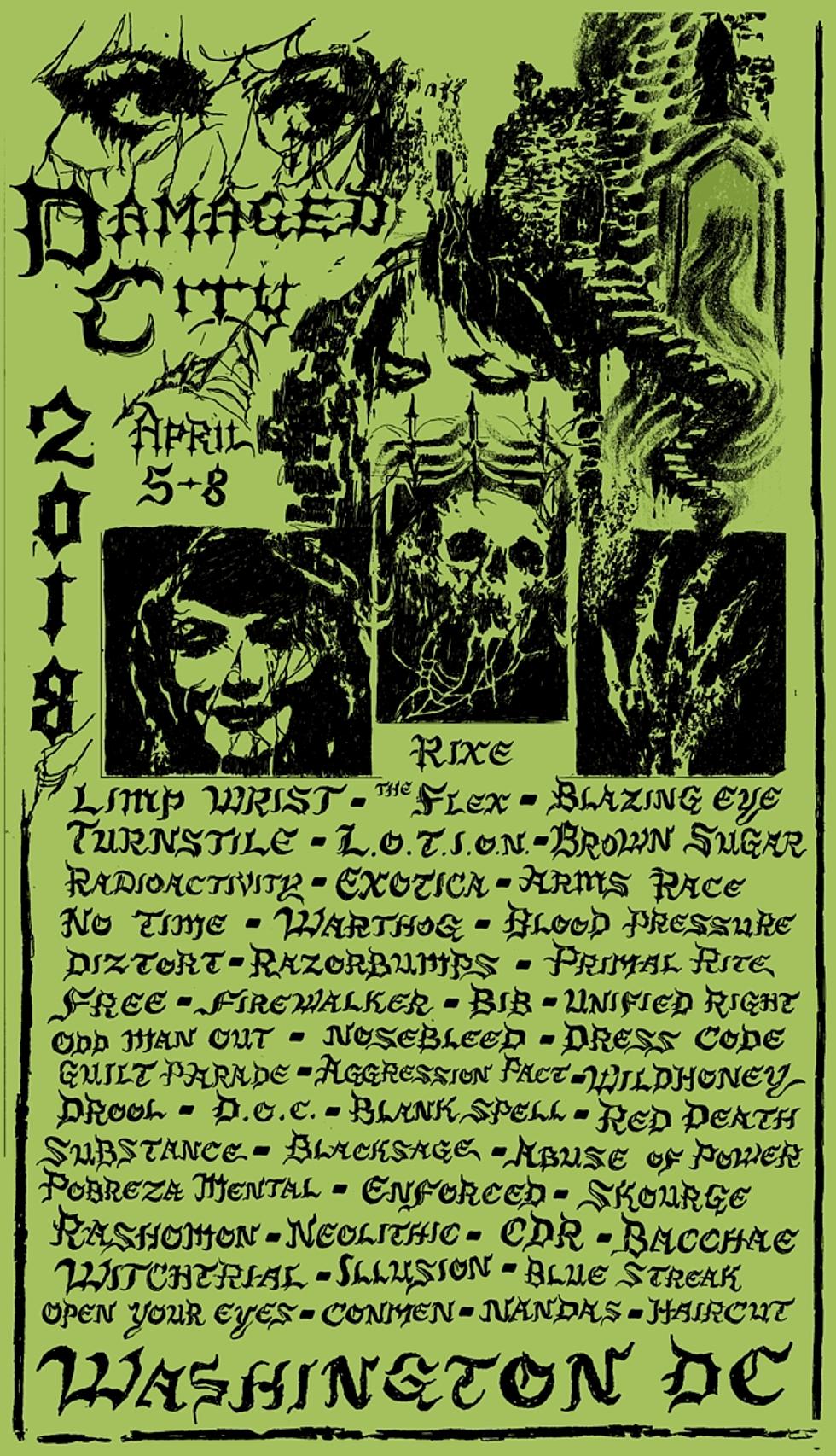 hear a Damaged City 2018 playlist & win tix to the fest!
As mentioned, punk festival Damaged City returns to various DC venues April 5-8 with Turnstile, Limp Wrist, Radioactivity, The Flex, Warthog, Rixe, Wildhoney, Primal Rite, Free, Red Death, Razorbumps, and more. Ahead of the fest, the Damaged City organizers have made a playlist of bands playing, and we're premiering that below.
We're also giving away a pair of tickets to a show of your choice, including the pre-show on 4/5 headlined by Turnstile, the main show on 4/6 headlined by Radioactivity, the main show on 4/7 headlined by Limp Wrist, and more.
Enter on Facebook by leaving a comment with your show of choice. A winner will be chosen at random and contacted with more info. Good luck!
Here's the full schedule:
Thursday, April 5th
Pre Show / Turnstile (Record Release) at All Souls Unitarian Church
$5: 6pm Doors / 7pm Show
Turnstile (MD) "Time & Space Release Show!
Unified Right (FL)
Red Death (DC)
Razorbumps (TX)
Dress Code (TX)
Bacchae (DC)
Friday, April 6th
Main Show at The Black Cat
$25: 6pm Doors / 7pm Show
Radioactivity (TX)
Brown Sugar (NY)
Katastrof (Sweden)
Blood Pressure (PA)
Wildhoney (FRI)
Firewalker (MA)
Nosebleed (VA)
Rashomon (DC)
Friday, April 6th
Late Show at The Black Cat
$15: 11pm Doors / 12pm Show
The Flex (UK)
Diztort (CA)
Skourge (TX)
Enforced (VA)
Saturday, April 7th, 2018
Main Show at The Black Cat
$35: 3pm Doors / 3:30pm Show
Limp Wrist (IL/CA/MA) - First DC show in 12 years!
Arms Race (UK)
Rixe (France)
Exotica (NY)
No Time (PA)
Aggression Pact (MA/VA)
Odd Man Out (WA)
Free (MA)
Abuse of Power (GA)
Guilt Parade (DC)
Illusion (NY)
Substance (NC)
BiB (NE)
Drool (GA)
Open Your Eyes (DC/MA)
Saturday, April 7th
After Show at The Black Cat
$15: 11pm Doors / 12pm Show
LOTION (NY)
D.O.C. (DC)
Witchtrial (DC)
Blacksage (NY)
Neolithic (MD)
Sunday, April 8th
Art Show at Hole in the Sky
Details TBA
Bands:
Pobreza Mental (NY)
Laika's Orbit (MA)
Blue Streak (DC)
Sunday, April 8th
Main Show at The Black Cat
$15: 7:30pm Doors / 8pm Show
Warthog (NY)
Katastrof (Sweden)
Primal Rite (CA)
Blank Spell (PA)
CDR (DC)