Heartless Bastards – 2009 Tour Dates (Erika Wennerstrom solo @ Housing Works tonight, APW Friday, ACL, more)
DOWNLOAD: Heartless Bastards - The Mountain (MP3)
Heartless Bastards @ Bowery Ballroom Oct. 2008 (more by Nathan Miller)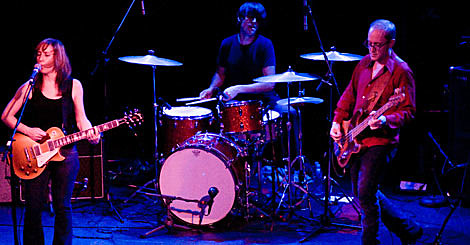 Ohio's Heartless Bastards, led by Erika Wennerstrom, will be opening up the Friday lineup at All Points West this weekend. The only people who go on before them at the Jersey City fest are "College Humor" on the Queen of the Valley, sometimes-comedy stage. Their record The Mountain came out earlier this year on Fat Possum. The title track is above.
You can also catch Erika performing solo tonight (July 30th) at Housing Works Bookstore Cafe (126 Crosby Street New York, NY) with Butterfly Boucher as part of the non-profit's Live from Home series. Tickets are on sale (thx rajohn).
Housing Works recently hosted a variety show benefit which featured an acoustic performance by Fiery Furnaces, and will be holding an event with Dredg and Salman Rushdie on October 1st.
Heartless Bastards are on tour through August. They open a bunch of shows for The Decemberists and then for The Avett Brothers. They'll also be making an appearance at the Austin City Limits Festival in October. It's a Texas fest they also played in 2008. They also taped a set for the TV show with the same name last June.
Clips of Heartless Bastards on ACL and at ACL Fest, with all tour dates, below...

Heartless Bastards LIVE at Austin City Limits 2008

Heartless Bastards @ ACL Taping in June '09

Heartless Bastards - 2009 Tour Dates
7.30.09 New York, NY - Housing Works (Erika solo)
7.31.09 Jersey City, NJ -Liberty State Park - All Points West Music & Arts Festival
8.02.09 Montreal, Quebec - Osheaga Music and Arts Festival
8.03.09 Toronto, Ontario - Kool Haus *
8.05.09 Madison, WI - Orpheum Theatre *
8.06.09 Chicago, IL - Metro w/ Decemberists (Offical Lollapalooza Aftershow)
8.07.09 Chicago, IL - Lollapalooza! Exact day and time TBD
8.08.09 Indianapolis, IN - Egyptian Room *
8.11.09 Royal Oak, MI - Royal Oak Music Theatre *
8.14.09 Pittsburg, PA - Byham Theatre *
8.15.09 Schwenksville, PA - Philadelphia Folk Festival
8.16.09 Holyoke, MA - Mountain Park *
8.25.09 Salt Lake City, UT - Red Butte Garden Amphitheatre **
8.26.09 Boise, ID - Knitting Factory **
8.28.09 Seattle, WA - Paramount Theatre **
8.29.09 Jacksonville, OR - Britt Fest **
8.30.09 San Francisco, CA - Golden Gate Park- Outside Lands Music & Arts Festival
10.03.09 Austin, TX - ACL Festival
* w/ The Decemberists
** w/ the Avett Brothers