Heavy Cream played Cake Shop w/ Unnatural Helpers & the Suzan (pics), play DbA tonight w/ Liquor Store & other dates
photos by Andrew St. Clair

Heavy Suzan Cream

Liquor Store will team up with Heavy Cream, Grooms, and Hunters for a show at Death By Audio TONIGHT (9/7). It's one of a few shows that Heavy Cream have/had scheduled in the NYC area. They played Union Pool and Cake Shop last week and Rock Shop last night. Pics from the Cake Shop show, which featured a headlining set from Unnatural Helpers (who played a bunch of shows in town too) and support from The Suzan (ditto), are in this post.
Heavy Cream are on the road surpporing their new LP Danny which was just released on Infinity Cat Recordings. Dig on what's left of their tour sked below.
Meanwhile, the headliners at Death by Audio tonight, Liquor Store, will also play Music Hall of Wiliiamsburg on 10/28, alongside Elks, Ninjasonik, and "hosts" Jeff The Brotherhood (who are very good friends of Heavy Cream). Tickets are still on sale.
Elks also played Rock Shop last night with Heavy Cream, and are prepping to release their new six-song EP Elks In Space produced by Brendan Tobin of Made Out of Babies. No word on when/who will release the effort, but until then, download one of the tracks above.
More pictures from the Cake Shop show (which doubled as Heavy Cream guitarist Mimi's 23rd birthday party), and UH's setlist, and tour dates, below...

--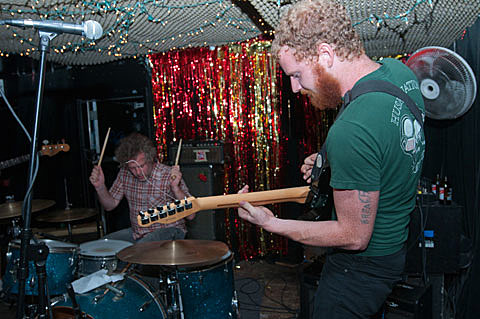 HEAVY CREAM - 2010 TOUR DATES
Sep 7 2010 Death By Audio Brooklyn, NY
Sep 14 2010 The End (w/Harlem) Nashville, TN
Sep 22 2010 The Bishop Bloomington, IN
Sep 23 2010 Diesel (w/Ted Leo and the Pharmacists)AA Pittsburgh, PA
Sep 24 2010 Southgate House Newport, KY
Oct 3 2010 Cropped Out Festival Louisville, KY
Oct 7 2010 MTSU Murfreesburo, TN
Oct 8 2010 Hi-Tone Cafe (w/Heavy Cream & Cy Barkley) Memphis, TN
Oct 21 2010 Bug Jar (w/JEFF The Brotherhood) Rochester, NY
Oct 26 2010 The Earl (w/The Growlers) Atlanta, GA
Oct 27 2010 Circle Bar (w/The Growlers) New Orleans, LA
Oct 28 2010 Continental Club Houston, TX
Oct 29 2010 Double Wide (w/The Growlers) Dallas, TX
Oct 30 2010 Beerland (w/Bad Sports) Austin, TX