Heavy Cream releasing 'Danny' (MP3), schedule 6 more NYC-area shows & other tour dates
Heavy Cream @ Death by Audio in July (more by Leia Jospe)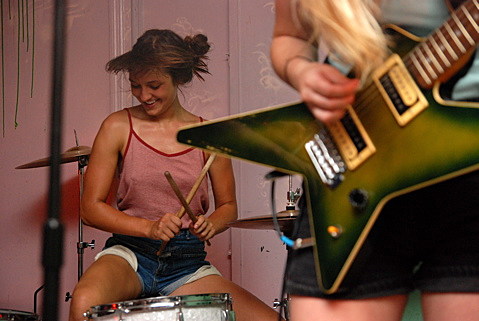 Nashville's Heavy Cream release their debut album, Danny, on JEFF the Brotherhood's Infinity Cat label August 24 and you can download the catchy, rockin' "Watusi" from it at the top of this post.
Around the same time, the band will be heading back to NYC for another round of shows. The first will be opening for the Detroit Cobras on the Rock's Off Concert Cruise on August 20. They'll then play Union Pool on Sept 1 (with Boogie Boarder), Cake Shop on Sept 2 (with Unnatural Helpers), The Meat Locker in Montclair on Sept 4, The Rock Shop on Sept 6 (with Dinowalrus and Pterodactyl), and Death by Audio again on Sept 7.
Heavy Cream were here just a few weeks ago -- maybe you saw them at Death by Audio? The band are playing some shows to and from NYC, and all those dates are listed below, along with the cover art for Danny...


Heavy Cream - 2010 Tour Dates
Aug Exit In (w/Screaming Females & JEFF The Brotherhood)18+ Nashville, TN
Aug 20 Rock's Off Cruise (w/Detroit Cobras)21+ New York, NY
Aug 22 Comet Ping Pong (w/Vivian Girls) AA Washington
Aug 26 Discoteca (w/Gestapo & Khazi) AA Chattanooga, TN
Aug 27 Pilot Light Knoxville, TN
Aug 28 Snug Harbor Charlotte, NC
Aug 30 The Box Charlottesville, VA
Aug 31 Black Cat (w/Unnatural Helpers) Washington DC
Sep 1 Union Pool (w/Boogie Boarder) Brooklyn, NY
Sep 2 Cake Shop (w/Unnatural Helpers) New York, NY
Sep 3 Flywheel (w/Sweet Apple) Easthampton
Sep 4 The Meat Locker Montclair, NJ
Sep 5 Elf Parlor North Adams, MA
Sep 6 The Rock Shop (w/Pterodactyl, Dinowalrus) AA Brooklyn, NY
Sep 7 Death By Audio New York, NY
Oct 8 Hi-Tone (w/JEFF The Brotherhood & Cy Barkley) Memphis, TN