Michael C. Hall (Dexter), 'Hedwig' cast, Fred Schneider & more played Don Hill's (pics); Lez Zeppelin play NYC tonight
David Johansen / Michael C. Hall / Fred Schneider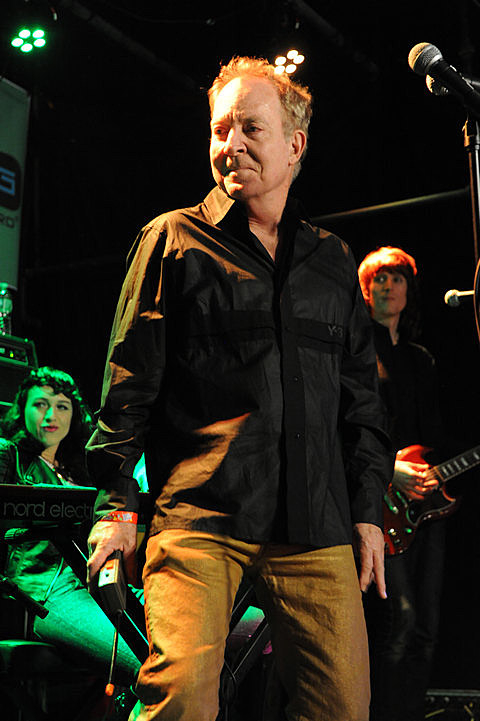 As recently discussed, Tits of Clay is the alter-ego of the four-piece rock band that currently backs Hedwig and Yitzhak in the ongoing Broadway show, Hedwig & the Angry Inch. Here's some of the background info we gave on them:
Tits of Clay's members were cast by Hedwig co-creator and composer Stephen Trask, and some of those musicians have appeared on the pages of BrooklynVegan before they landed this sweet job. That includes Justin Craig who plays the role originally played by Trask in the off-Broadway Jane St Theater production. Justin is also a member of These United States. Tim Mislock is a sometimes-member of the Antlers and plays as Holly Miranda's guitarist, and solo as Abandoned Lighthouse. Drummer Peter Yanowitz you'll recognize from Morningwood, The Wallflowers, Natalie Merchant's band, Exclamation Pony, and more. The fourth member is Matt Duncan (who also makes his own music).
They've been playing some NYC shows on Hedwig off nights, including their most recent one at The Hills NYC on December 7. That show (at the venue fka Don Hill's) was a benefit for Road Recovery and a tribute to the late Don Hill, who opened the club as Don Hill's in 1993. After opening sets by Road Recovery kids and then the band OURS, Tits of of Clay played a set of covers with rotating singers. That included Broadway's current Hedwig Michael C. Hall, Broadway's current Yitzhak Lena Hall, Broadway's current Yitzhak understudy Shannon Conley, New York Dolls singer David Johansen, The B-52s' Fred Schneider, the original Yitzhak Miriam Shor (who is in the new TV show "Younger" with Hillary Duff and Debi Mazar), Hedwig co-creator/composer Stephen Trask, OURS singer Jimmy Gnecco, and the night's emcee (and longtime friend of Don Hill) Michael H. Pictures of that show along with the setlist are in this post.
In addition to being Yitzhak's current understudy on Broadway and her work as a voice actress (note to millennials: that includes Rock Chick on Nickelodeon's As Told By Ginger), Shannon Conley fronts the all-female Led Zeppelin tribute band Lez Zeppelin. Lez Zeppelin's next NYC show is TONIGHT (12/22) at Highline Ballroom, and will have the band playing The Song Remains The Same in its entirety, plus more. Maybe Mark Kozelek will show up. Tickets are on sale.
Hedwig & the Angry Inch continues on Broadway with Michael C. Hall until January 18, and then the original star John Cameron Mitchell returns as Hedwig!
More pictures from the Don Hill tribute and the setlist, below...

---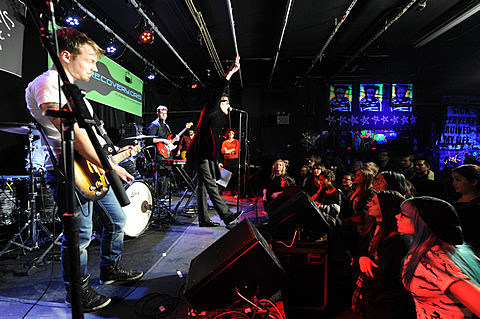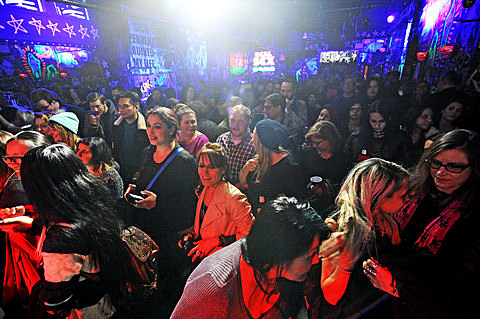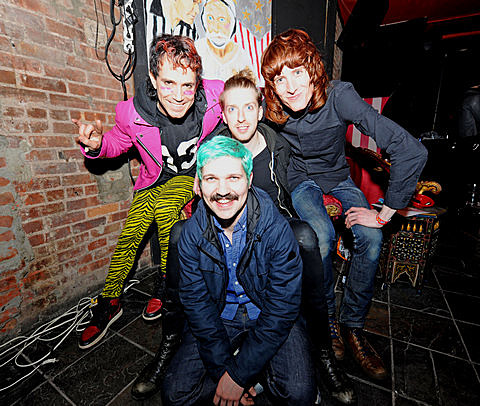 SETLIST
Blank Generation (Matt Sings)
Kick Out The Jams (Michael H. (Emcee) Sings)
Uncontrollable Urge (Tim Sings)
Whole Wide World (Justin Sings)
Oh Bondage (Shannon Sings Matt plays sax)
Natural's Not In It (Stephen Trask Sings)
Satellite of Love (Peter Sings)
Planet Clair (Fred Schneider Sings)
6060-842 (Fred Schneider Sings with Lena and Miriam backing)
White Punks on Dope (Lena Sings)
Funky But Chic (David Johansen Sings)
Jon Rubinstein/Meg Mortimer (Authentic Talent) introduces Michael C. Hall
I'll Keep It With Mine (MCH Sings)
Encore
Wicked Little Town (Jimmy Gnecco sings, Lena Backs)
Random Number Generation (Miriam Sings Lena Backs)
Midnight Radio (MCH sings Lena and Miriam back)
Angry Inch (MCH, Lena, Miariam, Stephen)
---