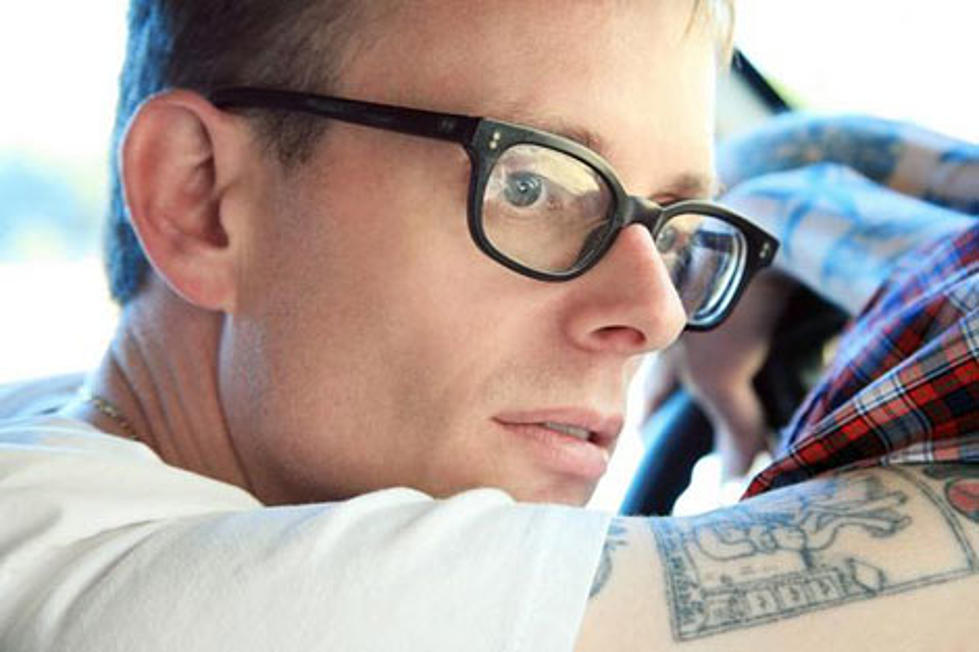 Her Space Holiday, City Light & Lymbyc Systym – MP3's & 2009 tour dates (Bell House Thursday)
Her Space Holiday

Her Space Holiday, the musical project of Marc Bianchi, is currently on tour across the US, his "first full US tour after a four year hiatus." That tour comes to Brooklyn's Bell House on Thursday, May 21st for a show with Lymbyc Systym and tourmates City Light. Tickets are on sale.
City Light is accmpanying HSH on most of the tour. In April, Banter Records released a HSH/CL split single, unofficially titled ("if i didn't feel sick, i wouldn't feel anything at all") to commemorate the trip, with each covering the other's songs. Both tracks from the single are posted above.
Her Space Holiday is planning a new LP for Fall 2009, with more tour dates to come in support of that. His last disc, XOXO Panda and the New Kid Revival, came out in October 2008 on Mush Records.
We're not sure who is currently in Her Space Holiday's band, but the band for XOXO included Andrew Kenny, as well as Mike Bell & Jared Bell of Lymbyc Systym, who are opening the Bell House show. That band also has its own US tour scheduled for July, which includes a July 18th show at Brooklyn's Union Hall. Lymbyc Systyem just released a new CD itself, a split-LP with This Will Destroy You called Field Studies, and a reissued its 2005 release Carved By Glaciers, both on Magic Bullet Records. The title track from Carved By Glaciers and "Narita" from Field Studies are posted above.
All tour dates (with HSH tour posters), and a video from talk between Her Space Holiday's Marc Bianchi and collaborator, artist PCP that took place on April 24th, 2009, below...

PCP & Her Space Holiday talk at Poketo Studio April 24, 2009

Her Space Holiday - 2009 Tour Dates
Wed-May-20 Philadelphia, PA The Barbary #
Thu-May-21 Brooklyn, NY Bell House @
Fri-May-22 Boston, MA Middle East Upstairs #
Sat-May-23 Buffalo, NY Mohawk #
Sun-May-24 Cleveland, OH Grog Shop #
Mon-May-25 Pontiac, MI Pike Room at Crofoot #
Tue-May-26 Chicago, IL Subterranean #
Wed-May-27 Minneapolis, MN Triple Rock #
Fri-May-29 Missoula, MT The Other Side #
Sat-May-30 Seattle, WA Chop Suey #
Sun-May-31 Portland, OR Backspace $
# with City Light
@ with City Light and Lymbyc Systym
$ with City Light and Hot Victory
Lymbyc Systym - 2009 Tour Dates
May 21 The Bell House w/ Her Space Holiday Brooklyn, New York
Jul 10 Spanish Moon Baton Rouge, Louisiana
Jul 11 Black Box Collective Orlando, Florida
Jul 12 Sarasota VFW Post 3233 Sarasota, Florida
Jul 14 The Camel Richmond, Virginia
Jul 15 Silk City w/ Arc in Round Philadelphia, Pennsylvania
Jul 16 River Street Jazz Cafe Plains, Pennsylvania
Jul 18 Union Hall Brooklyn, New York
Jul 19 Middle East (Upstairs) Cambridge, Massachusetts
Jul 20 Monkey House Winooski, Vermont
Jul 22 The Velvet Underground Toronto, Ontario
Jul 23 Schuba's Chicago, Illinois
Jul 26 The Waiting Room Omaha, Nebraska
Jul 27 The Walnut Room Denver, Colorado
Jul 28 Kilby Court Salt Lake City, Utah