Here We Go Magic, Nightlands & Christopher Bear trio played Baby's All Right (pics); Luke Temple's residency continues
Here We Go Magic / Christopher Bear Trio @ Baby's All Right - 12/9/13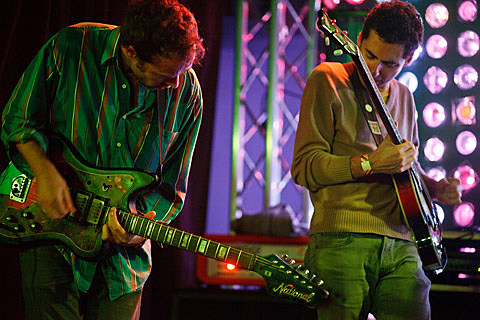 Luke Temple is in the middle of his December residency at Union Pool, but last night (12/9) he teamed back up with his band Here We Go Magic to headline a show at Brooklyn's new-ish Baby's All Right. Opening the show was a trio set from Grizzly Bear drummer Christopher Bear with Aaraon Arntz (who tours as a live member of Grizzly Bear) and Benjamin Campbell, who also played last week's installment of Luke's residency, plus a set from guitar/drum machine/vocal loop one-man-band Nightlands (aka War On Drugs/Sharon Van Etten collaborator Dave Hartley). Members of Caveman were also DJing in the venue's front room. Pictures of the show are in this post.
Luke Temple's Union Pool residency continues tonight (12/10) with Daniel Carter/Austin Vaughn, Sam Owens (of Celestial Shore), and "Delicate" Steve Marion. Tickets are still available.
UPDATE: Here We Go Magic also play an intimate show at Silent Barn on Sunday (12/15) with Celestial Shore, Les Bonhommes, and Ron Shalom/Austin Vaughn.
More pictures from Baby's All Right below...

---