High on Fire going on first-ever Converse Rubber Tracks tour, including free shows in five cities (and other dates)
High On Fire at Bowery Ballroom in 2012 (more by Fred Pessaro)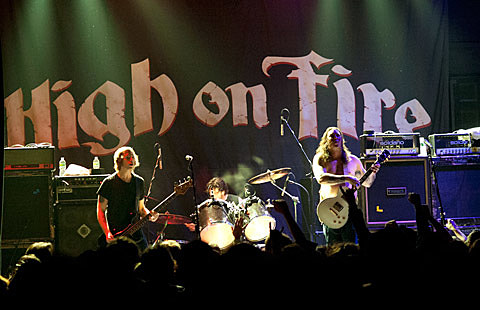 In the latest addition to the awesome Converse Rubber Tracks free show series in NYC, stoner metal royalty High On Fire will bring their tour to Music Hall of Williamsburg on August 15. Opening will be local brutalizers Blackest, ensuring that this will be a heavy experience. High On Fire are one of the best live bands around, and as usual with these free Rubber Tracks shows, you'll need tickets to get in, which go on "sale" Wednesday (7/30) at noon.
UPDATE: The show is actually part of Converse Rubber Tracks' first-ever tour which also features High on Fire headlining free ticketed shows in Boston, Toronto, LA, and San Francisco. All dates are listed below.
This should be a good way to tide you over until Sleep plays NYC on August 25th. And you can also get another Sleep-related fix with Om in October.
All of High On Fire's dates are listed, with a video, below...

---
High on Fire -- 2014 Tour Dates
July 29 Oslo, Norway Bla
July 30 Gothenburg, Sweden Truckstop Alaska
July 31 Viveiro, Spain Resurrection Festival
August 1 Paris, France Glazart
August 2 Waarschoot, Belgium Roadkill
August 3 Copenhagen, Denmark KB 18
August 4 Malmo, Sweden Babel
August 5 Berlin, Germany Magnet
August 6 Prague, Czech Republic Brutal Assault Festival
August 7 Stuttgart, Germany Kellerclub
August 8 Oulu, Finland Jalometalli Festival
August 9 London, United Kingdom Underworld
August 12 - Boston at The Sinclair (Converse Rubber Tracks)
August 14 - Toronto at Adelaide Hall (Converse Rubber Tracks)
August 15 - Brooklyn at Music Hall of Williamsburg (Converse Rubber Tracks)
August 19 - Los Angeles at The Echoplex (Converse Rubber Tracks)
August 20 - San Francisco at The Chapel (Converse Rubber Tracks)
September 6 Raleigh, NC Hopscotch Festival
September 19 Tampa, FL The Orpheum
September 20 Miami, FL Grand Central
September 21 Orlando, FL Will's Pub
September 22 Miami, FL Motorhead's Motorboat
September 26-28 - Portland at Project Pabst