hip hop roundup: World's Fair, Meyhem Lauren & Buckwild, Buckshot, Pro Era, 50 Cent, Ka, Iamsu, Mr MFN Exquire, more
World's Fair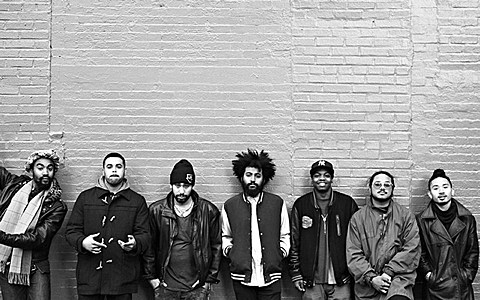 As always, there's tons of hip hop shows coming up in NYC and tours passing through here. Here's a roundup of a few of the great ones happening this month...
The next Converse Rubber Tracks Live show happens at Music Hall of Williamsburg on June 9 with rapper IAMSU! and rap group Phony PPL. Like all Rubber Tracks shows, the show is FREE but you do need tickets which go on "sale" today (6/4) at noon.
Queens rap crew World's Fair are teaming up with Atlanta rap crew Two-9 for a tour which kicks off in Philly this Sunday (6/8) and hits NYC on June 10 at The Studio at Webster Hall. Tickets for the NYC show are on sale now. World's Fair also just put out a new jam, "Uh Huh," which features Cody B. Ware and Prince Samo, and was produced by Jansport J. Check that out, with the list of dates and tour flyer, below.
NYC rapper Ka, still going strong of 2013's The Night's Gambit, will play a Noisey-presented hometown show during the Northside Festival on June 13 at Europa. Tickets for that show are on sale now, or you can try to get in using your Northside badge.
CyHi The Prynce recently put out the Hystori: Black History Project mixtape (exectuve produced by Kanye West), and he makes his way to NYC for a show on June 16 at SOB's. Tickets are on sale.
Golden era-inspired NYC rapper Meyhem Lauren teamed up with actual golden era producer Buckwild for a collaborative album, Silk Pyramids, which came out last week (5/27). The album features Action Bronson, Heems, Troy Ave and more, and as you may imagine it sounds straight out of the '90s. Stream the whole thing below and catch Meyhem Lauren & Buckwild celebrating it live in NYC on Saturday (6/7) at The Studio at Webster Hall. Tickets are on sale now.
LA duo People Under the Stairs are touring the US which includes a return to NYC on June 11 at LPR and June 12 at Littlefield with local great Mr. Muthafuckin' eXquire, plus Fresh Daily and DJ Thanksgiving Brown. Tickets for Littlefield and tickets for LPR are on sale now. All dates are listed below.
Oddisee plays Glasslands on June 26 with a live band and support from louis logic and E.M.S.. Tickets are on sale now.
Black Moon/Boot Camp Clik member Buckshot teams up with Pro Era member Kirk Knight and production great Statik Selektah for a show on June 26 at the Marlin Room at Webster Hall (tickets). That show's the record release for Buckshot & P-Money's new album, BackPack Travels, which comes out two days earlier (6/24) via Duck Down. The album's single "Flute," features two other Pro Era members, Joey Bada$$ and CJ Fly, whose '90s-inspired styles fit right in with Buckshot's classic rhymes. Watch the video for that below.
Both Boot Camp Clik and Pro Era also play free Summerstage shows this month. Pro Era play Red Hook Park on Thursday (6/5) and Boot Camp Clik play Betsy Head Park on June 10.
Of course there's plenty of others coming up too. What did we miss? All mentioned streams, videos and lists of dates, below...

---
World's Fair / Two-9 -- 2014 Tour Dates
6/8 - Barbary - Philadelphia, PA
6/9 - Middle East Upstairs - Boston, MA
6/10 - Webster Hall Studio - New York, NY
6/11 - Stanhope House - Stanhope, NJ
6/12 - The Met - Providence, RI
6/13 - Altar - Pittsburgh, PA
6/14 - Waiting Room - Buffalo, NY
6/16 - Soundstage, Baltimore, MD
6/19 - Backbooth - Orlando, FL
6/20 - The Nest - Miami, FL
6/21 - Jack Rabbits - Jacksonville, FL
6/24 - The Loft - Atlanta, GA
6/25 - Local 506 - Carboro, NC
6/26 - Chop Shop - Charlotte, NC
6/27 - The High Watt - Nashville, TN
Meyhem Lauren & Buckwild - Silk Pyramids

People Under the Stairs -- 2014 Tour Dates
Jun 09 Johnny Brenda's Philadelphia, PA
Jun 10 U Street Music Hall Washington, DC
Jun 11 Le Poisson Rouge New York, NY w/ Mr. MFN Exquire
Jun 12 Littlefield Brooklyn, NY
Jun 13 ArtsRiot Burlington, VT
Jun 14 Church Boston, MA
Jun 15 Metro Gallery Baltimore, MD
Jun 21 The Observatory Santa Ana, CA
Jun 27 Pink Garter Theatre Jackson Hole, WY
Jul 18 Troubadour Los Angeles, CA
Jul 19 Fulton 55 Fresno, CA
Jul 21 Harlow's Restaurant and Nightclub Sacramento, CA
Jul 22 The Alley Sparks, NV
Jul 23 The Urban Lounge Salt Lake City, UT
Jul 24 Epic Nightclub Park City, UT
Jul 25 The UMS Box Office Denver, CO
Buckshot & P-Money - "Flute" (feat. Joey Bada$$ & CJ Fly of Pro Era) Video