Holy Fuck played LPR w/ Twin Shadow & Indian Jewelry (pics), on tour now (dates)
Holy Fuck

Brooklyn-based Twin Shadow takes the stage first at Le Poisson Rouge Saturday night (9/18), where George Lewis, Jr., mastermind behind Twin Shadow, seems to already have a following. Playing songs off their first album Forget, Twin Shadow seems to have found the portal to the 80's, taking the smoothest beats and synth riffs and totally reinventing the wheel for the here and now, while letting obvious 80's influences shine through. Lewis's vocal style is low and nonchalant but on certain choruses and words, the texture goes way up, almost bordering on screamo, and returns to melodic utterances almost as quickly as it once rose. Someone in the audience shouts for an encore, but they'll just have to wait until Twin Shadow headlines their own show. Twin Shadow is now on tour with Jamie Lidell.
Houston, TX band Indian Jewelry commandeers the LPR stage shortly after Twin Shadow, laying down some ground rules for watching their set: "No flash photography. It makes us look awful. Think about it," along with "No texting on your fucking phones." Opening their set with a completely dark stage, the lighting situation quickly turns to something dangerous for one with epilepsy. Flashing strobe light and indiscernible images projected on a screen complete the visual effects, while bass and reverb boom from the speakers. Using audio effects like consistently grinding electronic bass and guitar layered over an evacuation-type alarm sound with distorted lyrics floating overhead is typical of this band's style, who not only provide a creative visual show but an introspective sound show as well.
The most impressive thing about "electronic" band Holy Fuck is that the multitude of sound pouring off the LPR stage is house-made. While maintaining dance-worthy rhythms and pulses of sound via multiple (toy) keyboards, bass, and drums, keyboardist Brian Borcherdt rips ribbons of 35 mm film through a film synchronizer. This in turn produces an awesome visual element to the show while providing rhythmic sound scratches that are the life and soul of the audio element. The four members come together on stage like some crazy supercomputer from the future, and rock out like madmen using sound in innovative ways to create real-deal compositions that are emotionally and aurally appealing. Because the material presented is all created organically, the live show is more visually engaging, with Borcherdt and fellow keyboardist Graham Walsh busy playing their multiple instruments, turning dials, flipping switches, and pulsing physically with the beats, while Matt Schulz and Matt McQuaid keep things flowing with drums and bass, respectively. Hailed for their innovative methods and quality output, Holy Fuck is keeping the love alive with a US tour promoting their latest release, Latin, that extends through late October.
Updated dates and more pictures from the NYC shows, below...


Twin Shadow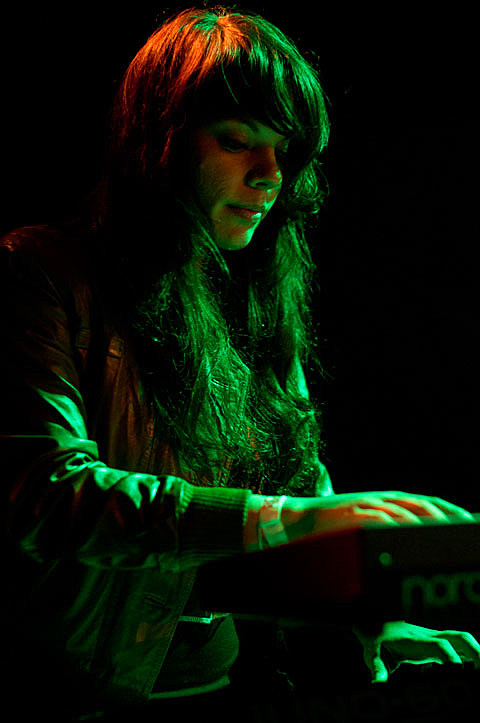 Indian Jewelry

Holy Fuck

HOLY FUCK - 2010 TOUR DATES
Sep 20 Johnny Brenda's Philadelphia, PA
Sep 21 Soundlab Buffalo, NY
Sep 22 Brillobox Pittsburgh, PA
Sep 23 The Cincinnati Club Cincinnati, OH
Sep 24 The Canopy Club Urbana, IL
Sep 25 Grog Shop Cleveland, OH
Sep 26 Magic Stick Detroit, MI
Sep 27 London Music Hall London, ON, CANADA
Sep 28 The Studio at Hamilton Place Hamilton, ON, CANADA
Sep 29 The Phoenix Concert Theatre Toronto, ON, CANADA
Sep 30 Espace Réunion Montréal, QC, CANADA
Oct 1 Red Dog Tavern Peterborough, ON, CANADA
Oct 2 Capital Music Hall Ottawa, ON, CANADA
Oct 3 Little Montreal Sudbury, ON, CANADA
Oct 5 The Pyramid Winnipeg, MB, CANADA
Oct 6 Louis' Pub Saskatoon, SK, CANADA
Oct 7 Republik Calgary, AB, CANADA
Oct 8 Pawn SHop Edmonton, AB, CANADA
Oct 11 Element Victoria, BC, CANADA
Oct 12 Rickshaw Vancouver, BC, CANADA
Oct 13 Neumo's Seattle, WA
Oct 14 Holocene Portland, OR
Oct 16 Treasure Island Music Festival San Francisco, CA
Oct 17 Echoplex Los Angeles, CA
Oct 18 Rhythm Room Phoenix, AZ
Oct 20 Larimer Lounge Denver, CO
Oct 21 Bourbon Theatre Lincoln, Nebraska
Oct 22 Firebird St. Louis, MO
Oct 23 Radio Radio Indianapolis, IN
Nov 09 Garage Oslo, Norway
Nov 10 Debaser Malmo, Sweden
Nov 11 Loppen Copenhagen, Denmark
Nov 12 TBA Goteborg, Sweden
Nov 13 Debaser Stockholm, Sweden
Nov 15 Electric Ballroom London, United Kingdom
Nov 16 Thekla Bristol, United Kingdom
Nov 17 Academy 3 Manchester, United Kingdom
Nov 18 Speakeasy Belfast, United Kingdom
Nov 19 Whelans Dublin, Ireland
Nov 20 King Tuts Glasgow, United Kingdom
Nov 21 Academy 2 Birmingham, United Kingdom
Nov 22 Fleche D'Or Paris, France
Nov 24 Primavera Club Barcelona, Spain
Nov 25 Primavera Club Madrid, Spain
Nov 29 PPC Bar Graz, Austria
Nov 30 59:1 Munich, Germany
Dec 01 Gebäude 9 Cologne, Germany
Dec 02 De Kreun Kortrijk, Belgium
Dec 03 MOD Hasselt, Belgium
Dec 04 Melkweg Amsterdam, Netherlands
Dec 05 Vera Groningen, Netherlands
Dec 07 ATP In Between Days Minehead, United Kingdom