Holy Fuck touring, playing LPR w/ Twin Shadow who played Mercury w/ Sean Bones (pics & dates)
Twin Shadow @ Mercury Lounge

This weekend Holy Fuck (who were last in NYC to play Siren) will join a slew of notables to play Reading/Leeds Festivals in the UK, but shortly after, the band will skip back across the pond to kick off a North American tour that hits Le Poisson Rouge in NYC on 9/18 with Twin Shadow and Indian Jewelry. Tickets are on sale. The show is one date of a longer tour that will lead them through most of October.
Before that, Twin Shadow will play another NYC area show in preparation of the new LP due on 9/28 via Terrible Records. Look for them to headline Glasslands on 9/11 with Zambri, My Gold Mask, Distractions, Machu Picchu. Tickets are on sale.
Twin Shadow played Mercury Lounge on 8/17 with Sean Bones and New Numbers who open for Robbers on High Street at Rock Shop on August 28th) and You Can Be A Wesley. More pics from that show (none of YCBAW though), a NSFW video of Twin Shadow's "Slow" and tour dates, are below...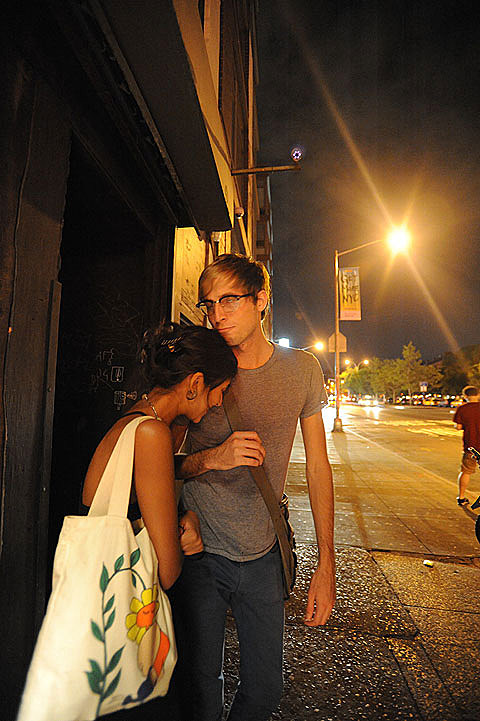 Twin Shadow 'Slow' (NSFW)

TWIN SHADOW - 2010 TOUR DATES
Sep 11 Glasslands Gallery Brooklyn, NY
Sep 18 Le Poisson Rouge New York, NY
Sep 20 9:30 Club Washington, DC
Sep 21 Orange Peel Asheville, NC
Sep 22 The EARL Atlanta, GA
Sep 24 Antones Austin, TX
Sep 25 Granada Theater Dallas, TX
Sep 27 Rhythm Room Phoenix, AZ
Sep 28 Belly Up Solana Beach, CA
Sep 30 Echoplex Los Angeles, CA
HOLY FUCK - 2010 TOUR DATES
Aug 28 2010 Leeds Festival Leeds, W. Yorkshi, UNITED KINGDOM
Aug 29 2010 Reading Festival Reading, UNITED KINGDOM
Sep 8 2010 Zanzabar Louisville, KY
Sep 9 2010 Bottletree Birmingham, AL
Sep 10 2010 The Howlin' Wolf New Orleans, LA
Sep 11 2010 Mohawk Austin, TX
Sep 12 2010 Walter's on Washington Houston, TX
Sep 13 2010 Alabama Music Box Mobile, AL
Sep 14 2010 New Earth Music Hall Athens, GA
Sep 15 2010 Local 506 Chapel Hill, NC
Sep 17 2010 Black Cat Washington, DC, Washington
Sep 18 2010 (Le) Poisson Rogue New York City, NY
Sep 19 2010 Paradise Boston, MA
Sep 20 2010 Johnny Brenda's Philadelphia, PA
Sep 21 2010 Soundlab Buffalo, NY
Sep 22 2010 Brillobox Pittsburgh, PA
Sep 23 2010 The Cincinnati Club Cincinnati, OH
Sep 24 2010 The Canopy Club Urbana, IL
Sep 25 2010 Grog Shop Cleveland, OH
Sep 26 2010 Magic Stick Detroit, MI
Sep 27 2010 London Music Hall London, ON, CANADA
Sep 28 2010 The Studio at Hamilton Place Hamilton, ON, CANADA
Sep 29 2010 The Phoenix Concert Theatre Toronto, ON, CANADA
Sep 30 2010 Espace Réunion Montréal, QC, CANADA
Oct 1 2010 Red Dog Tavern Peterborough, ON, CANADA
Oct 2 2010 Capital Music Hall Ottawa, ON, CANADA
Oct 3 2010 Little Montreal Sudbury, ON, CANADA
Oct 5 2010 The Pyramid Winnipeg, MB, CANADA
Oct 6 2010 Louis' Pub Saskatoon, SK, CANADA
Oct 7 2010 Republik Calgary, AB, CANADA
Oct 8 2010 Pawn SHop Edmonton, AB, CANADA
Oct 11 2010 Element Victoria, BC, CANADA
Oct 12 2010 Rickshaw Vancouver, BC, CANADA
Oct 13 2010 Neumo's Seattle, WA
Oct 14 2010 Holocene Portland, OR
Oct 16 2010 Treasure Island Music Festival San Francisco, CA
Oct 17 2010 Echoplex Los Angeles, CA
Oct 18 2010 Rhythm Room Phoenix, AZ
Oct 20 2010 Larimer Lounge Denver, CO
Oct 21 2010 Bourbon Theatre Lincoln, Nebraska
Oct 22 2010 Firebird St. Louis, MO
Oct 23 2010 Radio Radio Indianapolis, IN
SEAN BONES - 2010 TOUR DATES
Aug 25 2010 Great Scott's Allston, MA
Sep 25 2010 Nor'Easter Festival Lincoln, NH