Hop Along, Swearin', Great Thunder @ Saint Vitus (pics/video)
Hop Along / Swearin' @ Saint Vitus - 2/24/14

Great Thunder, the side project of Katie Crutchfield (who currently fronts Waxahatchee) and Keith Spencer (of Swearin' and the current drummer of Waxahatchee's live band), kicked off the night with Katie and Keith trading songs, switching between acoustic guitars, electric guitars, and keyboard. Especially since both members have such active bands, Great Thunder can come off like a "just for fun" kind of project, but the songs they played last night were too strong for that. Some rivaled the best moments of the members' main bands.
Great as they were, there's no denying when Keith took the stage again for the Swearin' set that followed, the energy in the packed room drastically increased. Swearin' have put in many solid NYC appearances over the last few years, but this had to be the best I've seen them. With their great new album, Surfing Strange, which is bigger, heavier, and more collaborative than their still-great debut, Swearin' have developed into a serious live force. The interplay between co-lead singers Allison Crutchfield and Kyle Gilbride is spot on, and it increasingly diversifies the set. They've got the passionate slow(er) burners ("Movie Star"), the rockers ("Unwanted Place"), and the in between ("Dust in the Gold Sack").
Hop Along

The show wrapped up with the great as always Hop Along. They're finally getting around to following up 2012's excellent Get Disowned, and they used the show to try out some new material, which was sounding pretty great. The new album is definitely one to look forward to. The crowd seemed into it too, but of course it was the older stuff that really got them going. New-ish single "Sister Cities" didn't feel new-ish anymore, as it's now a live staple and most of the crowd seemed familiar, and on closing song "Tibetan Pop Stars," from just about anywhere in the room you could hear the crowd shouting along over Frances Quinlan's own voice. Really fun night, and you can check out pictures of the whole thing in this post.
Hop Along return to NYC to open for Paint It Black at Brooklyn Night Bazaar on March 8 with Night Birds and Bad Canoes (fronted by Screaming Females' Marissa Paternoster). Free. Hop Along are also planning to tour with Title Fight and Waxahatchee on the west coast surrounding those two bands' appearances at Coachella. Tour flyer (with all dates) below.
Swearin's tour also hits NYC on 3/6 at Cake Shop with Cassie Ramone (tickets) and 3/7 at Rough Trade (unless they move it) with Even Hand and Certain Spiders (tickets).
More pictures and videos from Saint Vitus below...

---
Great Thunder - "It Takes So Much" at Saint Vitus - 2/24/14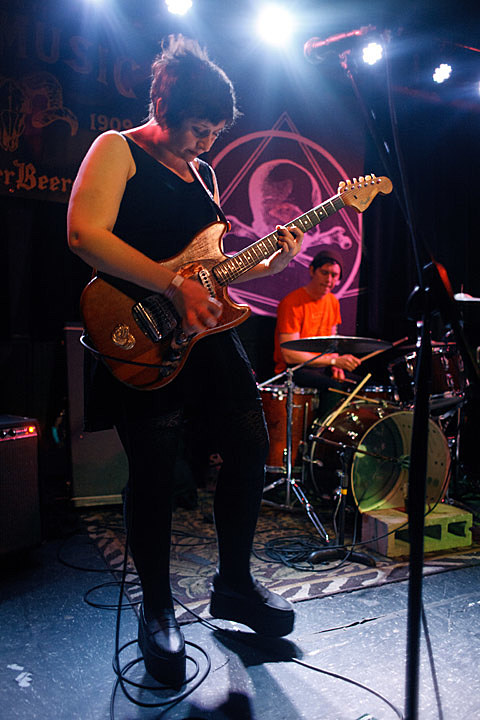 Swearin' - "Dust in the Gold Sack" at Saint Vitus - 2/24/14

Swearin' - "Movie Star" at Saint Vitus - 2/24/14

Hop Along at Saint Vitus - 2/24/14 Full Set