Hot Chip are here, featured on Astralwerks' RSD compilation w/ Air, Diamond Rings, Kraftwerk & more (updated dates)
Hot Chip at Prospect Park in 2012 (more by Toby Tenenbaum)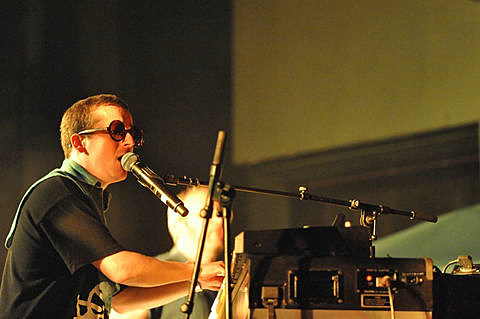 Astralwerks Records was founded in NYC in 1993 as a primarily electronic arm of Caronline Records. When they hit it big in the late '90s with Chemical Brothers, Air and Fatboy Slim band, Astralwerks became one of the biggest indie labels in the country. They've since been picked up by Universal Music Group and have expanded into other genres but they do maintain a focus on the electronic. To celebrate their 20th anniversary this year, Astralwerks will release a limited edition box set, Astralwerks: Music in 20/20, on Record Store Day (4/20). The compilation features previously unreleased or rare tracks from Hot Chip, Air, Diamond Rings, Kraftwerk, Kings of Convenience, Doves and others plus previously released tracks by The Chemical Brothers, The Beta Band, Fatboy Slim, Cassius, Basement Jaxx, Royksopp, a Four Tet remix of Sia and more. Check out the full tracklist and trailer video for the compilation below.
Hot Chip are on the festival circuit this spring/summer -- including Coachella, Primavera Sound, Osheaga, Lollapalooza, and others -- and as mentioned, they're stopping in NYC for a show at Roseland Ballroom on Tuesday (4/9) before Coachella. Tuesday's show is with The Crystal Ark (DJ set) and Tanlines. Tickets for that are still available. All dates are listed below.
Meanwhile, TONIGHT (4/8) at Le Poisson Rouge, Hot Chip side project The 2 Bears (aka Joe Goddard and Raf Rundell), who are also playing and touring around Coachella, play a a show with Ladies Night. Tickets for tonight's show are still available. All dates are listed below.
Tanlines, who open the Roseland show, are also playing Coachella and have other dates coming up including shows with Passion Pit and Vampire Weekend, but not Passion Pit's NJ show with Phoenix or Vampire Weekend's Roseland show.
All Tanlines, Hot Chip, and 2 Bears dates are listed, along with the Astralwerks album tracklist and trailer, below...

---
Astralwerks: Music in 20/20 Trailer

Astralwerks: Music in 20/20 Tracklist:
1: Future Sound of London - The Far Out Son Of Lung And The Ramblings Of A Madman (Original 12" Version)

2: The Chemical Brothers - Block Rockin' Beats

3: The Beta Band - Dry The Rain

4: Fatboy Slim - Praise You

5: Cassius - Cassius 1999

6: Doves - The Cedar Room [Promo-only version previously unreleased in theUS]*

7: Kings of Convenience - Winning A Battle, Losing The War (J-Walk Remix) [Previously unreleased in the US]*

8: Basement Jaxx - Where's Your Head At

9: Royksopp - Poor Leno

10: Sia - Breathe Me (Four Tet Remix)

11: Hot Chip - My Shit's On Fire Right Now [First ever commercial release]*

12: The Kooks - Put Your Back to My Face [Previously unreleased in the US]*

13: Empire Of The Sun - Walking On A Dream

14: David Guetta - Sexy Bitch (feat. Akon)

15: Air - Indian Summer [Previously unreleased in the US]*

16: Kraftwerk - Die Roboter [German language version of "The Robots." Previously unreleased in the US]*

17: Eric Prydz - Allein

18: Swedish House Mafia - Don't You Worry Child (feat. John Martin)

19: Diamond Rings - Put Me On (Diamond Dance) [Previously unreleased]

20: Gold Fields - Dark Again

*Exclusive tracks
--
The 2 Bears -- 2013 Tour Dates
Mon 04/08/13 LPR - Le Poisson Rouge New York NY w/ Ladies Night
Wed 04/10/13 U Street Music Hall Washington DC
Sat 04/13/13 Coachella Valley Music & Arts Festival Indio CA
Wed 04/17/13 103 Harriet San Francisco CA
Sat 04/20/13 Coachella Valley Music & Arts Festival Indio CA
Hot Chip -- 2013 Tour Dates
Wed 04/03/13 El Festival Mas Grande Buenos Aires AR
Sat 04/06/13 Lollapalooza Chile Santiago CL
Tue 04/09/13 Roseland Ballroom New York NY w/ The Crystal Ark, Tanlines
Wed 04/10/13 9:30 Club Washington DC w/ The Crystal Ark
Sat 04/13/13 Coachella Valley Music & Arts Festival Indio CA
Thu 04/18/13 The Pool - The Cosmopolitan Las Vegas Las Vegas NV w/ Four Tet
Sat 04/20/13 Coachella Valley Music & Arts Festival Indio CA
08/02-04/13 Lollapalooza Chicago, IL
08/02-04/13 Osheaga Montreal, QC
Sat 08/03/13 The Grove Music Festival Toronto ON
Tanlines -- 2013 Tour Dates
Tue 04/09/13 Roseland Ballroom New York NY Hot Chip
Thu 04/11/13 Club Nokia Los Angeles CA w/ Passion Pit
Fri 04/12/13 The Cosmopolitan Las Vegas Las Vegas NV w/ Vampire Weekend
Sun 04/14/13 Coachella Valley Music & Arts Festival Indio CA
Tue 04/16/13 UC Davis Freeborn Hall Davis CA w/ Vampire Weekend
Wed 04/17/13 Fox Theater Oakland CA w/ Vampire Weekend
Thu 04/18/13 The Fox Theatre Pomona CA w/ Vampire Weekend
Sun 04/21/13 Coachella Valley Music & Arts Festival Indio CA
--