Hot Chip played Baby's All Right with Georgia and covered Bruce Springsteen & LCD Soundsystem (pics, setlist)
photos by PSquared; words by Bill Pearis
Hot Chip @ Baby's All Right 8/3/2015

As I walked up to Baby's All Right on Monday (8/3) there was a massive truck parked outside on Broadway. A lot of movies film right around there, so at first I thought it was for a shoot but then I wondered if this was for Hot Chip. The door guy at Baby's confirmed and it really hit me that these guys just don't play places this size anymore.  (They're at Webster Hall tonight and Wednesday.) In fact I'm pretty sure they haven't played anywhere this small since their first NYC show which was at Rothko in 2005 (with Maximo Park, who was there?).
Hot Chip maybe weren't expecting quite such a small place either. The band are touring as a seven-piece, with former New Young Pony Club drummer Sarah Jones and longtime auxiliary member Rob "Grovesnor" Smoughton helping out. As we mentioned ealier today, there was so much gear onstage, there was almost no space for opener Georgia and her band to set up, so she only was able to play two songs solo with a small drum kit. They also had two mixing desks taking up up some of the floor's real estate. It was a lot of stuff.
Little of that mattered once Hot Chip hit the stage at 10 PM, and they seemed energized by being this close to their audience. Having a great new album (my favorite since The Warning) doesn't hurt either and neither does having the extremely talented Jones and Smoughton behind them. We got a 90-minute show that featured the best of the new record, plus most of the singles from their older records. It was a hitfest. Old songs got new arrangements, and the've worked out clever transitions between songs so that it was a fairly seamless show, with guitarist Al Doyle occasionally taking a moment to introduce members of the band. Highlights for me were new songs "Easy to Get" and "Started Right," which were stitched together, and the heartfelt "Alley Cats" from One Life Stand.
For the encore we got "Look at Where We Are," "Boy from School" and then a pretty great cover of Bruce Springsteen's "Dancing in the Dark" which got even better when Doyle, who spent time in LCD Soundsystem, turned the song into an ad-hoc cover of "All My Friends." It was a great moment. Pictures from the night, including ones of Georgia's brief opening set, are in this post.
This was a private show for members of Jukely, a concert subscription service where you pay a monthly fee for access to select show, as well as special events like this. Hot Chip play tonight (8/4) at Webster Hall with Georgia again and then Wednesday (8/5) with Museum of Love, both of which are sold out. More pics from the Baby's show, below...

---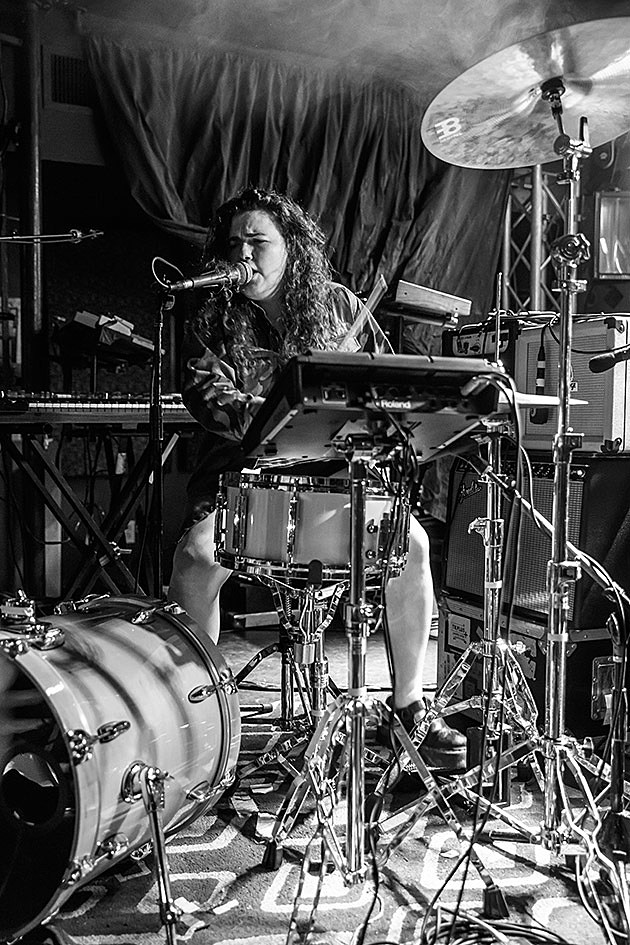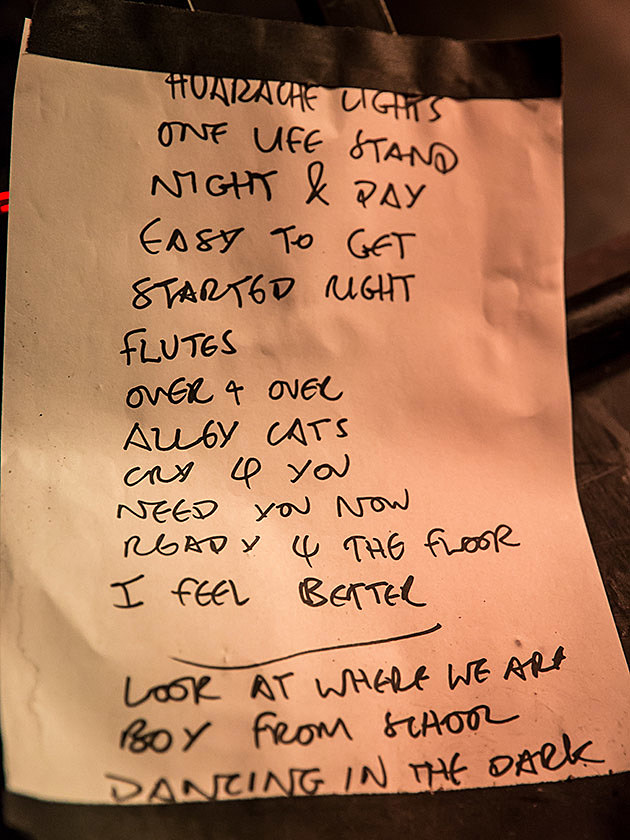 SETLIST: Hot Chip @ Baby's All Right 8/3/2015
Huarache Lights
One Life Stand
Night & Day
Easy to Get
Started Right
Flutes
Over & Over
Alley Cats
Cry 4 You
Need You Now
Ready for the Floor
I Feel Better
Encore
Look at Where We Are
I Was a Boy from School
Dancing in the Dark (w/ All My Friends)