#HotelVegan Day 1 pics (Future of the Left, Japandroids, Bear in Heaven, Frankie Rose, Maps & Atlases, Deafheaven, more)
photos by Amanda Hatfield & Tim Griffin; additional pictures by Nate "Igor" Smith
Frankie Rose & band @ Hotel Vegan (by Amanda Hatfield)

BrooklynVegan's Hotel Vegan, located at Austin venues Hotel Vegas & Volstead Lounge, began at noon back on Wednesday, 3/14/2012, on three stages. As "bob dylan wrote propaganda songs" points out:
"...it offered the perfect setting for seeing multiple bands within an intimate setting in a short amount of time. Sure it was a long walk down Sixth Street to get there, and it may not have been the most well kempt venue (I'll be honest, it was a shit-hole), but the three stage set-up provided for prime SXSW day party viewing. I had the pleasure of seeing Chelsea Wolfe, Japandroids, Frankie Rose, Deaf Heaven, and Japandroids all within the span of a couple hours. All of these bands were on my list of bands I wanted to see, and thanks to this venue, I was able to cross more bands off my list than past years"
One of the stages on Wednesday was dedicated to Chicago bands courtesy of BV Chicago, and one was put together by BBG. It was on the latter that we hosted an afternoon set by Deafheaven who created NY Mag's Nitsuh Abebe's favorite moment of SXSW 2012.
Deafheaven @ Hotel Vegan (by Amanda Hatfield)

Like on Friday and all four days, we served complimentary HobNob Wines all day. On Wednesday we also proudly passed out Brooklyn Brewery beer and Sailor Jerry drinks.
Special thanks to our official backline providers Vox, Blackstar and Korg, and thank you to NadaMoo for supplying free vegan treats, and to Honest Tea for the tea.
More pictures from the entire SXSW Wednesday at Hotel Vegan, below....

--

Stage 1 (Hotel Vegas Outside)
12:00 PM - Devin
12:45 PM - Big Deal
1:30 PM - Pujol
2:15 PM - We are Augustines
2:50 PM - Sun Araw Band (live) + Matthewdavid (DJ Set)
3:45 PM - Frankie Rose
4:30 PM - Japandroids
5:15 PM - Bear in Heaven

Stage 2 (Hotel Vegas Inside) (BBG Stage)
12:10 PM - Freshkills
12:50 PM - White Ring
1:35 PM - The Coathangers
2:20 PM - Razika
3:05 PM - Chelsea Wolfe
3:50 PM - Deafheaven
4:35 PM - Bleached
5:20 PM - Future Of The Left

Stage 3 (Volstead) (BV Chicago stage)
12:00 PM - Minor Characters
12:35 PM - Gypsyblood
01:15 PM - FIELDED
02:00 PM - White Mystery
02:45 PM - Maps & Atlases
03:30 PM - The-Drum
04:15 PM - Flosstradamus w/ Showyousuck
05:00 PM - JC Brooks & the Uptown Sound
Hotel Vegas (by Amanda)
Minor Characters (by Tim)
Devin (by Tim)
Minor Characters (by Amanda)
Freshkills (by Tim)
Big Deal (by Tim)
Big Deal (by Amanda)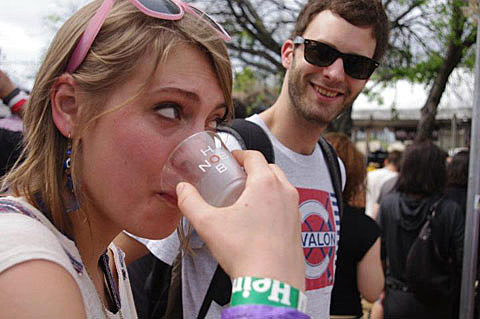 Gypsyblood (by Tim)
Gypsyblood (by Amanda)
White Ring (by Tim)
FIELDED (by Tim)
FIELDED (by Amanda)
Pujol (by Tim)
The Coathangers (by Tim)
The Coathangers (by Amanda)
White Mystery (by Tim)
White Mystery (by Amanda)
We Are Augustines (by Tim)
Razika (by Tim)
Maps & Atlases (by Tim)
Chelsea Wolfe (by Tim)
Chelsea Wolfe (by Amanda)
Matthewdavid
Sun Araw Band (by Tim)
Frankie Rose (by Tim)
Frankie Rose (by Amanda)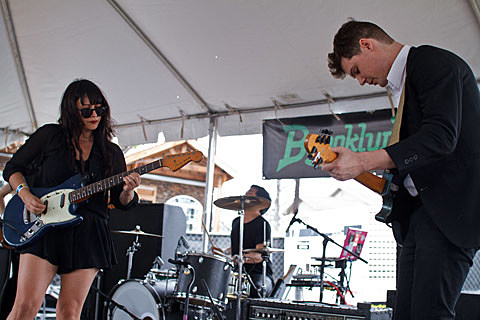 The-Drum (by Tim)
Flosstradamus & ShowYouSuck (by Amanda)
Deafheaven (by Tim)
Deafheaven (by Amanda)
Bleached (by Tim)
Bleached (by Amanda)
Japandroids (by Tim)
Japandroids (by Amanda)
JC Brooks & the Uptown Sound (by Tim)
Future of the Left (by Tim)
Future of the Left (by Amanda)
Bear in Heaven (by Tim)
Bear in Heaven (by Amanda)