#HotelVegan Day 3 pics (BV, HobNob Wines & Moonshine presents) – Black Angels, Tennis, Youth Lagoon & MANY more
Polica @ Hotel Vegan

Stage 1 (Hotel Vegas Outside)
12:00 Cold Showers
1:00 Polica
2:00 Youth Lagoon
3:00 Eight and a Half (members of Broken Social Scene & the Stills)
3:45 Django Django
4:30 Tennis
5:15 Light Asylum
6:00 The Black Angels

Stage 2 (Hotel Vegas Inside)
12:00 Lucius
12:45 The Big Sleep
1:30 The Twilight Sad
2:15 Eleanor Friedberger (of the Fiery Furnaces)
3:00 Widowspeak
3:45 TRUST
4:30 The Evaporators (Nardwuar's band)
5:15 DIVE

Stage 3 (Volstead)
12:15 Jennifer Castle
1:00 Daughter
1:45 Exitmusic
2:30 Doldrums
3:15 Zeus
4:00 Au Palais
5:00 Craft Spells
It was a very good day. Bill wrote about some of the bands who played on Friday including Nardwuar's band The Evaporators who definitely put on one of the day & week's most memorable performance for those who caught it. As Bill wrote, "At one point, one group of people were holding him up while another group were holding his organ (hello!) while he played it... and then he soon climbed on top of it. There were costume changes, group singalongs, question and answer sessions and a lot of really fun garage punk. One of my Top 5 sets of SXSW 2012."
The Evaporators getting started @ Hotel Vegan

The Black Angels closed the day off right with a set of their 60s-influenced, psych rock n roll to an oferflowing house on the outdoor stage that saw a full crowd throughout the day thanks to names like Polica, Youth Lagoon and Tennis.
So many bands, so little time, so experience it with the pictures that continue below (and stay tuned for more on BV Austin)...

--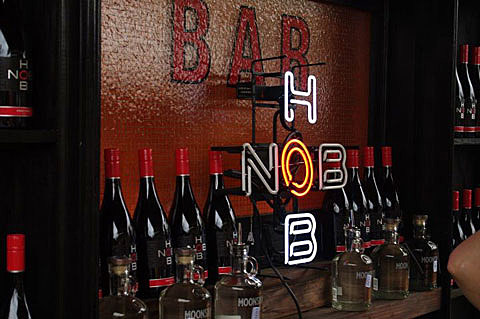 this photo by Zach Timm

this photo by Zach Timm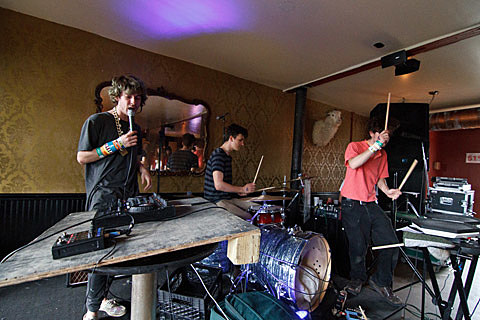 more photos by Zach Timm...
Stay tuned for more pictures from this party and from the other days at Hotel Vegan.
HobNob Wines offers free music content at its HobNob Inner Circle on Facebook. Join HobNob's Inner Circle to access exclusive downloads, editorial and info on upcoming events. Previously featured artists include Grace Potter & The Nocturnals, Saint Bernadette, The Antlers, Company of Thieves, Xylos, as well as The Black Angels and Polica who are both playing this party.