House of Vans 2013 free show lineups announced (Fucked Up, Toro y Moi, Delorean, !!!, Title Fight, Kid Dynamite & more)
Kid Dynamite at FFF Fest 2011 (more by Fred Pessaro)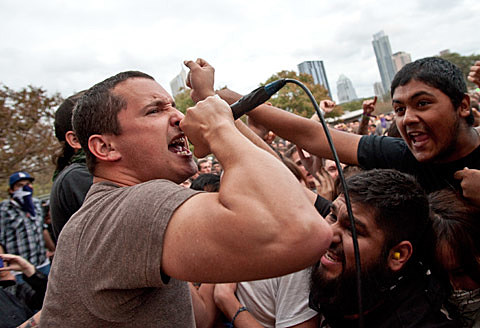 As discussed, House of Vans (25 Franklin St in Brooklyn) is returning for another free summer concert series this year, and like we said we would, we're now excited to announce the very awesome lineups for this year's series. We already knew Baroness and The Melvins would be playing on July 31 and the rest of the schedule is as follows:
6/27 - Fucked Up, Title Fight & Hop Along
7/11 - Toro y Moi, Shlohmo & Jonwayne
7/18 - !!!, Jacques Renault Plus Special Guests Announced in Mid June
7/31 - The Melvins, Baroness & Honky
8/15 - Kid Dynamite, Joyce Manor, Red Hare, Swearin'
8/29 - Les Savy Fav, Delorean plus Special Guest
All shows are all ages and free with RSVP. Doors for each show are at 7. RSVP for the Fucked Up/Title Fight/Hop Along show opens Tuesday, June 11.
Flyer for the 2013 series and a Spotify playlist of the artists playing below...

---