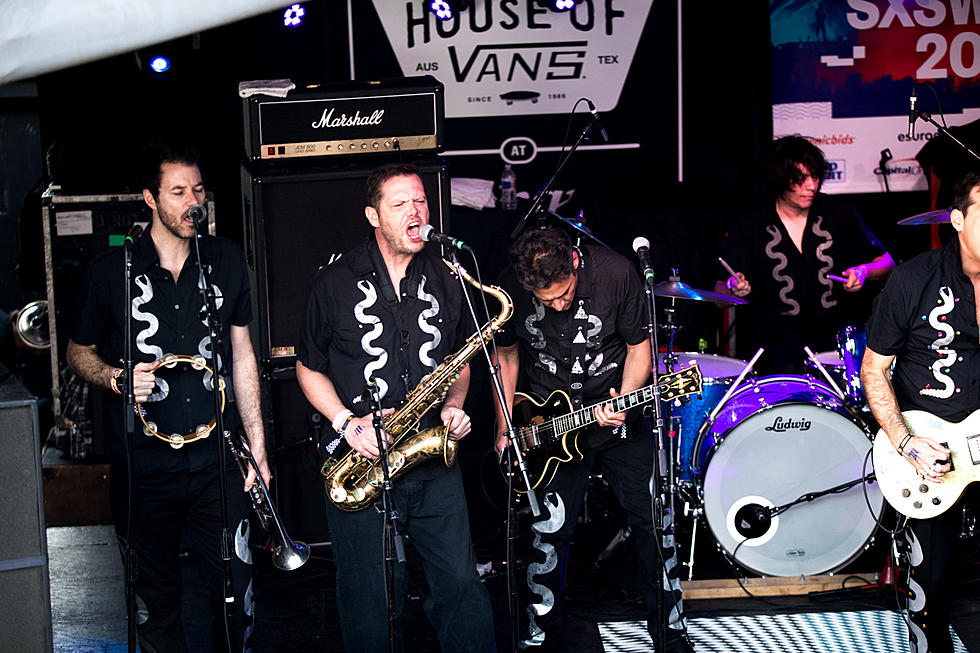 House of Vans @ SXSW 2017 pics (Rocket from the Crypt, A$AP Rocky, The Cool Kids, more)
photo by Mitchell Tomlinson
SXSW was this past weekend, and House of Vans at the Mohawk offered a bunch of exciting music on Wednesday (3/15) and Thursday (3/16). They had day and night shows both days, with acts playing both the indoor and outdoor stages.
The Wednesday day party -- co-presented by Sound On Sound Fest -- had a very exciting headliner, Rocket From the Crypt, plus Black Lips, Mykki Blanco, Zaytoven, The Octopus Project, Frankie Rose, Ohmme, Palm, Drakulas, Destroy Boys, and Sun & the Wolf.
Wednesday night had the special guest appearance by At the Drive In, who were only announced for SXSW the day before, as well as performances from The Black Angels, Polica, Denzel Curry, Temples, The Big Moon, Meatbodies, The Paranoyds, Savoy Motel, Le Butcherettes, Flasher and Muuy Biien.
The Big Moon was also the backing band for Marika Hackman's performance at Day 2 of BrooklynVegan and Sound On Sound's Lost Weekend day party at Cheer Up Charlies. Savoy Motel played our party that day, too.
Thursday night at House of Vans was the Fake Shore Drive-presented Chicago music showcase, with a bunch of artists from Chicago's thriving rap scene like Dreezy, Saba, Joey Purp, Noname, Kweku Collins and Taylor Bennett, plus the back-in-action alt-rap duo The Cool Kids and popular New York rapper French Montana, who brought out A$AP Ferg and A$AP Rocky.
The Thursday day party was presented by Paradigm and had The Drums, San Fermin, Bleached, Khruangbin, Blaenavon, Sundara Karma, Potty Mouth, and more.
Pictures of the House of Vans shows are in the gallery above. Check out all our coverage of SXSW here.