Ian Anderson performing 'Jethro Tull – The Rock Opera' on US tour; Steeleye Span touring too (dates)
Ian Anderson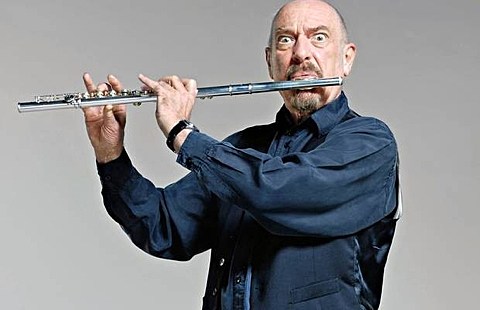 Ian Anderson, frontman and flautist for progressive rock legends Jethro Tull, is going on a US tour this fall performing his new "Jethro Tull" rock opera, which is based off of the English agricultural inventor Jethro Tull, who the band is named after. Here are the details:
The shows tell the story of the original Jethro Tull's life, reimagined as if in the near future and illustrated with Anderson's best-known songs from the rock band Jethro Tull's repertoire.

The performance is in a quasi-operatic structure with virtual guests on video and some additional newly-written songs to round off the elements of the story. Heavy Horses, Farm On The Freeway, Songs From The Wood sit alongside Aqualung, Living In The Past, Wind-Up, A New Day Yesterday, The Witch's Promise, Locomotive Breath and other favourites - often with slightly re-written lyrics to better tell the tale.
Ian will be joined by David Goodier (bass), John O'Hara (keyboards), Florian Opahle (guitar), Scott Hammond (drums) and "surprise virtual guests." The tour hits Brooklyn on November 6 at Kings Theatre, and also has dates near NYC in Port Chester on November 10 at The Capitol Theatre and in Newark on November 11 at NJPAC. Tickets for Brooklyn go on sale Friday (4/10) at 10 AM with Live Nation/LN Mobile App presales starting Thursday (4/9) at 10 AM, tickets for Port Chester go on sale Friday at noon, and ticket info for NJ is TBA soon. All US dates are listed below. International dates here.
In related news, British folk rockers Steeleye Span are returning to North America for the first time in a few years this July. The bands toured together in the '70s, Ian Anderson produced their 1974 album Now We Are Six, Jethro Tull backed Steeleye Span singer Maddy Prior on her 1978 solo album, Woman in the Wings, and Maddy sang on Tull's 1976 album, Too Old to Rock 'n' Roll: Too Young to Die!.
Maddy's the only original member (though her voice is reason enough to make this tour worthwhile), and she's joined by longtime bassist Rich Kemp, drummer Liam Genocky (who joined in the late '80s), guitarist Pete Zorn (of Richard Thompson's touring band), and recent additions Julian Littman (guitar) and Jessie May Smart (violin). The tour hits NYC on July 23 at BB King's. Tickets are on sale now. All dates are listed below.
In addition to their connections to Jethro Tull, Steeleye Span hailed from the same British folk scene as Fairport Convention, whose Ashley Hutchings was also a founding member of Steeleye Span. Like that band, they put out some of the most essential records of that folk era. Revisit a few classics below.
Lists of dates and song streams for Jethro Tull and Steeleye Span, below...

---
Ian Anderson performs Jethro Tull -- 2015 US Tour Dates
11/1 -- Chicago, IL @ Chicago Theatre
11/3 -- Detroit, MI @ Fox Theatre
11/5 -- Boston, MA @ CITI Performing Arts Center
11/6 -- Brooklyn, NY @ Kings Theatre
11/7 -- Philadelphia, PA @ Academy of Music
11/8 -- Mashantucket, CT @ Foxwoods Resort Casino
11/10 -- Port Chester, NY @ Capitol Theatre
11/11 -- Newark, NJ @ New Jersey Performing Arts Center
Steeleye Span -- 2015 Tour Dates
Fri 15 May Shepley Spring Festival Shepley
Mon 25 May The Haverfordwest Folk Rock Festival Haverfordwest
4-5 July Stan Rogers Folk Festival Canso NS Canada
Tue 7 July Midland Cultural Centre Midland ON Canada
Wed 8 July Hugh's Room Toronto ON Canada
9-10 July Winnipeg Folk festival Winnipeg MB Canada
11-12 July Vancouver Island MusicFest Comox BC Canada
Tue 14 July The Triple Door Seattle, WA USA
Thu 16 July GAMH San Francisco, CA USA
Sat 18 July Space Evanston, IL USA
Sun 19 July Music Haven Series Schenectady, NY USA
Tue 21 July Birchmere Washington, DC USA
Wed 22 July Sellersville Theatre Sellersville, PA USA
Thu 23 July B.B. Kings NYC USA
Fri 24 July Johnny D's Boston USA
Sun 26 July Holt Festival Holt