Icona Pop added to Passion Pit MSG show (and tour); Wakarusa announced their 2013 lineup
Icona Pop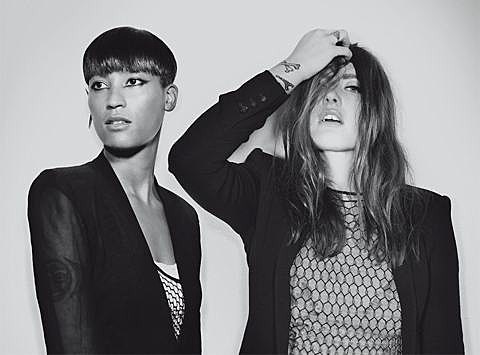 As you may know already, Passion Pit are currently on tour and will play NYC at Madison Square Garden on February 8 with Matt & Kim opening. Another opener has been added to that show, Swedish dance outfit Icona Pop. Tickets are still available. After that show, the "I Love It" duo will play a few West Coast shows with KFlay and all tour dates are listed below.
UPDATE: Icona Pop were also just announced on a ton more Passion Pit shows. Now all listed below.
Icona Pop, who are playing the just-announced 2013 Governor's Ball here in NYC, will also play the 2013 Wakarusa Festival which happens May 30 - June 2 on Mulberry Mountain in Ozark, AR. The diverse line-up includes Widespread Panic, The Black Crowes, Of Monsters and Men, Gogol Bordelo, Totally Enormous Extinct Dinosaurs, De the Funky Homosapien, Calexico and many more. Full Wakarusa line-up is below.
A list of all Icona Pop and Passion Pit tour dates, plus Wakarusa 2013 line-up, are below...

---
Icona Pop -- 2013 Tour Dates
02/01 - LIV/Fontainebleau - Miami Beach, FL*
02/04 - NorVa - Norfolk, VA*
02/05 - NorVa - Norfolk, VA*
02/06 - UMW Anderson Center - Fredericksburg, VA*
02/08 - Madison Square Garden - New York, NY*
02/09 - Agganis Arena - Boston, MA*
02/11 - RPI Fieldhouse - Troy, NY*
02/12 - State Theatre - Portland, ME*
02/13 - State Theatre - Portland, ME*
02/14 - Rickshaw Stop - San Francisco, CA**
02/16 - Troubadour - Los Angeles, CA**
02/18 - Main Street Armory - Rochester, NY*
02/19 - Masonic Auditorium - Cleveland, OH*
02/21 - Compuware Sports Arena - Plymouth, MI*
02/22 - UIC Pavilion - Chicago, IL*
02/23 - Orpheum Theatre Madison - Madison, WI*
02/25 - Jesse Auditorium - Columbia, MO*
02/26 - Peabody Opera House - St. Louis, MO*
02/28 - Hilton Coliseum at Iowa State University - Ames, IA*
03/01 - 1st Bank Center - Broomfield, CO*
03/02 - The Complex - Salt Lake City, UT*
03/04 - Knight Arena - Eugene, OR*
03/05 - Paramount Theatre - Seattle, WA*
03/07 - Bill Graham Civic Auditorium - San Francisco, CA*
03/08 - BUKU Music & Art Project - New Orleans, LA
06/02 - Wakarusa Festival - Ozark, AR
06/7 - 6/9/13 Governor's Ball, NYC
*w/ Passion Pit + Matt & Kim
**Headlining
Passion Pit -- 2013 Tour Dates
Mon 02/04/13 NorVa Norfolk VA *
Tue 02/05/13 NorVa Norfolk VA *
Wed 02/06/13 UMW Anderson Center Fredericksburg VA *
Fri 02/08/13 Madison Square Garden New York NY *
Sat 02/09/13 Agganis Arena Boston MA *
Mon 02/11/13 RPI Fieldhouse Troy NY *
Tue 02/12/13 State Theatre Portland ME *
Wed 02/13/13 State Theatre Portland ME *
Mon 02/18/13 Main Street Armory Rochester NY *
Tue 02/19/13 Masonic Auditorium Cleveland OH *
Thu 02/21/13 Compuware Sports Arena Plymoth MI
Fri 02/22/13 UIC Pavilion Chicago IL *
Sat 02/23/13 Orpheum Theatre Madison Madison WI *
Mon 02/25/13 Jesse Auditorium Columbia MO *
Tue 02/26/13 Peabody Opera House St. Louis MO *
Thu 02/28/13 Hilton Coliseum at Iowa State University Ames IA *
Fri 03/01/13 1st Bank Center Broomfield CO *
Sat 03/02/13 The Complex Salt Lake City UT *
Mon 03/04/13 Knight Arena Eugene OR *
Tue 03/05/13 Paramount Theatre Seattle WA *
Thu 03/07/13 Bill Graham Civic Auditorium San Francisco CA *
Thu 03/28/13 Cine Metropole Sao Paulo SP
Fri 03/29/13 Lollapalooza Brazil San Paulo SP
Sat 03/30/13 Circo Voador Rio de Janeiro BR
Fri 04/05/13 Chocolate Club Santiago CL
Sat 04/06/13 Lollapalooza Chile Santiago CL
Sun 04/07/13 Festival Estereo Picnic Bogotá CO
w/ Matt & Kim
--
WAKARUSA 2013 CONFIRMED ARTIST LINEUP
Widespread Panic
Dispatch
STS9
The Black Crowes
Amon Tobin
Snoop Lion
Umphrey's McGee
Yonder Mountain String Band
Gogol Bordello
Zeds Dead
Of Monsters and Men
GROUPLOVE
SOJA
Rebelution
Quixotic
Galactic
Shpongle presents The Masquerade
Tipper
MUTEMATH
Son Volt
Ozomatli
EOTO
SAVOY
RJD2
Totally Enormous Extinct Dinosaurs
Gramatik
Los Amigos Invisibles
Calexico
Karl Denson's Tiny Universe
Del The Funky Homosapien
Bombino
Criolo
J BOOG
Allen Stone
Figure
Emancipator
AraabMUZIK
GRiZ
Icona Pop
Felix Cartal
Baauer
The Polish Ambassador
Minnesota
The Green
BoomBox
Papadosio
Wallpaper.
Milo Greene
The Floozies
Anuhea
Zion I
ZOOGMA
The Werks
Delta Rae
Langhorne Slim
Moon Taxi
The Motet
Shovels & Rope
The Bright Light Social Hour
Deap Vally
New Monsoon
Lyrics Born
The Coup
Band of Heathens
Red Baraat
HeRobust
GAUDI
RUN DMT
RL Grime
Wick-it the Instigator
Andreilien (Heyoka)
The Whigs
Karsh Kale
Janover & reSUNator
Bluetech
Kidnap Kid
Abakus
Lance Herbstrong
Lord T & Eloise
Cherub
Govinda
D.V.S*
DJ SOLO
Xaver
Samples
The Apache Relay
Mingo Fishtrap
Earphunk
Daft Phunk: Earphunk performing Daft Punk Live
Yo Mama's Big Fat Booty Band
Flow Tribe
The Brothers Comatose
ZZ Ward
Nic Cowan
Mountain Sprout
Dirtfoot
Tornado Rider
Nahko and Medicine for the People
Jon Wayne and The Pain
David Wax Museum
Spirit Family Reunion
The Last Bison
Mountain Standard Time
Old Shoe
The Magic Beans
Holy Ghost Tent Revival
Buffalo Killers
Dumptruck Butterlips
The Ben Miller Band
Eitch
The 1 oz. Jig