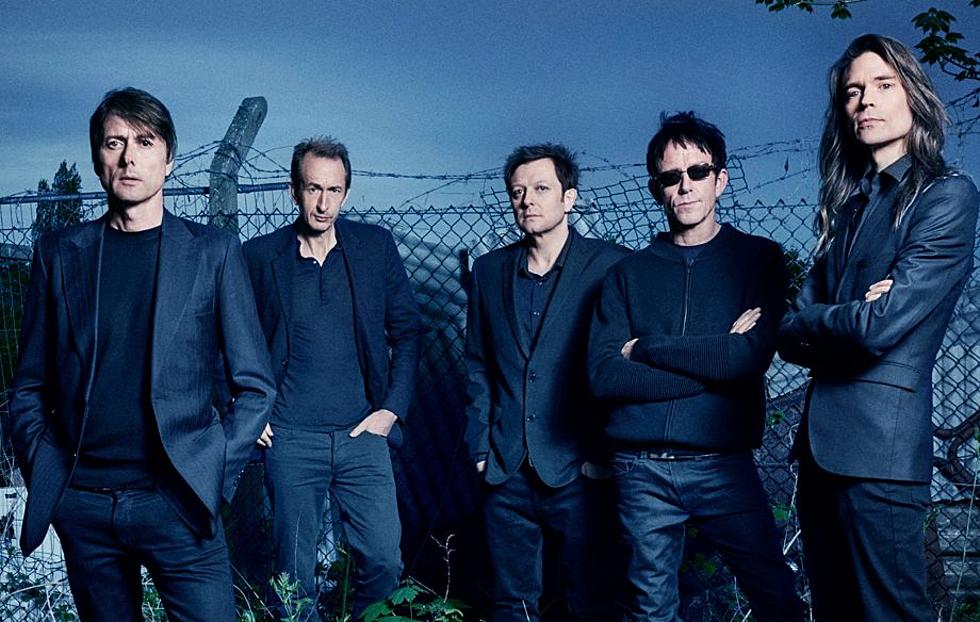 ICYMI: Suede released 'The Blue Hour,' their most ambitious LP in decades
So much music comes out all year, and even with our daily new song roundups; weekly Notable Releases, Indie Basement, and Upcoming Metal Releases columns; and monthly playlist of songs we like, we still miss stuff. Now that we're in the final month of 2018 and looking back on all the music that came out this year, we'll be publishing a post every weekday in December that catches up on some music released this year that we feel we didn't shine enough of a light on, or didn't discuss at all. The music we'll be highlighting wasn't necessarily "overlooked" in any broader sense of the word, just cool stuff worth catching up on in case you missed it.
Suede are unlikely survivors, twice over. They were heralded on the cover of NME as the "Best Band in Britain" before they'd even released their first single, and singer Brett Anderson and guitarist Bernard Butler were declared the next Morrissey & Marr. Smiths comparisons followed with Suede's tendency to release their best songs as b-sides, but the band's glammy, sultry sound was more of an update of Bowie and Bolan, while Anderson's you-and-me-against-the-world lyrical style was all their own.
The Anderson-Butler songwriting team came to an end with their dark, ambitious, second album, Dog Man Star with Butler quitting, and most people thought that would be the end of Suede. But in his place they drafted 19-year-old guitarist (and previous Suede fan) Richard Oakes and keyboardist Neil Codling, both of whom came with serious chops and pop smarts. Coming Up, their first album with the new lineup, went to #1 in the UK and spawned five Top 10 singles there. The next two albums -- 1999's synthy Head Music and 2002's meandering A New Morning -- suffered diminishing returns and the band called it quits in 2003 after the release of a singles compilation. Anderson and Butler tried working together as The Tears, but that only lasted one LP.
Act 3: Suede announced in 2010 that the V2 lineup was getting back together, "just for some gigs," which included Coachella 2011. Then in 2012, they announced they were making a new record. Released the next year, Bloodsports was a sophisticated update of their grandiose glam and was not just good for a comeback -- it was their best record since Coming Up. They followed that with 2016's Night Thoughts which brought more cinematic elements to it, which made for a good precursor to...
This year's The Blue Hour is a full-blown concept album about childhood, parenthood and retreating to the suburbs. It is not about the joys that come with it, rather the fears of them which makes for Suede's darkest album since Dog Man Star, and maybe ever. Opening track "As One" sets the tone, featuring a gregorian choir, spiraling strings (there's a full orchestra on most of the record), and the sounds of panicked parents searching for a lost child. There are are spoken word portions, and Anderson's own son features on the strange, disquieting "Dead Bird." It is heavy, but there's also a fairy tale element to it, and it's clearly meant to be listened to as a whole, Spotify be damned, as they told The Quietus:
"We live in the world of Spotify and Deezer when you're supposed to write songs and hope that they end up on playlists, because that's how you play the music business these days. We thought we'd be bloody-minded and make something that people would have to listen to for three quarters of an hour. People do listen to long playlists and they do watch box sets, so they do have longer attention spans than they're given credit for. We decided to introduce listeners to a sound world that they can move through. The narrative is there but you don't necessarily need to know what it is; it's more like the scaffolding."

Anderson nods: "Yes it is. The narrative is the scaffolding that allows us to arrange the tracks and once they're in place we can take the scaffolding away."

"Otherwise", notes Codling, "it becomes like Jonathan Livingston Seagull or some turgid, 70s concept album."
There is also plenty of the glammy riffage that Suede are known for and you could imagine "Wastelands" or "Don't Be Afraid If Nobody Loves You" on Coming Up. Oakes and Coddling are still hook factories and, as they say, the concept is more for deeper digging. The production this time was via Alan Moulder (My Bloody Valentine, Yeah Yeah Yeahs, U2) and it sounds massive -- it's a good one to listen to loud. Listen, and watch some of the videos from the LP, below.
Apart from Coachella appearances, Suede have not toured North America (where they're still officially known as The London Suede) since their reformation at the start of this decade. They will, however, be playing destination festival Primavera Sound in this Spring that also includes Jarvis Cocker, Stereolab, Primal Scream and more.
In other news: Brett Anderson also released a memoir this year, titled Coal Black Mornings, and a new feature-length Suede documentary, The Insatiable Ones, will be out in April 2019. You can watch the trailer for that, below.
Suede - 2019 Tour Dates
friday 31/05/2019 barcelona - spain - primavera sound 2019
friday 19/07/2019 buckinghamshire - uk - pennfest
--
Don't miss a thing! Browse our ICYMI tag, being added to every day in December.