Ida Maria & Glasvegas @ Webster Hall, NYC – pics
photos by Chris La Putt
Ida

The Ida Maria and Glasvegas tour came through NYC on Saturday (MHOW, 3/28) and Monday (Webster Hall, 3/30). The two UK acts toured together from SXSW to Boston (3/31), and they will share a bill again at least one more time in April - at the Coachella Festival on the west coast. Hopefully (current BrooklynVegan.com obsession) Ida decides to stop by the east coast again while she's in the country (at the moment that is her only scheduled date)...

"...She's really rather fantastic. I love her album, Fortress Round My Heart, and her voice is even rawer and more frayed live, though she and her band are still tight and technically competent. I think she had a cold, but the cracks and friction in her chest only made her sound better [at Webster Hall], in my opinion.
She was done quickly, though I wouldn't be surprised if she had made it through her whole album, since it clocks in at a mere 31 minutes." [hornblower]
Ida Maria also played a previous two-night NYC engagement in January, performing at Union Hall and the Mercury Lounge. At SXSW, she only played the Perez Hilton party
Glasvegas' upcoming dates include an opening gig for U2 at London's Wembley Stadium on August 15th.
All tour dates and more pictures from Webster Hall below...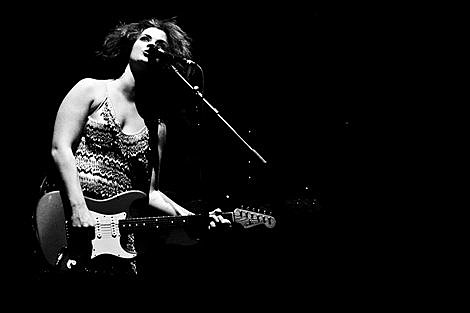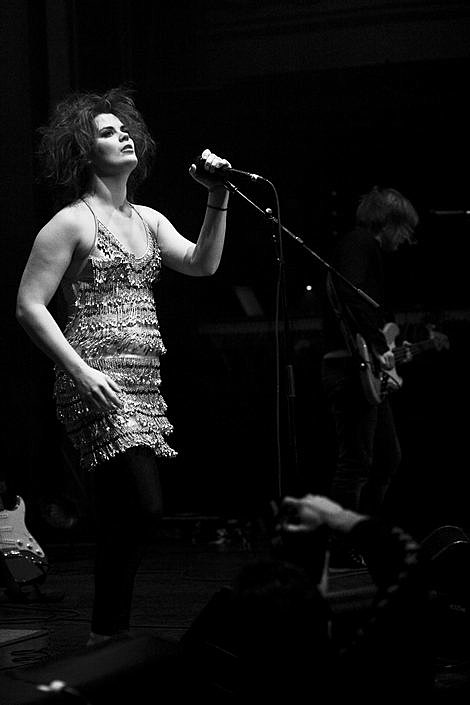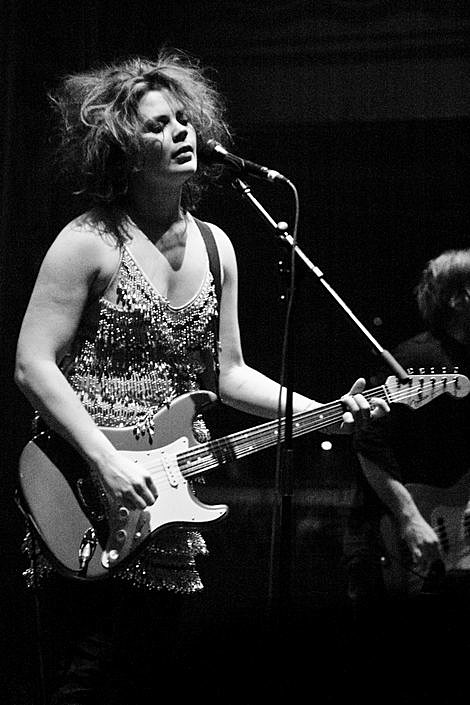 Glasvegas...
Glasvegas - 2009 Tour Dates
Apr 2 - La Tulipe Montreal, Quebec
Apr 3 - Mod Club Toronto, Ontario
Apr 4 - Magic Stick Detroit, Michigan
Apr 6 - The Bottom Lounge Chicago, Illinois
Apr 7 - Varsity Theater Minneapolis, Minnesota
Apr 9 - Bluebird Theater Denver, Colorado
Apr 10 - Avalon Theater Salt Lake City, Utah
Apr 12 - Commodore Ballroom Vancouver, British Columbia
Apr 13 - Neumos Seattle, Washington
Apr 14 - Wonder Ballroom Portland, Oregon
Apr 16 - Great American Music Hall San Francisco, California
Apr 18 - Coachella- Indio, CA
Apr 30 - Verkstedhallen -Trondhiem
May 1 - Bergenfest Town Festival Stage Bergen
May 3 - Cirkus Stockholm
May 5 - Train Aarhaus
May 6 - Lido Berlin
May 7 - Gebaude 9 Cologne
May 8 - Registratur Munich
May 10 - Bronson Ravenna
May 11 - Circolo Degli Artisti Rome
May 12 - Magazinni Milan
May 14 - Coop Club Clermont Ferrand
May 15 - Divan du Monde Paris
Jun 15 - O2 Arena (with Kings of Leon) London
Jun 16 - O2 Arena (with Kings of Leon) London
Jun 22 - Arena (with Kings of Leon) Manchester
Jun 23 - Arena (with Kings of Leon ) Manchester
Jun 30 - O2 Arena (with Kings of Leon) London
Jul 24 - Croke Park (with U2) Dublin
Aug 15 - Wembley Stadium (with U2) London
Aug 18 - Hampden Park (with U2) Glasgow
Aug 22 - Millennium Stadium (with U2) Cardiff
Aug 29 - Reading Festival (NME Stage) Reading
Aug 30 - Leeds Festival (NME Stage) Leeds
Ida Maria - 2009 Tour Dates
4.18.09 Coachella - Indio, CA