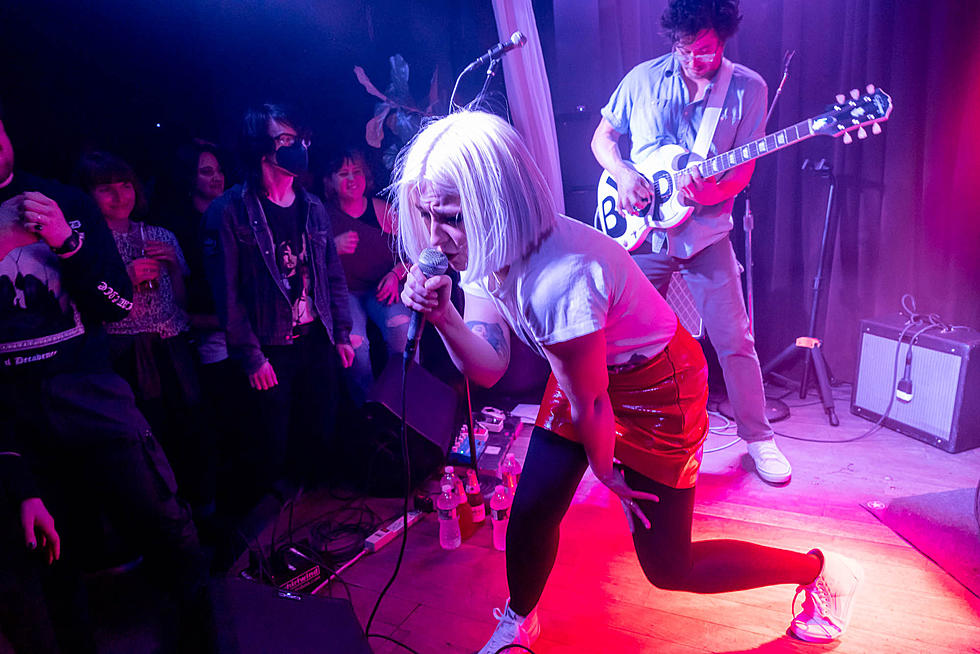 'In Defense of the Genre': Best Punk & Emo Songs of March
Be Your Own Pet by Edwina Hay
In Defense of the Genre is a column on BrooklynVegan about punk, pop punk, emo, hardcore, post-hardcore, ska-punk, and more, including and often especially the bands and albums and subgenres that weren't always taken so seriously.
March is always a busy month in the music world, and that was as true as ever this year, with lots going on in the punk sphere. We spent a week down in Austin for SXSW, where many of the best bands we saw fell under this umbrella, not to mention the Show Me The Body/Jesus Piece/Scowl/Zulu tour was packed with some of the best sets we've seen all year, and we got bombarded with great new music. I highlight 11 favorite songs from this month below, but first, some features we ran in March:
* AFI's Sing the Sorrow at 20
* Mike & Nate Kinsella talk embracing new wave as LIES, future American Football plans & more on the BV podcast
* The best emo & post-hardcore albums turning 10 this year, discussed on the BV podcast
* Samiam break down every track on first LP in 12 years
* The Bouncing Souls interview: how Zoom calls with fans inspired their new album Ten Stories High
* MSPAINT break down every track on debut LP Post-American
* Omnigone talk new LP, current ska scene & more in new Q&A
* Truth Cult break down every track on their new LP Walk The Wheel
March album reviews: Zulu, Gel, MSPAINT, The Van Pelt, Truth Cult, Omnigone, Faintest Idea, Judiciary, Kruelty, HIRS, Deathcrash, FAIM, LIES, Manchester Orchestra, and .gif from god.
--
We've also got some new, exclusive, limited vinyl variants in our store, including Circa Survive's Blue Sky Noise (blue & white swirl), Braid's Frame & Canvas (blue, white & clear splatter), the new Scowl EP (clear/red cloudy), LIES (dark blue), the new Jeromes Dream LP (white), the new Portrayal of Guilt LP (grey-in-clear), the new Never Ending Game (clear, blue & black splatter), Side by Side's You're Only Young Once (purple marble), Knuckle Puck's Copacetic (highlighter yellow), The Callous Daoboys' Celebrity Therapist (highlighter yellow), the two new Acacia Strain albums, Sublime's $5 at the Door (teal), Dropkick Murphys' The Meanest of Times (black & platinum swirl), and multiple Terror titles, plus we've got some copies of the new 10th anniversary edition of Superheaven's Jar on violet vinyl, and much more punk vinyl.
Read on for my picks of the best songs of March that fall somewhere under the punk umbrella, in no particular order...
Hot Mulligan - "Shhhh! Golf Is On"
The self-proclaimed "#1 Hot New Band and inventors of Post-Emo" and the band behind song titles like "Featuring Mark Hoppus" and the newly-released "Shhhh! Golf Is On" obviously have a sense of humor, but this new track from Hot Mulligan is dead serious. It's about singer Tades Sanville's dysfunctional relationship with his mother, and it's an emo/pop punk song that dials up the raw emotion to an 11. It's in the same ballpark as recent tourmates The Wonder Years, just in the way the song puts feelings over everything, but comparisons aside, this is the #1 Hot New Band and inventors of Post-Emo proving themselves as a force of their own more than ever before.
--
Heart Attack Man - "Freak of Nature"
Ever gone to a hardcore or punk show and seen the crowd not-so-ironically go off to the DJ playing a Sum 41 song in between sets? Heart Attack Man turn that entire vibe into a song with "Freak of Nature," which owes as much to All Killer No Filler as it does to stuff like Title Fight and PUP. They remind you that pleasures shouldn't make you feel guilty, especially not when a band goes as hard as Heart Attack Man do on this song, which the band accurately describes as a "true weirdo anthem." If you've ever felt weird or awkward or out of place, this fist-raising, singalong chorus provides a perfect catharsis.
--
Bad Optix - "Raid"
There's a certain type of chemistry that arises when you grow up playing music with someone; you learn to speak each other's musical languages in a way that becomes second nature. Former Operation Ivy bandmates Tim Armstrong and Jesse Michaels say they recently started writing together again and realized they still had that chemistry, and that's why they formed their first new band together in over 30 years, Bad Optix. Rounded out by the rhythm section of drummer Joey Castillo (Circle Jerks, Trash Talk, The Bronx) and bassist Spencer Pollard (Trash Talk), Bad Optix's debut single "Raid" proves Tim and Jesse do still sound so natural together, but it's not at all a retread of Operation Ivy. Instead of rehashing the sound of their pioneering ska-punk band, they look back even further, channelling traditional Jamaican ska and early rocksteady, down to the production style, but still bringing their punk energy to the vocal delivery.
--
Be Your Own Pet - "Hand Grenade"
Nashville garage punks Be Your Own Pet's initial run ended after just four years, and their current reunion isn't about nostalgia; it's about unfinished business. They went hard at both of the SXSW shows we caught them at in March, and their first single in 15 years has the urgency of a band who demands to be heard. BYOP haven't softened their edges at all, and they still know the power of a good hook.
--
Pupil Slicer - "Blossom"
Having released one of the best mathcore debuts in recent memory with Mirrors, London's Pupil Slicer are out to prove they're much more than a mathcore band. Singer/guitarist Kate Davies says Pupil Slicer aim to "break down the walls between metal, hardcore, shoegaze, electronic music and pop" on their upcoming sophomore album Blossom, and our first taste of that is the title track, which closes the LP. Kate goes back and forth between their trademark screams and a newfound knack for clean vocals that remind me of flamboyant 2000s post-hardcore stuff like The Fall of Troy and Fear Before the March of Flames, and the result is something that's both catchier and weirder than anything Pupil Slicer have done before.
--
Jeromes Dream - "South by Isolation"
Screamo pioneers Jeromes Dream returned in 2019 with their untitled reunion album--their first in 18 years--and in hindsight, that album was just polishing off the rust compared to the new singles from their upcoming LP The Gray In Between. It's their first with guitarist Sean Leary of Loma Prieta, who joined JD in 2021, and new single "South by Isolation" has them sounding arguably better than ever. With Jack Shirley behind the boards, it's the clearest production we've ever heard from JD, and the band is going for it on another level. Hard to believe this is a "reunion" album; it sounds like a new beginning.
Get this LP on limited white vinyl.
--
Devon Kay & The Solutions - "Pump Fake"
Devon Kay & The Solutions have always been ska-adjacent, but they've never really done a full-on ska record... until now. Fine: A Ska EP comes out 7/11 via ska label Bad Time Records, and lead single "Pump Fake" is an infectious ska-punk banger that gives genre leaders like Devon Kay's upcoming tourmates Less Than Jake a run for their money. Also: kudos to the blink-182 interpolation in the chorus.
--
THE HIRS Collective - "Neila Forever" (ft. Jeremy Bolm & Jordan Dreyer)
Philly hardcore collective HIRS' new LP We're Still Here is loaded with amazing guests whose music regularly appears in this column. It wasn't easy to choose just one for this list, but I'm going with "Neila Forever," a pulverizing dose of dark, grindy hardcore with new wave of post-hardcore icons and longtime friends Jeremy Bolm (of Touché Amoré) and Jordan Dreyer (of La Dispute) bouncing off of each other amidst the pure fury. It's a dream pairing and it sounds just as good IRL as it does on paper.
--
Taking Meds - "Memory Lane"
Too many bands that channel stuff like Sugar, Dinosaur Jr, and Superchunk forget that those bands were coming directly from punk and hardcore. Taking Meds do not forget this.
--
Never Ending Game - "Memories"
There are the hardcore songs that make people wanna flail their bodies across a room, and there are the hardcore songs that make every person in the crowd wanna bum-rush the band's vocalist and sing every word. "Memories" is both.
Get this LP on clear, blue & black splatter vinyl.
--
Deathcrash - "Empty Heavy"
Having channelled '90s post-rock and slowcore influences on their great 2022 debut LP Return, UK band Deathcrash have gotten heavier--and more emo--for their sophomore LP Less. Never is this clearer than on "Empty Heavy," a climactic track that sounds like a cross between '90s Low and mid 2000s Thursday. If you're a sucker for the dark, artsy side of emo, this track is a must.
--
In an effort to cover as many bands as possible, I try to just do one single per album cycle in these monthly roundups, so catch up on previous months' lists for even more:
For even more new songs, listen below or subscribe to our playlist of punk/emo/hardcore/etc songs of 2023.
--
Browse our selection of hand-picked punk vinyl.
Read past and future editions of 'In Defense of the Genre' here.