Inlets (w/ Zach Condon), Fred Nicolaus, Deradoorian & Glass Ghost @ Whisk and Ladle (a loft party), NYC – pics
Inlets

Last Saturday, December 13th, I found myself at an intimate loft party in Williamsburg to see Sebastian Krueger's sad-pop song writing project, Inlets. The show was a pretty low key affair. People sitting on the center-of-the-room-staircase made the place seem full and active, but i'd be surprised if there were as many as 100 people there. The bartender was friendly and served complimentary beer and wine. Everybody seemed conversational and friendly and space didnt seem to be that much of an issue.
Fred Nicolaus of Department of Eagles played only a couple of songs (including one Dept of Eagles song), and Angel Deradoorian of Dirty Projectors also played a short set. It seemed to take a long time for the third band Glass Ghost to get set up and then I didn't really enjoy their set as much as the people around me seemed to.
Inlets was a very nice professional step up in sound and presence. The arrangements at times were very full and accomplished, but also sounded appropriately sparse as well-- in some songs band members would drop out completely as the set went on.
Favorite moments were the toy piano melodies on one of the later songs, and when Beirut's Zach Condon watched from the upper balcony and joined on trumpet for the last song of the evening. Overall a pleasant and mellow show that was well-suited to the well-manicured loft space.
Zach Condon

Beirut has three Brooklyn shows coming up. Department of Eagles are touring in January. Dirty Projectors are playing New Years Eve at Knitting Factory. More pictures from the loft party below...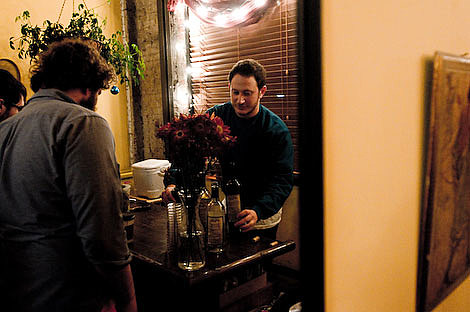 Fred Nicolaus (of Department of Eagles)...
Angel Deradoorian (of Dirty Projectors)...