Inquisition & Darkened Nocturn Slaughtercult played & wore corpse paint @ Europa in Brooklyn – bloody pics & video
Inquisition



Darkened Nocturn Slaughtercult

This past Sunday (May 23, to be exact) Colombian-bred, Pacific Northwest-dwelling cult black metal horde Inquisition brought their necromantic live ritual to Europa's be-disco balled stage, and were joined by Germany's Darkened Nocturn Slaughtercult on the latter's first-ever US tour. This was the duo's only East Coast date, and the last of three very special shows on the Anthems of Pestilence & Death 2010 minitour, which had kicked off in LA last week. Having caught Inquisition before at Heathen Crusade III in Minnesota and 2008's legendary performance at Remains (featuring the live debut of everyone's favorite blackened tech 'heads, Krallice), I couldn't resist making the trip up to see 'em again. After all, third time's the charm...
People-watching at New York metal shows is an endlessly entertaining pastime, especially if you've stumbled into the kind of show that rolled into Europa this past Sunday. From the Spanish Glen Danzig lookalike to the handful of leather-clad corpsepaint wearers, to the barely-legal drunk broad who kept trying to mosh it up with the pit bosses and falling flat on her face and the smattering of very worried-looking hipsters (this was Greenpoint, after all), it was one hell of a subcultural mish-mash up in there.
continued with more pics below....

-
Thanks to an unanticipated bout of seriously brutal traffic, I missed Agrath (sorry dudes), strolling up to the venue just as Darkened Nocturn Slaughtercult were setting up (Dimentianon reportedly dropped off of the bill) then hauling ass up those godforsaken stairs when I heard them start tuning. The Teutonic quartet were resplendent in black leather, spikes, and gauntlets, streaked with corpsepaint and generally looking about as grim as you can get on a Sunday night in Brooklyn.
Vocalist Onielar exuded pure menace onstage, spitting blood out onto the front row at every opportunity and keeping her Rapunzel-length locks from tangling in her guitar strings by sheer force of will. Hammered away at her axe like a woman possessed, howling mockery at the cross through a throat lined with barbed wire and acid, and hailing Satan between every song - now THAT is a frontwoman! Her shirtless, blood-smeared brothers in arms kept the riffs coming, scowling in unison as their constantly-blasting drummer sweated off his corpsepaint behind them. Darkened Nocturn Slaughtercult meted out a punishing forty or so minutes of mid-to-up tempo, surprisingly technical, atmospherically-inclined but wholeheartedly brutal black metal, stopping only to douse us in more blood (fake or real, the jury's still out). Their most recent record, Saldorian Spell, was released via War Anthem last year, and I strongly recommend you pick it up!
The many-horned beast that is Inquisition was originally formed in Colombia in 1988, and, over the years, has transplanted itself to the American Northwest and solidified into a duo comprised of founding member Dagon and drummer Incubus. Over those two decades, the band has refined their sound into something instantly recognizable, and undeniably unique - two attributes that go far in separating them from the countless other blackened legions. Dagon's droning, chant-like vocal style is an acquired taste to say the least (the "evil robot voice," as certain fans have labeled it), and the band's hypnotic riffs and desolate minor-chord dirges are far from your garden variety Transilvanian Hunger licks. Live, the two-man outfit is surprisingly engaging, and hauled out an hour's worth of trance-inducing black magic. Their black metal savagery's thrash metal core and Incubus' death-metal inspired drumming, as well as their reliance on punishing midtempo grooves, whipped the thrashing maniacs in the pit into an absolute frenzy. I couldn't quite hold back a grin whenever Dagon slipped back into his supremely normal dude voice to introduce the next "ritual," but once they kicked back into whatever song they were currently slaying, Inquisition were nothing but deadly serious. And, judging from the badassery of the new song they pulled out, their upcoming album is going to rip!
These two bands didn't just play a show, they put on a show. The paint, the blood, the Satanic showmanship and all-around occult vibe of it all made it an event, not just another metal show; I can think of a good many American bands who could stand to take a page out of their playbook and step it the fuck up. Was it goofy? Maybe a little, but none of us there, down the front, in the pit, or headbanging furiously in the back, minded. If you dig this sort of thing, you really dig it; if you don't get it already, you never will. After all, this is black fucking metal - no mosh, no core, no trends, no fun, and no compromises!
Agrath - live @ Europa club Brooklyn NY 05-23-10

Darkened Nocturn Slaughtercult - The Dead Hate The Living @ Brooklyn NY 05-23-10

Darkened Nocturn Slaughtercult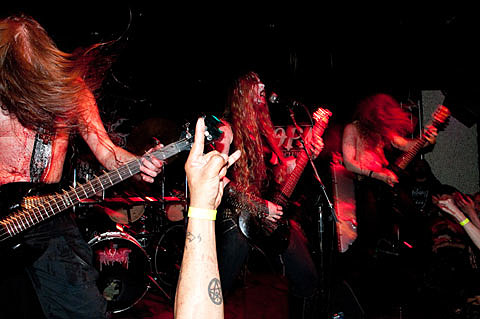 Inquisition - Desolate Funeral Chants live @ Brooklyn NY 05-23-10

Inquisition