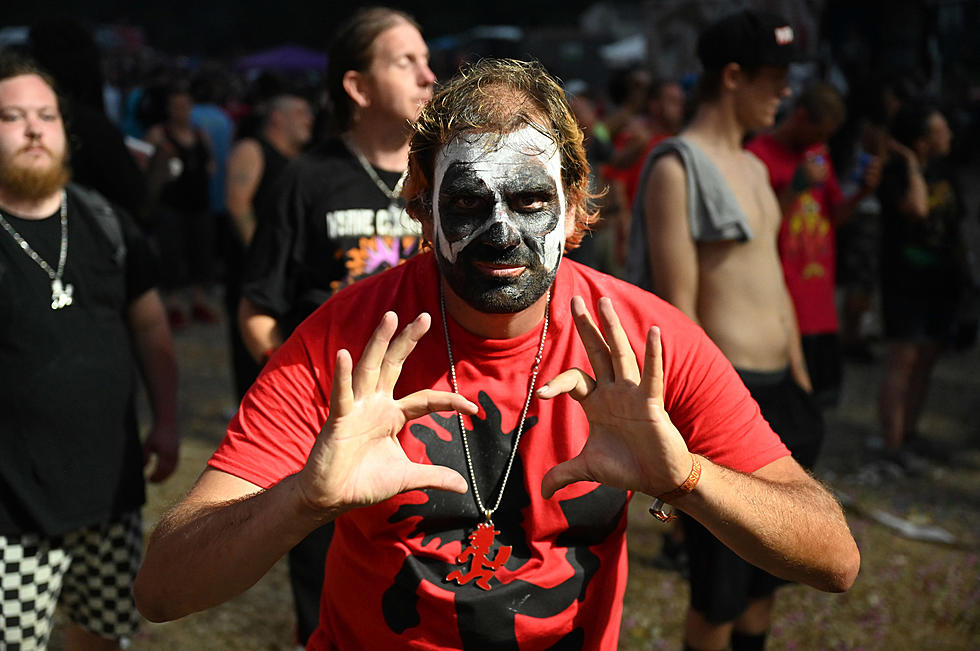 Insane Clown Posse announce Gathering of the Juggalos 2022 & initial lineup
photo by Nate "Igor" Smith
Insane Clown Posse's debaucherous, Faygo-filled annual festival, The Gathering of the Juggalos, has officially announced its 2022 edition. "The Gathering of Dreams" happens from August 3-August 7 at Legend Valley in Thornville, OH. Tickets are on sale now, and here's more about this year's fest from ICP:
In a dream we can live a thousand lifetimes in the space of a heartbeat, accomplish heroic feats, soar on the winds of imagination, conquer fantastical worlds and embark on epic quests…all within a breath. Dreams are inspired by our greatest loves, hopes and desires. Now we present to you a place and a time where dreams become reality and reality becomes but a dream. Where nightmares walk among us, as anything and everything becomes possibly and all wishes become fulfilled. Welcome to the 22nd annual Gathering of the Juggalos, which is…the Gathering of Dreams! The gates to Shangri-La on Earth have once again opened wide as we welcome our entire Juggalo Family to join together for the Greatest Family Reunion on Earth! This 4-day outdoor music festival features concerts, sideshows, late night parties, wrestling, competitions, seminars and so much more, where you are free to camp the entire time and free to have your wildest dreams come true!

This year will be the ultimate experience, for each day of the festival has been created by either Violent J, Shaggy 2 Dope, Jumpsteady or the Juggalos. On their given day they have chosen every artist who will be performing and all the entertainment that you will get to enjoy. The only limit to their design is their imagination! So this year's festival promises something that we have never seen before because so many have had a hand in creating a Gathering where dreams really can and do come true! So join us as we celebrate the love of our Juggalo family as we awaken to a new horizon of freshness never seen before!

Legend Valley has become our second home and it's the perfect setting for the dreamscape of the Gathering of Dreams to unfold. It provides over 130 acres of festival grounds including a brand new 10-acre wooded campground area. As always the cost of your Gathering ticket covers all your festival expenses, with no additional fees. Everything from parking, showers, concerts, parties, seminars, contests, wrestling sideshows, rides and more are all covered by the one-time cost of your ticket. With no corporate sponsorship the Gathering is free to do whatever we want because we answer to no one. It also remains the longest running independent rap festival in the world and is the perfect place to hold the Greatest Family Reunion the world has ever seen!

This year is truly unique because Violent J, Shaggy 2 Dope, Jumpsteady and the Juggalos have each been given a day of the Gathering where they alone get to decide all the entertainment you will see! From the artists performing, to the shows, to the parties and whatever else they can imagine! Also the Gathering is proud to announce an ICP concert unlike anything you have ever experienced before! Its ICP's Super Mix Juggalo Juke Box Show, where they will perform a concert composed of songs that have never been performed live before! So get ready for a truly bizarre and unique experience as it's time for everyone's dreams to come true!
In addition to ICP and their "Super Mix Juggalo Juke Box Show", which they say will be "composed of songs they have NEVER PERFORMED LIVE!," so far the lineup features Ouija Macc and Big Hoodoo, with more to be announced. Stay tuned for updates, and check out pictures from the 2021 edition of the Gathering below.