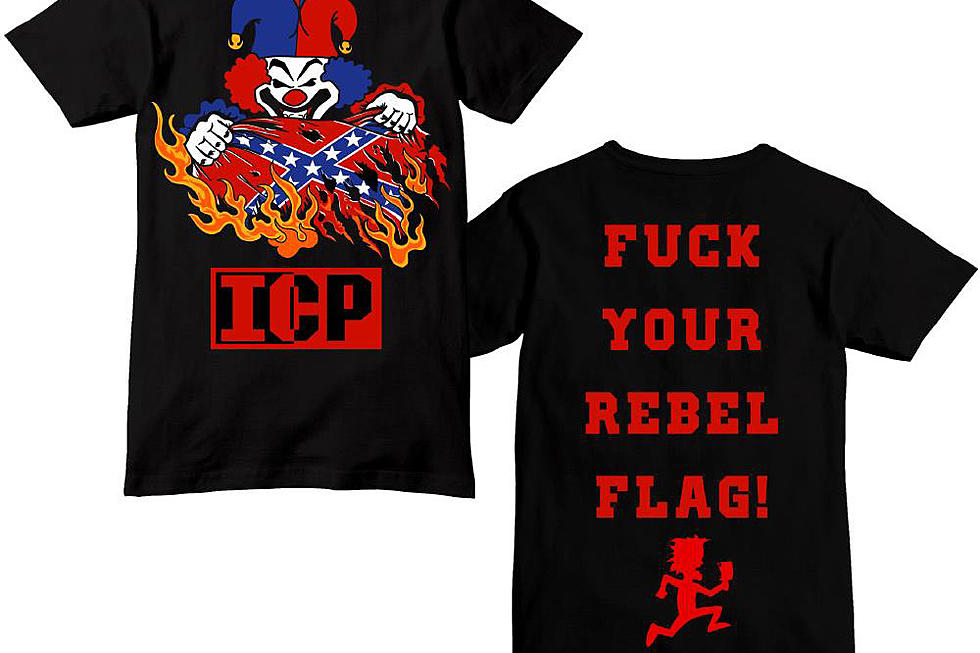 Insane Clown Posse selling shirts with burning Confederate flags
Juggalos, rejoice: Insane Clown Posse have brought back a merch item that's perfect for the present time -- and all times. The front of their t-shirt, which is available for pre-order, shows a clown burning a Confederate flag, and the back says "FUCK YOUR REBEL FLAG!" (referencing their song of the same name from 1992's Carnival of Carnage) with Psychopathic Records' Hatchetman logo. "You kept asking so we brought it back!," ICP say. You can order it on ICP's onliine store.
This shirt would be perfect to wear to the Gathering of the Juggalos, but like just about every other festival, it's cancelled this year due to coronavirus. "With tens of thousands of deaths due to the COVID-19 outbreak, we can't possibly in good conscience even consider trying to put on a Gathering during these difficult times," ICP write. "The bottom line is simply that we REFUSE to risk even ONE Juggalo life by hosting a Gathering during these troubling times."