Interpol played United Palace w/ White Rabbits (pics, setlist)
words & photos by Chris Gersbeck
United Palace is probably one of those venues that people groan at when they see the stop listed on a band's tour dates. Located on 175th St. and Broadway in Washington Heights, it's probably a hike for most in attendance, but once you arrive it's something special. A movie palace from 1930 through '69, United Palace was restored and turned into a church, and as a few years ago has been used as concert venue. Not many acts have played there since, but among them are Sigur Ros, Bob Dylan, Iggy & the Stooges, Arcade Fire and now, Interpol. I can only imagine the chaos the Stooges caused during their stay--anyone who's seen them knows they're not exactly a seat-friendly act but Interpol's performance was clearly a good fit for the intricately designed hall and big, open environment.
The Brooklyn-based White Rabbits opened the show, their last stop on this tour, a little after 8pm to a theater of mostly empty seats. A six-member group of multi-instrumentalists, their sound was energetic and full, with members constantly switching off instruments and an additional percussionist providing snare rolls, tambourine and tom hits. Admittedly, it was my first time hearing the band, but it came as no surprise when I learned their 2009 album It's Frightening was produced by Britt Daniel; the influence of Spoon was more than apparent. With the bass and percussion often providing a repetitive yet propulsive rhythm, songs would build up frantically as they went along, with keyboardist/co-frontman Steve Patterson doing his best (unintentional?) Thom Yorke impression. Not to say they reminded me of Radiohead, if anything White Rabbits reminded me more of On A Friday, but I'm certain the Radiohead comparison has been made before. Though it's difficult to gauge an audience's interest when they're sitting (and texting), the response was positive in the end, and it being their last show with Interpol, I'm sure a good way to end a tour.
The last time I saw Interpol was at Lollapalooza in '07, mostly a rainy affair, so my anticipation for an indoor theater show like this was strong. As it got closer to them taking the stage, the sold-out theater was now practically full, and people began leaving their seats and standing in the aisles. The band, clad in their iconic suits, took the stage around 9:20pm and opened with the first song, "Success," off their latest self-titled album. Although a bit of a dark and dreary way to open a show, you have to remind yourself that this is Interpol- dark & dreary is what they do. The band made no hesitation in going through their back catalogue, something I always appreciate, immediately following with Turn on the Bright Lights' "Say Hello to the Angels" before going into Antics' "Narc" and "Length of Love". The energy on stage was definitely there, though a lot of the credit there goes to guitarist Daniel Kessler, who rarely stops moving and acknowledging the crowd. I'm sure a lot of fans were initially disappointed upon hearing of Carlos D's departure earlier this year, but current touring bassist David Pajo of Slint is a worthy replacement. One of Interpol's strongest aspects are its flawless bass and drum interplay, and along with Sam Fogerino on drums, I don't think anyone dwelled too much on Dengler's absence.
While the crowd seemed initially reluctant to get too into the performance, by the time they went into "Slow Hands" the aisles were now nearly full of dancing fans. Following it with a slow song like "Untitled" might seem like an excellent way to kill the momentum, but instead playing the first song on their debut felt like the first time the band bonded with its audience. It reminded me of why I got into Interpol in the first place; the band that in 2002 suddenly became the so-called messiahs of New York City's indie scene.
Back to the momentum: a highlight of the show was "PDA", and the guitar breakdown in the middle received the most uproarious response the entire night, but this time following it with slow new song "Memory Serves" really brought things to a halt. They were able to pick things up with the great "Not Even Jail", but in my opinion, not the best way to close a set. Including favorites "Evil and "Obstacle 1" during the encore definitely helped, and while it seemed like for a minute there was going to be a second encore, all hope was lost when some of the brightest house lights I've ever seen shone down on the audience cueing a collective moan. Those who headed for the subway entrance at 175th Street were stuck trying to squeeze into the only two available turnstiles, prompting amusing belittlement to anyone whose Metrocard didn't work on the first swipe. If United Palace starts having more shows they might want to solve that problem, but for now the few big shows they have throughout the year should remain as exceptional as Friday's.
Interpol's next North American tour will include a headlining show at Radio City Music Hall (still no tickets yet). More pictures from United Palace with Interpol's setlist, below...


White Rabbits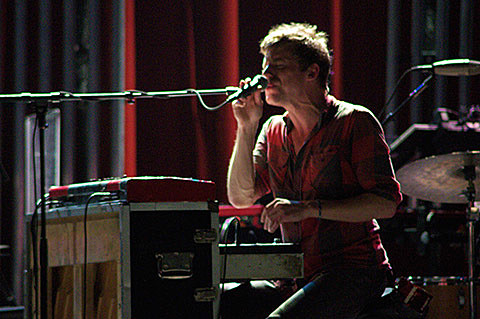 Interpol
INTERPOL 11/5/10 Setlist:
Success
Say Hello To The Angels
Narc
Length of Love
Summer Well
Rest My Chemistry
Slow Hands
Untitled
C'mere
Barricade
Take You On A Cruise
Lights
PDA
Memory Serves
Not Even Jail
===========
The Lighthouse
Evil
Obstacle 1