Iron Reagan on tour, streaming new song; Power Trip touring too, playing Saint Vitus (dates & stream)
Iron Reagan at the Housecore Horror Fest (more by Trent Maxwell)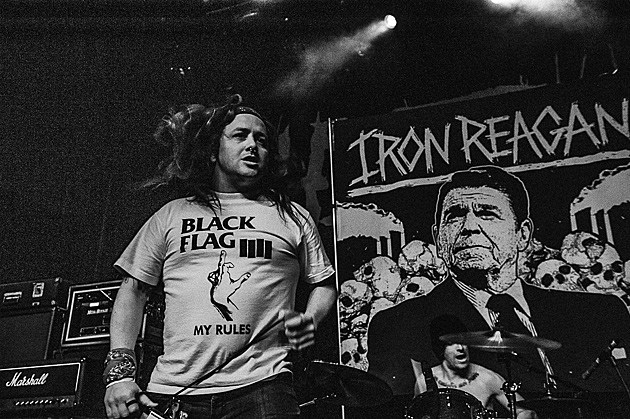 Iron Reagan, the thrashy hardcore punk band made up of Municipal Waste's Phil Hall and Tony Foresta and former Darkest Hour members Ryan Parish and Paul Burnette, will be releasing a split with Exhumed, with whom Iron Reagan just kicked off a tour. The split's due out on January 7, but you can now hear Iron Reagan's contribution "Mini Lights," which we premiered on Invisible Oranges today. It rips, of course. Give it a listen below.
Last we heard from Iron Reagan they earned 30th on Decibel's best of 2013 list with their debut full-length Worse Than Dead, but before that it was announced that Iron Reagan would be touring with GWAR and playing the Invisible Oranges sponsored A389 Tenth Anniversary Bash, the two-day Baltimore party for the label that Iron Reagan calls home. In addition to the tours with Exhumed and Gwar, Iron Reagan will fit in a couple of dates with Mammoth Grinder and Power Trip. The GWAR/Iron Reagan tour hits NYC on 12/27 at Irving Plaza (tickets). All dates are listed below.
Power Trip and Iron Reagan don't share a bill in NYC, but Power Trip will be here for their own show on January 15 at Saint Vitus with Suburban Scum and Manipulate, so there's no shortage of crossover thrash around these parts any time soon. Tickets for that show are not on sale yet, but check Ticketfly for updates.
Listen to "Mini Lights" and check out all of Iron Reagan's and Power Trip's tour dates below...

---
Iron Reagan - "Mini Lights"

Iron Reagan - 2013 Tour Dates
12/9 Oakland. Ca @The Metro w/Necrot*
12/10 San Deigo Ca @The Casbah*
12/11 Anaheim Ca @Chain Reaction w/Witchhaven*
12/12 Tempe Az @Rocky Point Cantina*
12/14 Denver Co @Denver Black Sky Fest*
12/15 Oklahoma City,Ok @Conservatory w/Windhand^
12/16 Dallas,TX @Club Dada w/Windhand^
12/17 Austin,TX @Red 7^
12/18 New Orleans,LA @Siberia^
12/19 Tampa,FL @Epic Problem^
12/20 Pembroke Pines,FL @The Talent Farm^
12/21 Gainesville,FL @The Atlantic^
12/27 New York @Irving Plaza#
12/28 New Haven Ct @Toads Place#
12/29 Richmond Va @The National#
* - w/ Exhumed
^ - w/ Power Trip, Mammoth Grinder
# - w/ Gwar
--
Power Trip -- 2013/2014 Tour Dates
12/15 Oklahoma City,Ok @Conservatory w/Windhand^
12/16 Dallas,TX @Club Dada w/Windhand^
12/17 Austin,TX @Red 7^
12/18 New Orleans,LA @Siberia^
12/19 Tampa,FL @Epic Problem^
12/20 Pembroke Pines,FL @The Talent Farm^
12/21 Gainesville,FL @The Atlantic^
01/15 Brooklyn, NY @ Saint Vitus
01/17 Philadelphia, PA @ Kung Fu Necktie
^ - w/ Iron Reagan, Mammoth Grinder