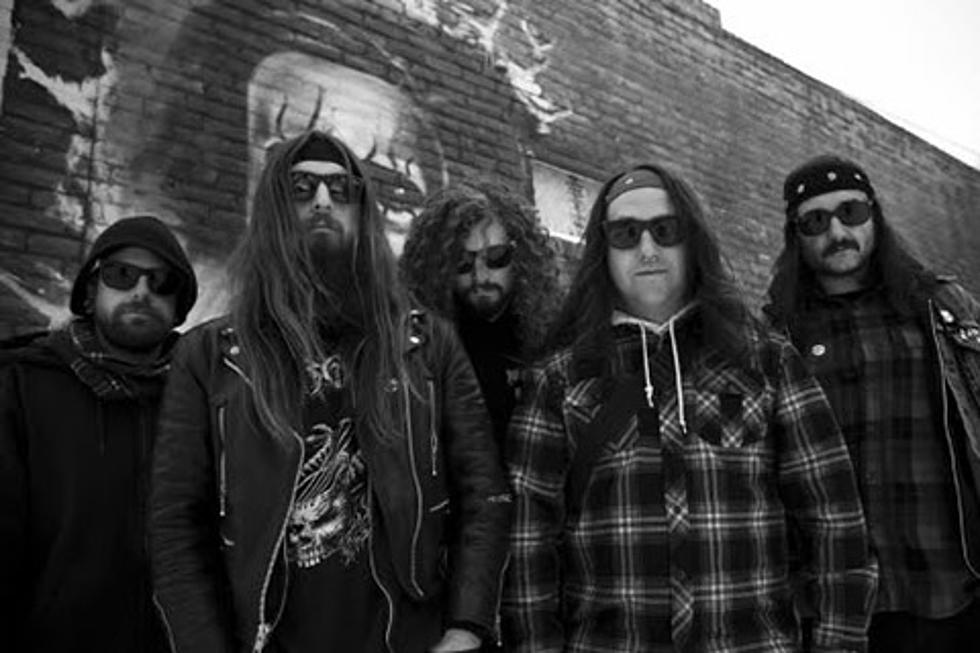 Iron Reagan releasing a new LP on Relapse; Phil Hall talks new Cannabis Corpse, not to be confused w/ new Cannibal Corpse
Iron Reagan

Iron Reagan, the throwback punk speedfest featuring members of Municipal Waste, Cannabis Corpse, and Darkest Hour, will be releasing a new full-length on September 16. The effort is titled Tyranny of Will and is the band's first through Relapse. Along with the LP, the group will also be hitting the road for a handful of dates, including their tour with Eyehategod that hits NYC at the Acheron with Vektor, GWAR-B-Q, and Fun Fun Fun Fest. The full rundown of dates along with album details, below.
Guitarist Phil "Land Phil" Hall has also been busy, releasing a new album with Cannabis Corpse, his ode to weed and '90s death metal. I had a chance to talk to him for Invisible Oranges, and we touched on a number of subjects, including new LP From Wisdom to Baked and indulging in the verdant delights with Chris Barnes. Regarding the latter:
I guess one of the most unusual times with Cannabis Corpse was when we were on tour with Six Feet Under and Chris Barnes would invite us on the bus. He would bust out his blowtorch and blowtorch this crazy metal piece and then dab wax on metal and you would inhale the vapors. Then he had had this bowl that looked like a big knife. I thought that was perfect, to smoke weed with Chris Barnes out of a knife.
Cannabis Corpse will also be going on tour this summer, too. Their dates are listed below.
Meanwhile, Cannibal Corpse (once fronted by Chris Barnes but now fronted by George "Corpsegrinder" Fisher) will release their thirteenth album, A Skeletal Domain, in September via Metal Blade. Tracklist, bigger artwork, and a new song stream, below. The band are also on the Rockstar Energy Drunk Mayhem Festival with Korn and Avenged Sevenfold and stuff, and during that tour they'll headline a NJ show on July 31 at Starland Ballroom with fellow Rockstars Suicide Silence and Wretched, plus Dying Eyes of Sloth, Carnavarice Breath and Thanatotic Desire. Tickets for that show are on sale now.
So what of Municipal Waste? They'll also be gigging around with Madball, fitting in shows between Iron Reagan, Cannabis Corpse, and, oh yeah, Bat engagements. In addition, they're on the bill for Denver Black Sky and Heavy Montreal. Finally, according to Phil, they're also working on new music:
Municipal Waste is currently writing a new record, so that'll be coming out in the future, as well.
Yeesh, and you thought you were busy picking up that double shift.
All lists of dates, with Tyranny of Will album details, below...

---
Tyranny of Will cover art

Tyranny Of Will tracklisting:
1. Tyranny Of Will
2. I Won't Go
3. Eyeball Gore
4. Close To Toast
5. Bet On Black
6. Miserable Failure
7. The Living Skull
8. In Greed We Trust
9. Glocking Out
10. Rat Shit
11. U Lock The Bike Cop
12. Broken Bottles
13. Bleeding Frenzy
14. Bored To Death
15. Class Holes
16. Obsolete Man
17. Nameless
18. Exit The Game
19. Your Kids An Asshole
20. Patriotic Shock
21. Bill Of Fights
22. Consensual Harassment
23. Just Say Go
24. Four More Years
Iron Reagan -- 2014 Tour Dates
July 10 - The Pinch - Washington, DC w/ Eyehategod
July 11 - Simons 677 - Providence, RI w/ Eyehategod
July 12 - Bogies - Albany, NY w/ Eyehategod
July 13 - Depot - York, PA w/ Eyehategod
July 14 - Ballroom At Outer Space - Hamden, CT w/ Eyehategod
July 15 - Acheron - Brooklyn, NY w/ Eyehategod, Vektor
July 23 - Richmond, VA - Strange Matter
Aug 16 - Richmond, VA - GWAR-B-Q at Hadad's Lake
Aug 22 - Pittsburgh, PA - Venue TBD w/ Skull Fest
Nov 7-9 - Austin, TX - Fun Fun Fest at Auditorium Shores
Cannabis Corpse -- 2014 Tour Dates
July 29 - Cleveland, OH - Now That's Class
July 30 - Chicago, IL - Cobra Lounge
July 31 - Des Moines, IA - Vaudeville Mews
Aug 01 - Merriam, KS - Aftershock
Aug 03 - Denver, CO - Denver Black Sky II
Aug 05 - St. Louis, MO - Fubar
Municipal Waste -- 2014 Tour Dates
July 25 - Echoplex - Los Angeles, CA
Jul 27 - The Casbah - San Diego, CA
Aug 02 - Denver Black Sky - Denver, CO
Aug 07 - Bogies w/ Madball, Ramming Speed - Albany, NY
Aug 08 - Club Absinthe w/ Madball, Suburban Scum, Ramming Speed - Hamilton, ON
Aug 09 - Heavy Montreal - Montreal, Canada
Aug 10 - The Waterfront Tavern w/ Madball, Suburban Scum, Ramming Speed - Holyoke, MA
Sep 13 - Hangar 18 - Panama, Panama
Sep 14 - El Aguijon - Quito, Ecuador
Cannibal Corpse - "Sadistic Embodiment"

Tracklist:
01. High Velocity Impact Spatter
02. Sadistic Embodiment
03. Kill Or Become
04. A Skeletal Domain
05. Headlong Into Carnage
06. The Murderer's Pact
07. Funeral Cremation
08. Icepick Lobotomy
09. Vector Of Cruelty
10. Bloodstained Cement
11. Asphyxiate To Resuscitate
12. Hollowed Bodies