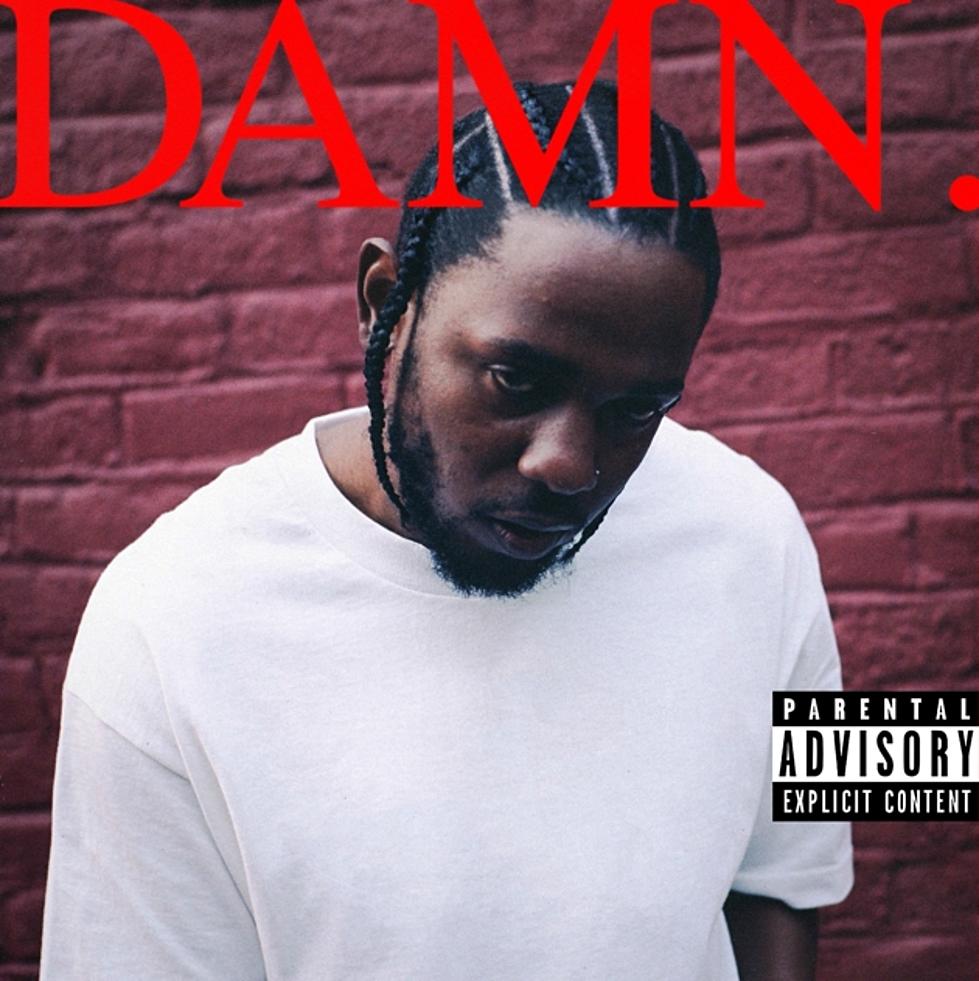 Kendrick Lamar's new album 'DAMN.' is out now! (listen to it)
UPDATE (11 PM EST): The album is officially out now. Pick it up on iTunes or listen below via Apple Music or Spotify.
Mike WiLL Made-It, who who produced lead single "HUMBLE," also produced "DNA" and "XXX." The latter features U2 (not a sample; it has a hook sung by Bono). The other credited guest vocalists are Rihanna on "LOYALTY" and LA's Zacari on "LOVE."
James Blake co-produced "ELEMENT." "LUST" has strings by Kamasi Washington, additional vocals by Kaytranada, and co-production by BadBadNotGood. Thundercat played bass on "FEEL." Other producers on the album include TDE's Soundwave, DJ Dahi, The Alchemist, 9th Wonder, Terrace Martin, and Steve Lacy of The Internet. Several songs have guest vocals by Kid Capri. One of the producers/singers is Bekon (real name Daniel Tannenbaum, fka Danny Keyz), who has also worked with Dr. Dre, Eminem, Snoop Dogg, and more. Greg Kurstin (of The Bird & the Bee, and Adele's producer, and now also a Paul McCartney producer) co-produced "LOVE." Full credits below.
Opener "BLOOD" samples those Fox News geniuses who criticized his 2015 BET Awards performance, and Kendrick references that situation again on "YAH."
It wouldn't be a post-Trump Kendrick Lamar album if it didn't mention the election, and it does. On "LUST," he raps: "We all woke up, trying to tune to the daily news / Looking for confirmation, hoping election wasn't true." On "XXX," "Donald Trump's in office, we lost Barack and promised to never doubt him again."
Sounwave hinted that the leaked version may not be the official one:
At the very least, it's clear that the leak had an incomplete version of "FEAR."
Mike WiLL Made-It was retweeting tons of praise for his tracks after the leak:
Vlad Sepetov, who worked on the To Pimp A Butterfly album artwork, worked on DAMN. as well. Speaking about it, he said, "Already seeing a lot of discussion about the cover. And i'm really excited about it. It's interesting to see people talk about 'bad' design... but i'm incredibly proud of this cover. I sort of bucked a lot of what my teachers taught me. I wanted to make something loud and abrasive."
Tracklist
1. BLOOD.
2. DNA.
3. YAH.
4. ELEMENT.
5. FEEL.
6. LOYALTY. (feat. Rihanna)
7. PRIDE.
8. HUMBLE.
9. LUST.
10. LOVE. (feat. Zacari)
11. XXX. (feat. U2)
12. FEAR.
13. GOD.
14. DUCKWORTH.
ALBUM CREDITS
"BLOOD."
(K. Duckworth, D. Tannenbaum, A. Tiffith)
Produced by Bekon + Anthony "Top Dawg" Tiffith
Additional vocals by Bekon
"DNA."
(K. Duckworth, M. Williams II)
Produced by Mike WiLL Made-It
Additional guitar by Matt Schaeffer
"YAH."
(K. Duckworth, M. Spears, D. Natche, A. Tiffith)
Produced by Sounwave + DJ Dahi + Anthony "Top Dawg" Tiffith
Additional production by Bekon
Additional vocals by Bekon
"ELEMENT."
(K. Duckworth, M. Spears, J. Blake, R. Riera)
Produced by Sounwave + James Blake + Ricci Riera
Additional Project by Tae Beast and Bekon
Additional vocals by Kid Capri
"FEEL."
(K. Duckworth, M. Spears)
Produced by Sounwave
Bass by Thundercat
Additional vocals by Chelsea Blythe
Additional guitar by Matt Schaeffer
"LOYALTY." (ft. Rihanna)
(K. Duckwroth, D. Natche, M. Spears, T. Martin, A. Tiffith)
Produced by DJ Dahi + Sounwave + Terrace Martin + Anthony "Top Dawg" Tiffith
Additional vocals by DJ Dahi
"PRIDE."
(K. Duckworth, S. Lacy, A. Wise, A. Tiffith)
Produced by Steve Lacy + Anthony "Top Dawg" Tiffith
Additional production by Bekon
Background vocals by Anna Wise + Steve Lacy
Additional vocals by Bekon
"HUMBLE."
(K. Duckworth, M. Williams II)
Produced by Mike WiLL Made-It
Guitar by Matt Schaeffer
"LUST."
(K. Duckworth, D. Natche, M. Spears, C. Hansen, A. Sowinski, M. Tavares, L. Whitty)
Produced by DJ Dahi + Sounwave + BadBadNotGood
Strings by Kamasi Washington & Sounwave
Additional vocals by Kaytranada + Rat Boy
"LOVE." (ft. Zacari)
(K. Duckworth, Z. Pacaldo, T. Walton, M. Spears, G. Kurstin, A. Tiffith)
Produced by Teddy Walton + Sounwave + Greg Kurstin + Anthony "Top Dawg" Tiffith
Additional vocals by Kid Capri
"XXX." (ft. U2)
(K. Duckworth, M. Williams II, D. Natche, M. Spears, A. Tiffith, P. Hewson, D. Evans, A. Clayton, L. Mullen)
Produced by Mike WiLL Made-It + DJ Dahi + Sounwave + Anthony "Top Dawg" Tiffith
Additional production by Bekon
Additional keys by Kendrick Lamar
Additional vocals by Bekon + Kid Capri
"FEAR."
(K. Duckworth, A. Maman)
Produced by The Alchemist
Additional production by Bekon
Additional vocals by Charles Edward Sydney Isom Jr + Bekon + Carl Duckworth
"GOD."
(K. Duckworth, R. Riera, M. Spears, D. Natche, D. Tannenbaum, R. LaTour, A. Tiffith)
Produced by Ricci Riera + Sounwave + DJ Dahi + Bekon + Cardo + Anthony "Top Dawg" Tiffith
Additional vocals by Bekon
Additional drums by Mike Hector
"DUCKWORTH."
(K. Duckworth, P. Douthit)
Produced by 9th Wonder
Additional production by Bekon
Additional vocals by Bekon + Kid Capri