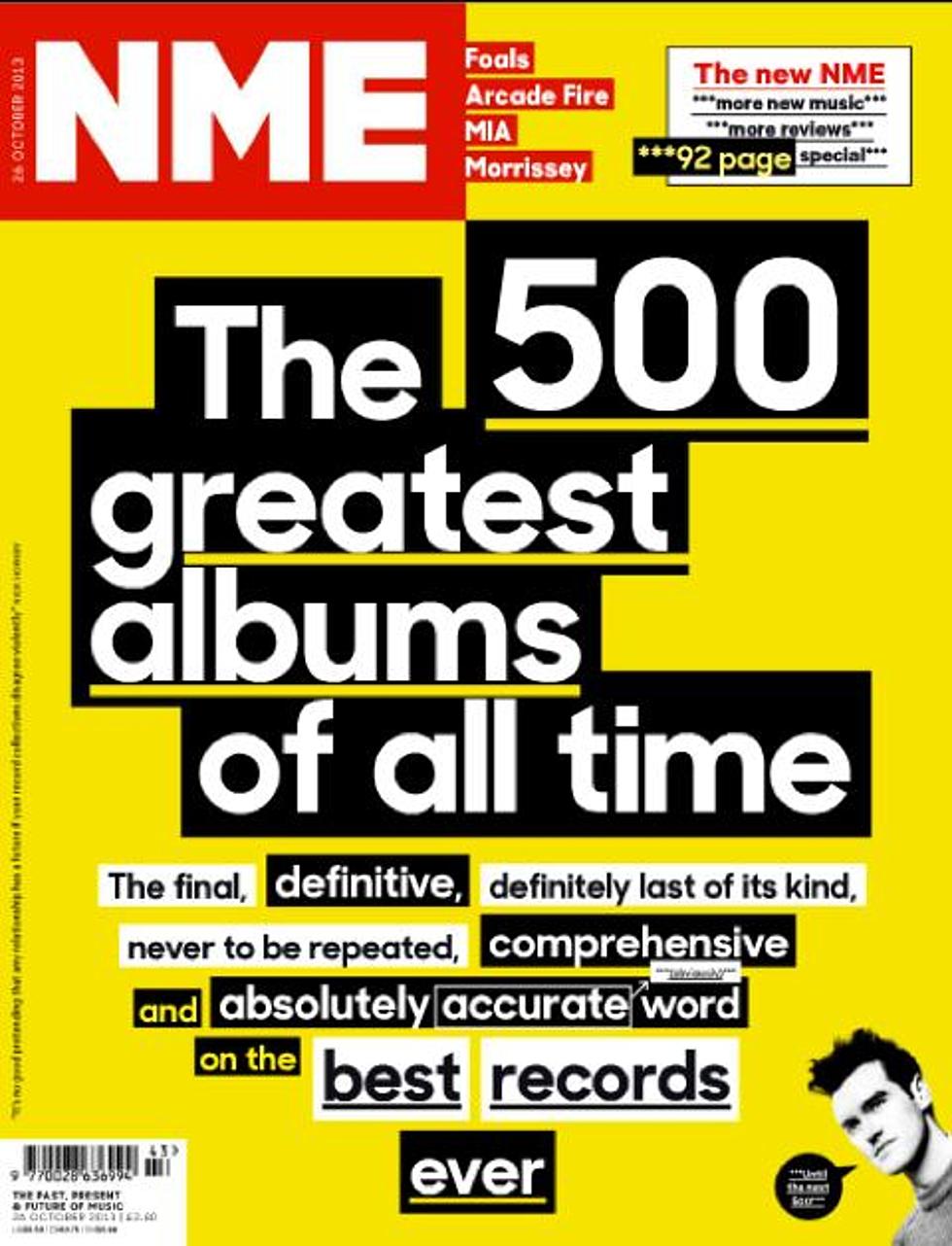 is The Smiths' 'The Queen is Dead' the best LP ever? NME says yes in their "The 500 Greatest Albums of All Time" list
Things are going great for Morrissey whose new book is selling like crazy. The new Issue of NME, as you can see from its cover above, features "The 500 Greatest Albums of All Time." The UK music weekly picked these for the Top 10:
1. The Smiths - The Queen Is Dead
2. The Beatles - Revolver
3. David Bowie - Hunky Dory
4. The Strokes - Is This It
5. The Velvet Underground & Nico - The Velvet Underground
6. Pulp - Different Class
7. The Stone Roses - The Stone Roses
8. Pixies - Doolittle
9. The Beatles - The Beatles (White Album)
10. Oasis - Definitely Maybe
Just keep in mind these are mostly British people making this list. Outkast's Stankonia is #500 if you were wondering, and the Top 50 are listed in this post. If you're wondering how NME came up with this list, here's what they said:
It means emailing a vast array of alumni from across the NME generations, from the sixties swingers through the hip young gunslingers of the 70s right up to today's troupe of rock'n'roll toreadors, and begging/bullying them to submit lists of their favourite fifty albums of all time. Some joined in, others were too busy/famous now, but we managed to gather together around 80 voters to submit lists, at which point the serious number-crunching began.
I and the rest of the NME alumni were simply told to vote for our 'favourite' albums - Ideally a top 50 but really anything we could rustle up by the following Monday.

And herein lies a flaw inherent in all such lists: The results are bound to be slanted towards the choices of the voters who they happen still to have contact details for, which will inevitably be the more recent contributors (Still, having first written for them over 20 years ago, they didn't do too badly tracking me down).

Inevitably, with the whole thing being a bit last-minute and no-budget, the votes were also those of individuals who could be arsed to sweat over a difficult task in their free time for no financial reward. Welcome to 21st century publishing.
The mag does have a sense of humor about all this. The bottom right corner of the cover has a picture of Morrissey saying "...until the next 500." NME is publishing the whole list -- in not annoying slideshow format -- throughout the day and you can click through 500 - 401, and 400 - 301 right now. Their top 50 are listed below....
NME's 500 Greatest Albums of All Time
01. The Smiths - The Queen Is Dead
02. The Beatles - Revolver
03. David Bowie - Hunky Dory
04. The Strokes - Is This It
05. The Velvet Underground - The Velvet Underground & Nico
06. Pulp - Different Class
07. The Stone Roses - The Stone Roses
08. Pixies - Doolittle
09. The Beatles - The Beatles
10. Oasis - Definitely Maybe
11. Nirvana - Nevermind
12. Patti Smith - Horses
13. Arcade Fire - Funeral
14. David Bowie - Low
15. PJ Harvey - Let England Shake
16. Joy Division - Closer
17. Public Enemy - It Takes A Nation Of Millions To Hold Us Back
18. My Bloody Valentine - Loveless
19. Arctic Monkeys - Whatever People Say I Am, That's What I'm Not
20. Radiohead - OK Computer
21. Kanye West - My Beautiful Dark Twisted Fantasy
22. Blur - Parklife
23. David Bowie - The Rise And Fall Of Ziggy Stardust And The Spiders From Mars
24. The Rolling Stones - Exile On Main St. Street
25. Marvin Gaye - What's Going On
26. The Beach Boys - Pet Sounds
27. Primal Scream - Screamadelica
28. Amy Winehouse - Back To Black
29. Television - Marquee Moon
30. Wu-Tang Clan - Enter The Wu-Tang (36 Chambers)
31. Suede - Dog Man Star
32. Beastie Boys - Paul's Boutique
33. Blur - Modern Life Is Rubbish
34. The Beatles - Abbey Road
35. Nirvana - In Utero
36. Bob Dylan - Blood On The Tracks
37. Love - Forever Changes
38. Sex Pistols - Never Mind The Bollocks... Here's The Sex Pistols
39. The Clash - London Calling
40. Joy Division - Unknown Pleasure
41. Sonic Youth - Daydream Nation
42. Stevie Wonder - Innervisions
43. The Beatles - Rubber Soul
44. Manic Street Preachers - The Holy Bible
45. Blondie - Parallel Lines
46. Björk - Debut
47. The Smiths - Strangeways, Here We Come
48. Kate Bush - Hounds Of Love
49. LCD Soundsystem - Sound Of Silver
50. Dusty Springfield - Dusty In Memphis
51. Fleetwood Mac - Rumours
52. The Rolling Stones - Let It Bleed
53. David Bowie - Station To Station
54. Talking Heads - Remain In Light
55. The Rolling Stones - Sticky Fingers
56. Neil Young - After The Gold Rush
57. Kraftwerk - The Man Machine
58. Pixies - Surfer Rosa
59. Radiohead - In Rainbows
60. Massive Attack - Blue Lines
61. The Clash - The Clash
62. Bob Dylan - Blonde On Blonde
63. Joni Mitchell - Blue
64. Bob Dylan - Highway 61 Revisited
65. REM - Automatic For The People
66. Radiohead - The Bends
67. Oasis - (What's The Story) Morning Glory
68. Van Morrison - Astral Weeks
69. REM - Murmur
70. The Libertines - Up The Bracket
71. Neil Young - Harvest
72. Lou Reed - Transformer
73. Bob Dylan - Bringing It All Back Home
74. Nas - IIImatic
75. Green Day - Dookie
76. Daft Punk - Discovery
77. The White Stripes - White Blood Cells
78. Suede - Suede
79. Miles Davis - Kind Of Blue
80. Iggy And The Stooges - Raw Power
81. Kraftwerk - Trans-Europe Express
82. Carole King - Tapestry
83. The Band - The Band
84. Hole - Live Through This
85. Bruce Springsteen - Born To Run
86. Jeff Buckley - Grace
87. The Beatles - Sgt Pepper's Lonely Hearts Club Band
88. Roxy Music - For Your Pleasure
89. Lauryn Hill - The Miseducation Of Lauryn Hill
90. The Streets - A Grand Don't Come For Free
91. Prince And The Revolution - Purple Rain
92. Super Furry Animals - Radiator
93. Queens Of The Stone Age - Songs For The Deaf
94. The Rolling Stone - Beggars Banquet
95. Talk Talk - Spirit Of Eden
96. Public Enemy - Fear Of A Black Planet
97. The Smiths - The Smiths
98. Neutral Milk Hotel - In The Aeroplane Over The Sea
99. The Libertines - The Libertines
100. The Smiths - Hatful Of Hollow
101. Kraftwerk - Computer World
102. The Flaming Lips - The Soft Bulletin
103. The Jimi Hendrix Experience - Electric Ladyland
104. The Stooges - Funhouse
105. Tom Waits - Rain Dogs
106. Led Zeppelin - IV
107. Rage Against the Machine - Rage Against the Machine
108. Weezer - Pinkerton
109. Bruce Springsteen - Darkness on the Edge of Town
110. Fairport Convention - Liege and Lief
111. The Human League - Dare
112. GZA - Liquid Swords
113. Belle and Sebastian - If You're Feeling Sinister
114. Radiohead - Kid A
115. Teenage Fanclub - Bandwagonesque
116. The White Stripes - Elephant
117. ABC - The Lexicon of Love
118. Dexys Midnight Runners - Searching or the Young Soul Rebels
119. Pulp - His 'N' Hers
120. De La Soul - 3 Feet High and Rising
121. Aphex Twin - Selected Ambient Works 85-92
122. New Order - Technique
123. Blur - 13
124. Paul Simon - Graceland
125. James Brown - Live at the Apollo
126. Beastie Boys - Ill Communication
127. Ramones - Ramones
128. The Verve - Urban Hymns
129. Neil Young - On the Beach
130. Interpol - Turn on the Bright Lights
131. Michael Jackson - Thriller
132. Pink Floyd - Dark Side of the Moon
133. John Lennon/Plastic Ono Band - John Lennon/Plastic Ono Band
134. PJ Harvey - Stories From the City, Stories From the Sea
135. Eminem - The Marshall Mathers LP
136. Yeah Yeah Yeahs - Fever to Tell
137. Blur - Blur
138. Sufjan Stevens - Illinois
139. The Cure - Disintegration
140. Nick Drake - Bryter Layter
141. Bob Marley and the Wailers - Natty Dread
142. Serge Gainsbourg - Histoire De Melody Nelson
143. Bob Dylan - Desire
144. The Jimi Hendrix Experience - Are You Experienced
145. The Zombies - Odessey and Oracle
146. At the Drive-In - Relationship of Command
147. Frank Ocean - Channel Orange
148. Bruce Springsteen - Nebraska
149. Elliot Smith - Either/Or
150. The Streets - Original Pirate Material
151. PJ Harvey - Dry
152. Mercury Rev - Deserter's Songs
153. The La's - The La's
154. PJ Harvey - To Bring You My Love
155. The Prodigy - Music For the Jilted Generation
156. Spiritualized - Ladies and Gentlemen We're Floating In Space
157. The Jesus and Mary Chain - Psychocandy
158. Wild Beasts - Two Dancers
159. Gang of Four - Entertainment!
160. Primal Scream - XTRMTR
161. Arcade Fire - The Suburbs
162. The National - The Boxer
163. Neu - Neu '75!
164. Johnny Cash - At Folsom Prison
165. Nick Cave and the Bad Seeds - Let Love In
166. Pulp - This is Hardcore
167. Aretha Franklin - Lady Soul
168. Portishead - Dummy
169. Dexys Midnight Runners - Don't Stand Me Down
170. Smashing Pumpkins - Siamese Dream
171. Talking Heads - Fear of Music
172. Stevie Wonder - Songs in the Key of Life
173. Led Zeppelin - III
174. Bright Eyes - I'm Wide Awake, It's Morning
175. David Bowie - Young Americans
176. Rufus Wainwright - Want One
177. Mogwai - Young Team
178. The Coral - The Coral
179. Missy Elliott - Miss E...So Addictive
180. X-Ray Spex - Germ Free Adolescents
181. Boards of Canada - Music Has the Right to Children
182. Manic Street Preachers - Everything Must Go
183. OutKast - Speakerboxxx/The Love Below
184. MIA - Kala
185. Eric B and Rakim - Paid in Full
186. Jay-Z - The Blueprint
187. My Bloody Valentine - Isn't Anything
188. John Coltrane - A Love Supreme
189. Todd Rungren - A Wizard, A True Star
190. Pink Floyd - Piper At the Gates of Dawn
191. Elastica - Elastica
192. Franz Ferdinand - Franz Ferdinand
193. Ryan Adams - Gold
194. Guns N' Roses - Appetite For Destruction
195. The Beatles - A Hard Day's Night
196. The Stranglers - Rattus Norvegicus
197. AC/DC - Back in Black
198. Prince - Sign O' The Times
199. The Boo Radleys - Giant Steps
200. The Breeders - Last Splash
201. The Fall - Hex Enduction Hour
202. Tricky - Maxinquaye
203. Beach House - Teen Dream
204. Michael Jackson - Bad
205. NWA - Straight Outta Compton
206. Pavement - Slanted and Enchanted
207. Janis Joplin - Pearl
208. Chic - Risque
209. Kate Bush - The Kick Inside
210. The Magnetic Fields - 69 Love Songs
211. Grace Jones - Nightclubbing
212. Kings of Leon - Youth and Young Manhood
213. Funkadelic - One Nation Under a Groove
214. Air - Moon Safari
215. Massive Attack - Mezzanine
216. New Order - Power, Lies and Corrruption
217. Iggy Pop - Lust for Life
218. The Horrors - Primary Colours
219. The Jam - All Mod Cons
220. The National - Alligator
221. Marianne Faithful - Broken English
222. Fever Ray - Fever Ray
223. Arcade Fire - Neon Bible
224. Echo and the Bunnymen - Heaven Up Here
225. T Rex - Electric Warrior
226. The Doors - The Doors
227. John Lennon - Imagine
228. Pavement - Brighten the Corners
229. Public Image Ltd - Metal Box
230. David Bowie - Aladdin Sane
231. Dr. Dre - The Chronic
232. Leonard Cohen - The Songs of Leonard Cohen
233. Babyshambles - Down In Albion
234. Pet Shop Boys - Behaviour
235. Nick Cave and the Bad Seeds - Murder Ballads
236. Suicide - Suicide
237. The xx - The xx
238. Yeah Yeah Yeahs - Show Your Bones
239. Dizzee Rascal - Boy In Da Corner
240. Ian Dury - New Boots and Panties!!
241. Madonna - Ray of Light
242. Michael Jackson - Off the Wall
243. Joni Mitchell - The Hissing of Summer Lawns
244. Wild Beasts - Smother
245. Super Furry Animals - Fuzzy Logic
246. Nirvana - MTV Unplugged In New York
247. Glasvegas - Glasvegas
248. Eminem - The Slim Shady LP
249. Prodigy - The Fat of the Land
250. Weezer - Weezer
251. The Beach Boys - Surf's Up
252. Grimes - Visions
253. Pussy Galore - Exile on Main St
254. The Smiths - Meat is Murder
255. Metronomy - The English Riviera
256. Elvis Costello and the Attractions - This Year's Model
257. Nick Cave and the Bad Seeds - The Boatman's Call
258. Nick Drake - Five Leaves Left
259. Public Enemy - Yo! Bum Rush the Stage
260. The Specials - The Specials
261. Bob Marley and the Wailers - Live!
262. Boogie Down Productions - Criminal Minded
263. Laura Marling - I Speak Because I Can
264. The Beatles - Please Please Me
265. Hole - Celebrity Skin
266. Coldplay - A Rush of Blood to the Head
267. Dr. Feelgood - Stupidity
268. Todd Rungren - Todd
269. The Horrors - Skying
270. The Kinks - The Village Green Preservation Society
271. The Velvet Underground - Loaded
272. Coldplay - Parachutes
273. Kanye West - The College Dropout
274. R.E.M. - Green
275. The Who - Quadrophenia
276. Echo and the Bunnymen - Ocean Rain
277. The Sunday - Reading, Writing and Arithmetic
278. The Slits - Cut
279. Captain Beefhart and his Magical Band - Trout Mask Replica
280. Aphex Twin - Drukqs
281. Elvis Costello - My Aim is True
282. Teenage Fanclub - Grand Prix
283. Roxy Music - Roxy Music
284. Fugazi - 13 Songs
285. Marvin Gaye - Midnight Love
286. Screaming Trees - Dust
287. Slayer - Reign In Blood
288. Stevie Wonder - Music of My Mind
289. The Modern Lovers - The Modern Lovers
290. The Bluetones - Expecting to Fly
291. The Byrds - Younger than Yesterday
292. The Cribs - The New Fellas
293. Aztec Camera - High Land Hard Rain
294. Klaxons - Myths of the Near Future
295. Snoop Doggy Dogg - Doggystyle
296. David Bowie - Let's Dance
297. Can - Ege Bamyasi
298. Malcolm McLaren -
299. The Go-Betweens - 16 Lovers Lane
300. The Who - The Who By Numbers
301. Arthur Russell - World of Echo
302. Daft Punk - Homework
303. Charles Mingus - Mingus Ah Um
304. The Orb - UFOrb
305. Rod Stewart - Every Picture Tells a Story
306. Bob Dyan - The Freewheelin' Bob Dylan
307. Beck - Midnight Vultures
308. Lemonheads - It's a Shame About Ray
309. Metallica - Metallica
310. Steely Dan - Countdown to Ecstacy
311. Super Furry Animals - Guerilla
312. Cocteau Twins - Treasure
313. Tom Waits - Frank's Wild Years
314. Slint - Spiderland
315. Big Brother and the Holding Company - Cheap Thrills
316. Elvis Costello and the Attractions - Imperial Bedroom
317. Gram Parsons - Grievous Angel
318. Ice-T - OG Original Gangster
319. The Who - Who's Next
320. Tom Waits - Swordfishtrombones
321. Doves - Lost Souls
322. LCD Soundsystem - This is Happening
323. Miles Davis - Bitches Brew
324. R.E.M. - Life's Rich Pageant
325. Beck - Sea Change
326. Yo La Tengo - I Can Hear the Heart Beating As One
327. Beck - Mutations
328. The Flaming Lips - Yoshimi Battles the Pink Robots
329. David Bowie - Heroes
330. Portishead - Third
331. MC5 - Kick out the Jams
332. Shack - HMS Fable
333. Paul McCartney and Wings - Band on the Run
334. The Avalanches - Since I Left You
335. Queens of the Stoneage - ...Like Clockwork
336. Neneh Cherry - Raw Like Sushi
337. Danger Mouse - The Grey Album
338. Notorious BIG - Ready to Die
339. Pearl Jam - Ten
340. Sister Sledge - We Are Family
341. Tom Waits - Closing Time
342. Spritualized - Lazer Guided Melodies
343. Bob Dylan - John Wesley Harding
344. Eels - Beautiful Freak
345. Elvis Costello - Punch the Clock
346. New Order - Low Life
347. Sonic Youth - Dirty
348. Whitney Houston - Whitney
349. Alt-J - An Awesome Wave
350. Black Rebel Motorcycle Club - BRMC
351. The Byrds - Sweetheart of the Rodeo
352. The Velvet Underground - White Light/White Heat
353. Mclusky - Mclusky Do Dallas
354. Isaac Hayes - Hot Buttered Soul
355. New York Dolls - New York Dolls
356. Pixies - Bossanova
357. Sugar - Copper Blue
358. Robert Wyatt - Rock Bottom
359. The Mothers of Invention - We're Only In it for the Money
360. The Strokes - Room on Fire
361. The Faces - A Nod is as Good as a Wink...the a Bliind Horse
362. Beastie Boys - Hello Nasty
363. Black Flag - Damaged
364. Bon Iver - For Emma, Forever Ago
365. Dead Kennedys - Fresh Fruit for Rotting Vegatables
366. Leonard Cohen - Songs of Love and Hate
367. Metronomy - Nights Out
368. Radiohead - Hail to the Theif
369. St Vincent - Strange Mercy
370. The Cribs - Men's Needs, Women's Needs, Whatever
371. Beck - Odelay
372. Big Black - Atomizer
373. Curtis Mayfield - There's No Place Like America Today
374. Frank Sinatra - In the Wee Small Hours
375. Morrissey - Vauxhall and I
376. Sam Cooke - Live At The Harlem Square Club
377. Roy Harper - Stormcock
378. Wire - Pink Flag
379. Belle & Sebastian - The Boy With The Arab Strap
380. Bloc Party - Silent Alarm
381. David Bowie - Scary Monsters (And Super Creeps)
382. Simon and Garfunkel - Bridge Over Troubled Water
383. The Long Blondes - Someone To Drive You Home
384. Elvis Presley - Elvis Presley
385. The White Stripes - Get Behind Me Satan
386. Gillian Wellch - Revival
387. The Clash - Combat Rock
388. Tim Buckley - Happy Sad
389. Le Tigre - Le Tigre
390. The Verve - A Northern Soul
391. Burial - Burial
392. Edan - Beauty and the Beat
393. Prince - Dirty Mind
394. Wire - Chairs Missing
395. The White Stripes - De Stijl
396. Heartbreakers - L.A.M.F.
397. Jay-Z - Reasonable Doubt
398. Neil Young - Everybody Knows This Is Nowhere
399. Nick Cave and The Bad Seeds - The Lyre of Orpheus/Abattoir Blues
400. The Fall - This Nation's Saving Grace
401. Throbbing Gristle - 20 Jazz Funk Greats
402. Mystery Jets - Twenty One
403. Bjork - Vespertine
404. Gene Clark - No Other
405. Otis Redding - Otis Blue
406. Queens of the Stone Age - Rated R
407. Ride - Going Blank Again
408. Pavement - Crooked Rain, Crooked Rain
409. Can- Tago Mago
410. Interpol - Antics
411. Madvillain - Madvillainy
412. DJ Shadow - Entroducing...
413. Happy Mondays - Pills N Thrills and Bellyaches
414. The Chemical Brothers - Dig Your Own Hole
415. Chet Baker - Chet Baker Sings
416. Animal Collective - Merriweather Post Pavillion
417. Ash - 1977
418. Eels - Electro-Shock Blues
419. Spiritualized - Let It Come Down
420. A Tribe Called Quest - People's Instinctive Travels...
421. Big Star - Radio City
422. Dexys Midnight Runners - Too-Rye-Ay
423. The Who - Live at Leeds
424. U2 - The Joshua Tree
425. Nancy Sinatra and Lee Hazelwood - Nancy and Lee
426. Sonic Youth - Goo
427. Brian Eno - Here Comes the Warm Jets
428. Bruce Springsteen - Born in the USA
429. Jimmy Eat World - Bleed America
430. Scott Walker - Scott 4
431. Soundgarden - Badmotorfinger
432. Tindersticks - Tindersticks
433. Dr. Dre - 2001
434. Prefab Sprout - Steve McQueen
435. Patti Smith - Easter
436. Battles - Mirrored
437. TV on the Radio - Dear Science
438. Kings of Leon - Aha Shake Heartbreak
439. The Futureheads - The Futureheads
440. Billy Bragg - Life's a Riot with Spy vs. Spy
441. ABBA - Arrival
442. Al Green - Al Green is Love
443. Bill Callahan - Sometimes I Wish We Were an Eagle
444. Depeche Mode - Violator
445. Fleetwood Mac - Tusk
446. Hot Chip - The Warning
447. David Bowie - Diamond Dogs
448. Suede - Sci-Fi Lullabies
449. Arctic Monkeys - AM
450. PJ Harvey - Rid of Me
451. Big Star - Third/Sister Lovers
452. The B-52′s - The B-52′s
453. The House of Love- The House of Love
454. Destiny's Child - The Writing on the Wall
455. Vampire Weekend - Vampire Weekend
456. Frank Sinatra - September of My Years
457. Goldfrapp - Black Cherry
458. Wilco - Yankee Hotel Foxtrot
459. Jay-Z - The Black Album
460. Nirvana - Bleach
461. Manic Street Preachers - Generation Terrorists
462. Metallica - Master of Puppets
463. The Breeders - Pod
464. Kings of Leon - Because of the Times
465. The National - High Violet
466. Wu-Tang Clan - The W
467. Iggy Pop - The Idiot
468. The Shins - Chutes Too Narrow
469. The Beach Boys - Holland
470. Kanye West - Graduation
471. MGMT - Oracular Spectacular
472. Smashing Pumpkins - Mellon Collie and the Infinite Sadness
473. The Verve - A Storm in Heaven
474. Fuck Buttons - Tarot Sport
475. Kurt Vile - Smoke Ring for My Halo
476. Foo Fighters- Foo Fighters
477. Crystal Castles- Crystal Castles
478. The National - Trouble Will Find Me
479. Throwing Muses - The Real Ramona
480. Aretha Franklin - I Never Loved a Man the Way I Love You
481. Brian Wilson - Smile
482. Billie Holiday - Lady in Satin
483. Elvis Costello & The Attractions - Blood and Chocolate
484. Bruce Springsteen - The River
485. Kendrick Lamar - Good Kid, M.A.A.D City
486. Bjork - Homogenic
487. The Jam - Sound Affects
488. Leonard Cohen - I'm Your Man
489. The Wedding Present - George Best
490. MC5 - Back in the USA
491. Pet Shop Boys - Actually
492. These New Puritans - Hidden
493. This Mortal Coil - Blood
494. The Cure - The Head on the Door
495. The Killers - Hot Fuss
496. Girls - Album
497. Daft Punk - Random Access Memories
498. Lou Reed - Berlin
499. Belly - Star
500. OutKast - Stankonia